Cost-Effectiveness of Integrated Care in Patients with Chronic Kidney Disease Stage 3 and 4 Compared with Standard Care in Rural Communities
Keywords:
Communities care network, Integrated care, Multidisciplinary care team, MCT
Downloads
Download data is not yet available.
References
Wild S, Roglic G, Green A, Sicree R, King H. Global prevalence of diabetes: estimates for the year 2000 and projections for 2030. Diabetes Care 2004;27:1047-53.
Winer N, Sowers JR. Epidemiology of diabetes. J Clin Pharmacol 2004;44:397-405.
Levey AS, Coresh J, Balk E, Kausz AT, Levin A, Steffes MW, et al. National Kidney Foundation practice guidelines for chronic kidney disease: evaluation, classification, and stratification. Ann Intern Med 2003;139:137-47.
Group M. Evaluation and management of chronic kidney disease : synopsis of the kidney disease : improving global outcomes 2012 clinical practice guideline. Ann Intern Med 2013;158:825-30.
Jiamjariyapon T, Ingsathit A, Pongpirul K, Vipattawat K, Kanchanakorn S, Saetie A, et al. Effectiveness of Integrated Care on Delaying Progression of stage 3-4 Chronic Kidney Disease in Rural Communities of Thailand (ESCORT study) : a cluster randomized controlled trial. BMC Nephrol 2017; 18:83.
Permsuwan U, Guntawongwan K, Buddhawongsa P. Handling time in economic evaluation studies. J Med Assoc Thai 2014;97 Suppl 5:S50-8.
O'Brien RG, Muller KE. Applied analysis of variance in behavior science. 1983. New York: Maecel Dekker. p 297-344.
Palmer AJ, Valentine WJ, Chen R, Mehin N, Grabriel S, Bregman B, et al. A health economic analysis of screening and optimal treatment of nephropathy in patients with type 2 diabetes and hypertension in the USA. Nephrol Dial Transplant 2008, 23:1216-23.
World Health Organization. Cost effectiveness and strategic planning (WHO-CHOICE). [cited 2016 July 30]. Available from: http://www.who.int/choice/costs/CER_levels/en/#
Levin A, Lewis M, Mortiboy P, Faber S, Hare I, et al. Porter EC, Mendelssohn DC. Multidisciplinary predialysis programs: quantification and limitations of their impact on patient outcomes in two Cannadian settings. Am J Kidney Dis 1997;29:533-40.
Hopkins RB, Garg AX, Levin A, Molzahn A, Rigatto C, Singer J, et al. Cost-effectiveness analysis of a randomized trial comparing care models for chronic kidney disease. Clin J Am Soc Nephrol2011;6:1248-57.
Wei SY, Chang YY, Mau LW, Lin MY, Chiu HC, Tsai JC, et al. Chronic kidney disease care program improves quality of pre-end-stage renal disease care and reduces medical costs. Nephrology (Carlton)2010;15:108-15.
Lei CC, Lee PH, Hsu YC, Chang HY, Tung CW, Shih YH, et al. Educational intervention in CKD retards disease progression and reduces medical costs for patients with stage 5 CKD. Ren Fail 2013;35:9-16.
Sabariego C, Grill E, Brach M, Fritschka E, Mahlmeister J, Stucki G. Incremental cost-effectiveness analysis of a multidisciplinary renal education program for patients with chronic renal disease. Disabil Rehabil 2010; 32:392-401.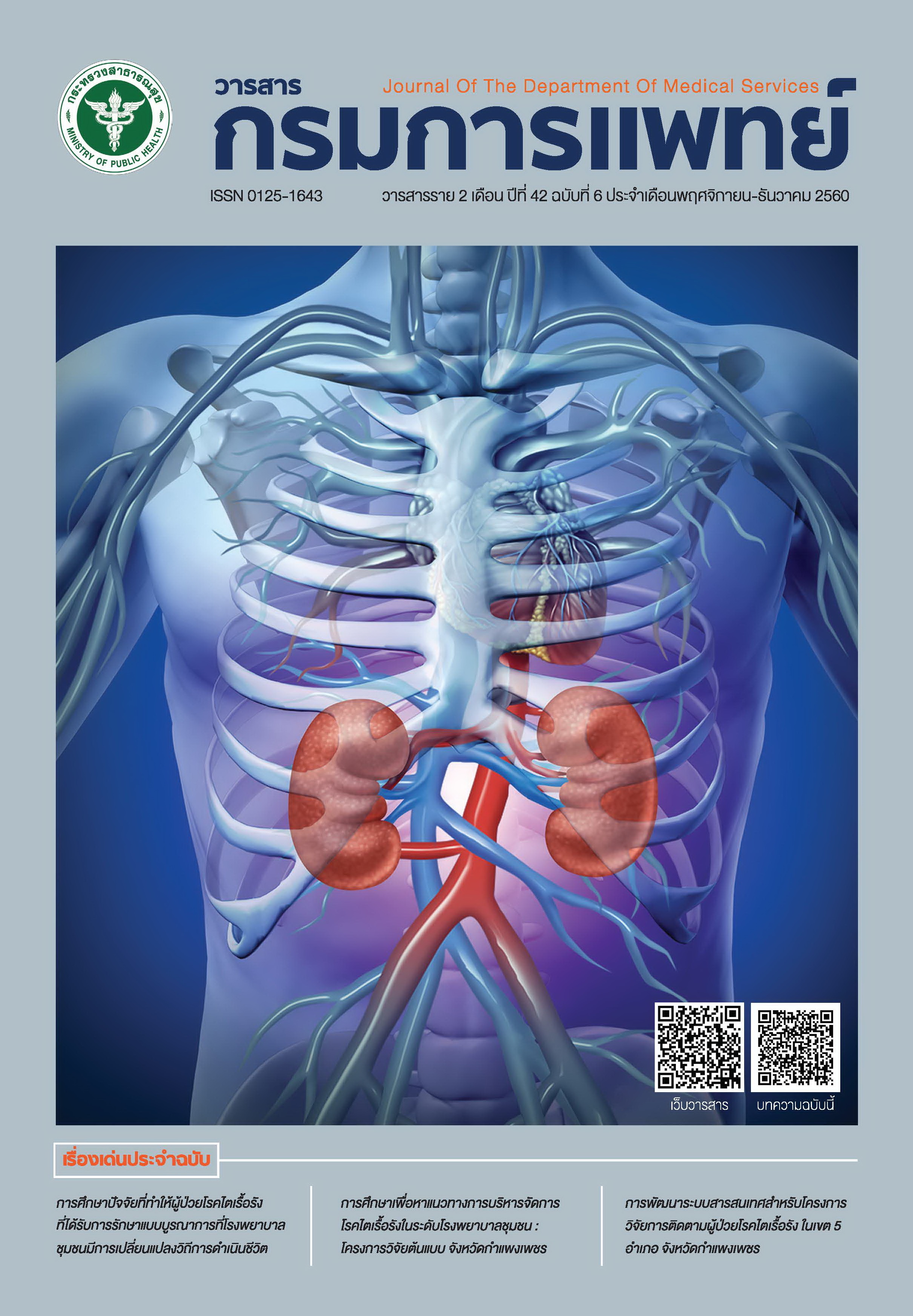 Downloads
How to Cite
1.
อรรถสิทธิ์ ศรีสุบัติ พ.บ., วท. ด., ธีรยุทธ เจียมจริยาภรณ์ พ.บ., เมธี จันทร์พิทักษ์กุล พ.บ., วินัย ลีสมิทธิ์ พ.บ., วัชรพงศ์ วิศาลศักดิ์ พ.บ., สุชัญญา พรหมนิ่ม วท.บ., ละออ ศิลานุกรม วท.บ., พิกุล มีทรัพย์ทอง วท.บ., อรุณี ไทยะกุล สม., ปราณี บดีรัฐ วท.บ., ศัล. Cost-Effectiveness of Integrated Care in Patients with Chronic Kidney Disease Stage 3 and 4 Compared with Standard Care in Rural Communities. j dept med ser [Internet]. 2017 Dec. 1 [cited 2022 Aug. 8];42(6):54-63. Available from: https://he02.tci-thaijo.org/index.php/JDMS/article/view/248406
License
บทความที่ได้รับการตีพิมพ์เป็นลิขสิทธิ์ของกรมการแพทย์ กระทรวงสาธารณสุข
ข้อความและข้อคิดเห็นต่างๆ เป็นของผู้เขียนบทความ ไม่ใช่ความเห็นของกองบรรณาธิการหรือของวารสารกรมการแพทย์