Percutaneous Nephrolithotomy in Patients with Renal Calculi at Yasothorn Hospital during 2012 – 2013 and Nakhonphanom Hospital during 2017 – 2019
Keywords:
Percutaneous nephrolithotomy, Renal calculi
Abstract
Background : Percutaneous nephrolithotomy is the effective treatment for renal calculi not over than 4 centimeter in size.
Objective : This study aimed to evaluate clinical outcomes of Percutaneous Nephrolithotomy.
Method : The study was a retrospective descriptive study to evaluated clinical outcomes of Percutaneous Nephrolithotomy in patients with pelvic, calyceal or partial staghorn stones at Yasothorn Hospital in 2012-2013 and Nakhonphanom Hospital in 2017-2019
Result : Percutaneous Nephrolithotomy treatment in 60 patients, 32 patients (53%) were male. Mean age of patients were 45.2 years old (25-60). The location of stones were 50 pelvic stones, 7 calyceal stones and 7 partial staghorn stones. The size of stones were less than 2 centimeters in 12 patients, 2 to 4 centimeters in 41 patients, over 4 centimeters in 7 patients. Range of operative times were from 45 to 110 minutes (mean 81 minutes), range of radiation exposure time were from 60-130 seconds (mean 90 seconds.). Four patients had hemorrhagic problems and need blood transfusions. Range of hospital stayed were from 5 to 10 days (mean 7 days). There had postoperative fever in 5 patients, and one patients had urosepsis, and solved by antibiotic treatments. Outcomes of percutaneous nephrolithotomy were no residual stone 40 patients (67%), had residual stone less than 5 millimeters in diameter 15 patients (25%) and 5 patients (8%) had 5-10 millimeters stones in diameter needed to treated by ureteroscopic lithotripsy or repeat percutaneous nephrolithotomy.
Conclusion : Percutaneous nephrolithotomy is the effective treatment for renal calculi and provide safety outcomes. More surgical practice could improve stone free rate and decrease the relevant post-operative complication.
Downloads
Download data is not yet available.
References
Kongkiatkul S, Banhansupawat T, Khamsiri A,ukaprasong P, Chattan N. Statistical Report 2011 [Internet]. Nonthaburi: Department of Medical Services, Ministry of Public Health. [Internet] 2012. [cited 2015 Nov 5]. Available from:http://203.157.32.40/statreport/ Static2554.pdf.
Chaimuangraj S, Leungwattanakij S, Gojaseni P. The current therapy of urinary calculi in Thailand. J Med Assoc Thai, 2000; 83: 701–7.
Tosukhowong P, Yachantha C,Sasivongsbhakdi T, Boonla C, Tungsanga K. Nephrolithiasis: pathophysiology, therapeutic approach and health promotion. Chulalongkorn Medical Journal 2006; 50:103–26.
Chen Y, Feng J, Duan H, Yue Y, Zhang C, Deng T, et al.Percutaneous nephrolithotomy versus open surgery for surgical treatment of patients with staghorn stones: a systematic review and meta-analysis. PLoS ONE 2019; 14: e0206810.
Weeraswin T. Efficacy and safety of tubeless percutaneous nephrolithotomy in selected Thai patients.Lampang Med J 2009; 30: 115-21.
Kim BS. Recent advancement or less invasive treatment of percutaneous nephrolithotomy. Korean J Urol 2015; 56: 614 – 23.
Hemza Ichaoul, Ahmed Samet, Houssem Ben Hadjalarane. Percutaneous Nephrolithotomy (PCNC): Standard Technique Versus Tubeless-125 Produces.2019; DOI 10.7759/ cureus. 4251.
Klein I, Gutierres-Aceves J. Preoperative imaging in staghorn calculi, planning and decision making in management of staghorn calculi. Asian J Urol 2020; 7: 87-93.
Baralo B, Samson P, Hoenig D, Smith A. Percutaneous kidney stone surgery and radiation exposure: a review.Asian J Urol 2020; 7: 10-7.
Sharma GR, Maheshawari PN, Sharma AG, Maheshwari RP, Heda RS, Maheshawari SP. Fluoroscopy guided percutaneous renal access in prone position. World J Clin Cases 2015; 3: 245-64.
Carrion DM, Cansino JR, Quintona LM, Gomez Rivas J, Mainez Rodriguez JA, Perez-Carral JR, et al. Prone percutaneous nephrolithotomy: its advantage and our technique for puncture. Transl Androl Urol 2018; 7: 950-9.
Gadzhier N, Malkhasyan V, Akopyan G, Petrov S, Jefferson F, Okhunov Z. Percutaneous nephrolithotomy for staghorn calculi: Trouble shooting and managing complication. Asian J Urol 2020; 7: 139-48.
Fon-ping Meng, Jian-tao Xian, Xu Zhun, Ji Gao. Percutaneous nephrolithotomy in elderly patients with renal calculi.International Conference and Biomedical Engineering; 2016.
Chung DY, Kang DH, Cho KS, Jeong WS, Jung HD, et al.Comparison of stone - free rate following shock wave lithotripsy, percutaneous nephrolithotomy, and retrograde intrarenal surgery for treatment of renal stones: a systematic review and network meta-analysis. PLOS One 2019;14: e0211316.
Zeng G, Zhu W, Lamn W. Miniaturised percutaneous nephrolithotomy: Its role in the treatment of urolithiasis and our experience. Asian J Urol 2018; 5: 295-302.
Chongruksut W, Lojanapiwat B, Tawichasri C, Paichitvichean S, Euathrongchit J, Ayudhya VC, et al. Kidney stones recurrence and regrowth after extracorporeal shock wave lithotripsy and percutaneous nephrolithotomy,J Med Assoc Thai 2011; 94: 1077-83.
Shah HN, Kausik VB, Hedge SS, Shah JN, Bansal MB. Tubeless percutaneous nephrolithotomy: a prospective feasibility study and review of previous reports. BJU Int 2005; 96: 879-83.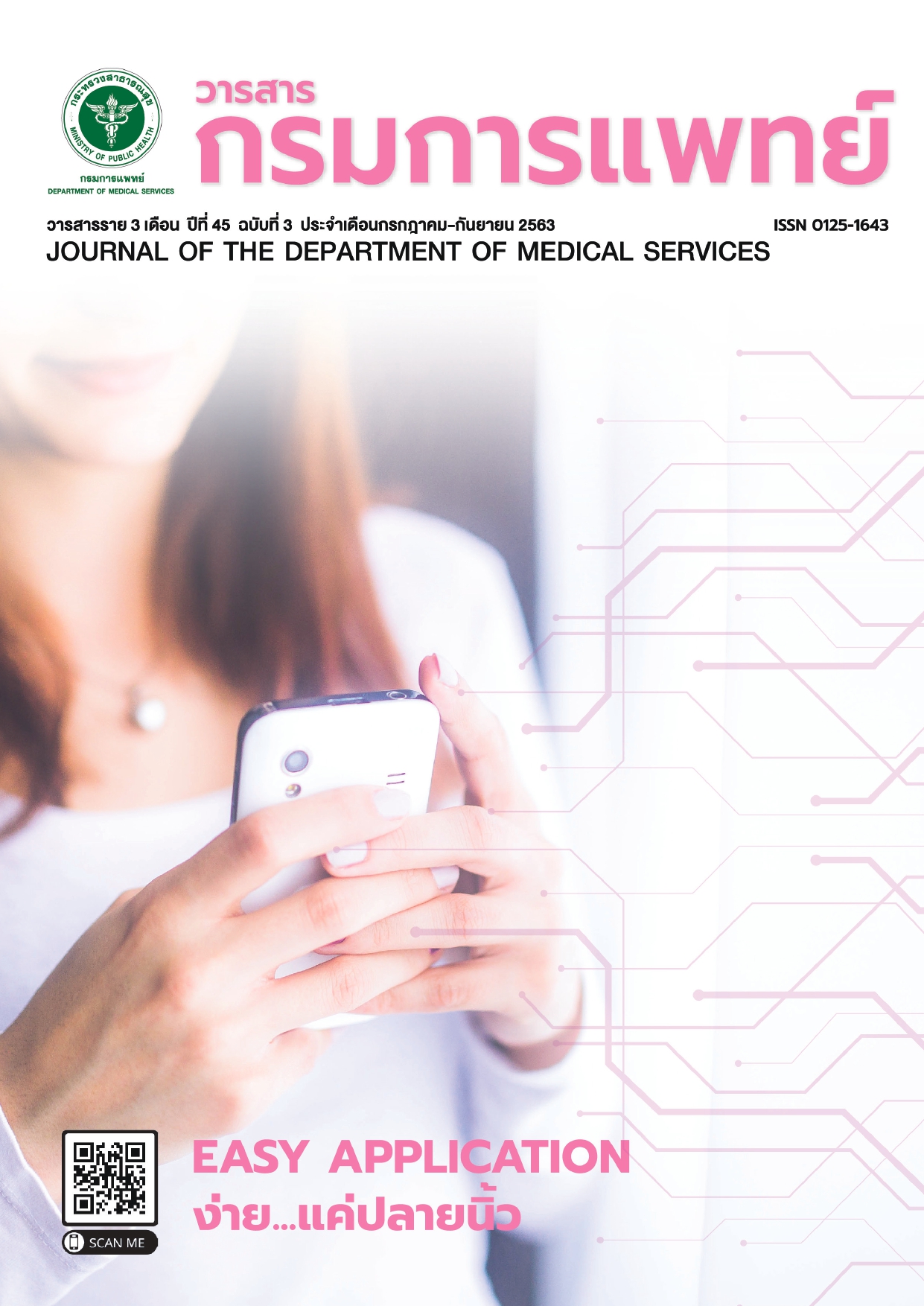 Downloads
How to Cite
1.
Trisakul Y. Percutaneous Nephrolithotomy in Patients with Renal Calculi at Yasothorn Hospital during 2012 – 2013 and Nakhonphanom Hospital during 2017 – 2019. j dept med ser [Internet]. 2021 Jan. 4 [cited 2022 Sep. 28];45(3):13-7. Available from: https://he02.tci-thaijo.org/index.php/JDMS/article/view/248569
License
บทความที่ได้รับการตีพิมพ์เป็นลิขสิทธิ์ของกรมการแพทย์ กระทรวงสาธารณสุข
ข้อความและข้อคิดเห็นต่างๆ เป็นของผู้เขียนบทความ ไม่ใช่ความเห็นของกองบรรณาธิการหรือของวารสารกรมการแพทย์