The Association of Sarcopenia and Elderly Hip Fracture
Keywords:
sarcopenia, lean tissue index, body composition monitor, osteoporotic fracture
Abstract
Background : Sarcopenia is term of low muscle mass and strength which affects fall and bone fracture in elderly people. The purpose of this study was to find the prevalence of sarcopenia in elderly hip fracture with the association of sarcopenia and fracture.
Objective : To identified the association of sarcopenia and hip fracture and prevalence in elderly people.
Methods : A Cross-sectional analytic study to determine sarcopenia by measure lean tissue index (LTI) by using body composition monitor (BCM) in elderly hip fracture, compare with non-fracture group.
Results : Total 98 patients including 48 hip fracture patients (male 25%, female 75%) and 50 non-fracture patients (male 40%, female 60%). Nine patients in fracture group had sarcopenia conversely with no sarcopenia in non-fracture group (p=0.001). The patients with hip fracture had significantly lower muscle mass than non-fracture group (LTI 6.89 Kg/m2 vs 7.43 Kg/m2, p=0.013), particularly in female (female with hip fracture LTI 6.37 Kg/m2 vs female non-fracture 6.81 Kg/m2, p=0.001).
Conclusion : Sarcopenia is common in elderly hip fracture especially in female. The prevalence of sarcopenia is 9.18%. Measuring of lean tissue index by using BCM is inexpensive, no radiation expose and easily to use. Underline diagnosis and treatment of sarcopenia can reduce the fall and fracture of elderly people in the future.
Downloads
Download data is not yet available.
References
Goodpaster BH, Park SW, Harris TB, Kritchevsky SB, Nevitt M, Schwartz AV, et al. The loss of skeletal muscle strength, mass, and quality in older adults: the health, aging and body composition study. J Gerontol A Biol Sci Med Sci 2006; 61:1059–64.
Frontera WR, Hughes VA, Fielding RA, Fiatarone MA, Evans WJ, Roubenoff R. Aging of skeletal muscle: a 12-yr longitudinal study. J Appl Physiol 2000;88:1321–6.
Von Haehling S, Morley JE, Anker SD. An overview of sarcopenia: facts and numbers on prevalence and clinical impact. J Cachex Sarcopenia Muscle 2010; 1:129–33.
Patel HP, Syddall HE, Jameson K, Robinson S, Denison H, Roberts HC, et al. Prevalence of sarcopenia in communitydwelling older people in the UK using the European Working Group on Sarcopenia in Older People (EWGSOP) definition: findings from the Hertfordshire Cohort Study (HCS). Age Ageing 2013; 42:378-84.
Ryall JG, Schertzer JD, Lynch GS. Cellular and molecular mechanisms underlying age-related skeletal muscle wasting and weakness. Biogerontology 2008; 9:213-28.
Wu H, Xia Y, Jiang J, Du H, Guo X, Li C, et al. Effect of beta-hydroxy-beta-methylbutyrate supplementation on muscle loss in older adults: a systematic review and meta-analysis. Arch Gerontol Geriatr 2015; 61:168-75.
Girgis CM, Baldock PA, Downes M. Vitamin D, muscle and bone: integrating effects in development, aging and injury. Mol Cell Endocrinol 2015; 410:3-10.
Baumgartner RN, Waters DL, Gallagher D, Morley JE, Garry PJ. Predictors of skeletal muscle mass in elderly men and women. Mech Ageing Dev 1999; 107:123-36.
Dodds R, Sayer AA. Sarcopenia and frailty: new challenges for clinical practice. Clin Med 2016;16:455-8.
Limpawattana P, Kotruchin P, Pongchaiyakul C. Sarcopenia in Asia. Osteoporosis and sarcopenia 2015; 1:92-97.
Cruz-Jentoft AJ, Baeyens JP, Bauer JM, Boirie Y, Cederholm T, Landi F, et al. Sarcopenia: European consensus on definition and diagnosis: Report of the European Working Group on Sarcopenia in Older People. Age Ageing 2010; 39:412-23.
Pongjan Y. Hand-grip Strength of Elderly people in Bangkok and Suburb area. Journal of Faculty of Physical Education 2015; 18:42-52.
Chen LK, Liu LK, Woo J, Assantachai P, Yeung TW, Bahyah KS, et al. Sarcopenia in Asia: consensus report of the Asian Working Group for Sarcopenia. J Am Med Dir Assoc 2014; 15:95-101.
Hong W, Cheng Q, Zhu X, Zhu H, Li H, Zhang X, et al.Prevalence of Sarcopenia and Its Relationship with Sites of Fragility Fractures in Elderly Chinese Men and Women. PLOS ONE 2015; 14: 10.
Marc P Bonis, Mark Loftin, Melinda S Sothern. Using the lean tissue index (LTI) as a predictor variable for bone mineral density of elite, adolescent, female cross-country runner. Journal of sport and human performance 2017; 5:1.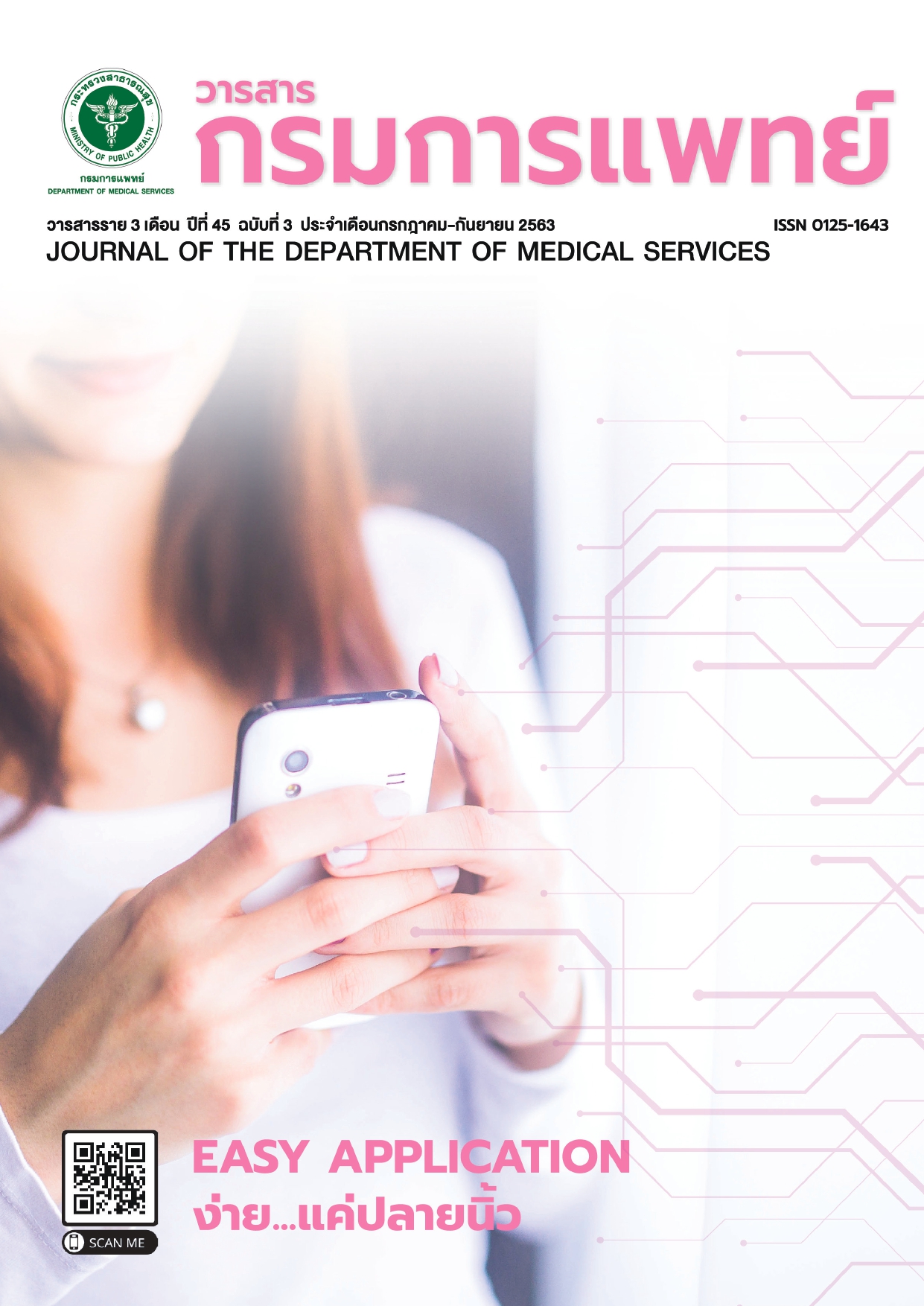 Downloads
How to Cite
1.
Udomwech T, Anusornvongchai T. The Association of Sarcopenia and Elderly Hip Fracture . j dept med ser [Internet]. 2021 Jan. 4 [cited 2022 Oct. 6];45(3):51-8. Available from: https://he02.tci-thaijo.org/index.php/JDMS/article/view/248580
License
บทความที่ได้รับการตีพิมพ์เป็นลิขสิทธิ์ของกรมการแพทย์ กระทรวงสาธารณสุข
ข้อความและข้อคิดเห็นต่างๆ เป็นของผู้เขียนบทความ ไม่ใช่ความเห็นของกองบรรณาธิการหรือของวารสารกรมการแพทย์