Annual Health Checkup According to the Civil Servants Medical Benefit Scheme : Which Test are Useful?
Keywords:
Annual checkup, Blood test, Civil Servants Medical Benefit Scheme, CSMBS
Abstract
Background : Health checkup is useful for screening risk factors that may cause of diseases in the future. If people know their risks of diseases and can adjust their behavior, the chance of diseases occurrence may be reduced and/ or occur slowly. Civil Servants Medical Benefit Scheme (CSMBS) supports an annual health checkup according to the specified list.
Objective : To identify abnormalities in the annual health checkup of 1,987 civil servants.
Method : This descriptive study collected data from the annual health checkup of 1,987 civil servants. The detail of checkup list in this study were laboratory blood test, chest radiography and electrocardiogram (EKG). Data were collected from the medical records of the National Cancer Institute and Rajavithi Hospital In 2017.
Results : The average age of participants was 53.6 years (min 30 and max 81 years). Most of them were 35-60 years and 87.7% was female. The results showed the low hemoglobin and haematocrit which was 12.2% (95% CI 10.7, 13.6) and 9.4% (95% CI 8.1, 10.7) respectively. Moreover, anemia (haemoglobin <10 mg / dl) was found 0.9%. High blood glucose after 8 hours of fasting was 14.2% (95% CI 12.7, 15.7). High cholesterol, triglyceride and LDL-cholesterol was 62.4% (95% CI 60.3, 64.5), 9.4% (95% CI 8.1, 10.7) and 38.7% (95% CI 36.6, 40.8) respectively. Low HDL-cholesterol level was 1.1% (95% CI 0.6, 1.6). However, the abnormalities of BUN and creatinine was found in less than 1%. AST, ALT, alkaline phosphatase was abnormal in less than 6%. High uric acid was 17.7% (95% CI 16.0, 19.4). We found abnormal ECG 12.5% (95% CI 11.1, 13.9). Abnormal chest radiography was 7.9% (95% CI 6.7, 9.1) which were heart, lung and thoracic bone whereas lung cancer and tuberculosis was not found.
Conclusion : The health checkup under the CSMBS for 35 years and over was likely benefit including cholesterol and LDL-cholesterol levels. Followed by a blood glucose test, uric acid and complete blood count (CBC) for anemia screening. The tests expected to be less useful in the annual health checkup were BUN, creatinine, ALT, APT, alkaline phosphatase as well as chest radiography (for early detection of lung cancer and tuberculosis) and an electrocardiogram. Therefore, we should consider other factors regarding health checkup such as age, gender, occupation, family history and other risks, for appropriate checkup list in the future.
Downloads
Download data is not yet available.
References
Ministry of Public Health. Essential and appropriate health checkup guideline for Thai population. 1st ed. Bangkok: WVO Officer of Printing Mill; 2016.
The Comptroller General's Department. Welfare Guide for Civil Servants Medical Benefit. [cited 2019 Oct 9]. Available from: https://home.kku.ac.th/praudit/law/07_medical_fee/22_Medical_guide_government%20officer_CGD_2553. pdf.
Schlichthorst M, Sanci LA, Pirkis J, Spittal MJ, Hocking JS. Why do men go to the doctor? Socio-demographic and lifestyle factors associated with healthcare utilisation among a cohort of Australian men. BMC Public Health; 2016;16(Suppl 3):81-90.
Benjchareonwong T, Rojnuckarin P, Sutcharitchan P. A Clinical Approach Algorithm in Diagnosis of Anemia. J Hematol Transfus Med 2012; 22:203-10.
Allan GM, Young J. Complete blood count for screening? Can Fam Physician 2017; 63: 772.
Clinical practice guideline for diabetes 2017. [cited 2019 Sep 9]. Available from: https://www.dmthai.org/attachments/ article/443/25610702_guideline-diabetes-care-2017.pdf
Clinical practice recommendation for the evalu -ation and management for chronic kidney disease in adults 2015. [cited 2019 Sep 9]. Available from: http://www.nephrothai.org/images/10-11-2016/Final_%E0%B8%84%E0%B8%A1%E0%B8%AD_CKD_2015.pdf
Austin MA, Hokanson JE, Edwards KL: Hypertriglyceridemia as a cardiovascular risk factor. Am J Cardiol 1998; (Suppl. 4A):7B–12B.
Boekholdt SM, Arsenault BJ, Mora S, Pedersen TR, LaRosa JC, Nestel PJ, et al. Association of LDL cholesterol, nonHDL cholesterol, and apolipoprotein B levels with risk of cardiovascular events among patients treated with statin: a meta-analysis. JAMA 2012; 307:1302-9.
Becker MA. Asymptomatic hyperuricemia. [cited 2019 Sep 9]. Available from: https://www.uptodate.com/contents/ asymptomatic-hyperuricemia.
Morey SS. ACC/AHA Guidelines for Ambulatory ECG-Practice Guidelines-American Family Physician. Am Fam Physician 2000; 61:884-8.
Moran PS, Flattery MJ, Teljeur C, Ryan M, Smith SM.Effectiveness of systematic screening for the detection of atrial fibrillation. Cochrane Database Sys Rev 2013;4:CD009586.
Manser R, Lethaby A, Irving LB, Stone C, Byrnes G, Abramson MJ, et al. Screening for lung cancer. Cochrane Database Sys Rev 2013;6:CD001991.
Srisuwan P, Koopitakkajorn T, Kingkaew P, Youngkong S, Tantivess S, Teerawattananon Y. Population-based screening for tuberculosis in Thailand. J Health Systems Research 2013;7:433-9.
Eisenberg RL, Pollock NR. Low yield of chest radiography in a large tuberculosis screening program. Radiology 2010;256:998-1004.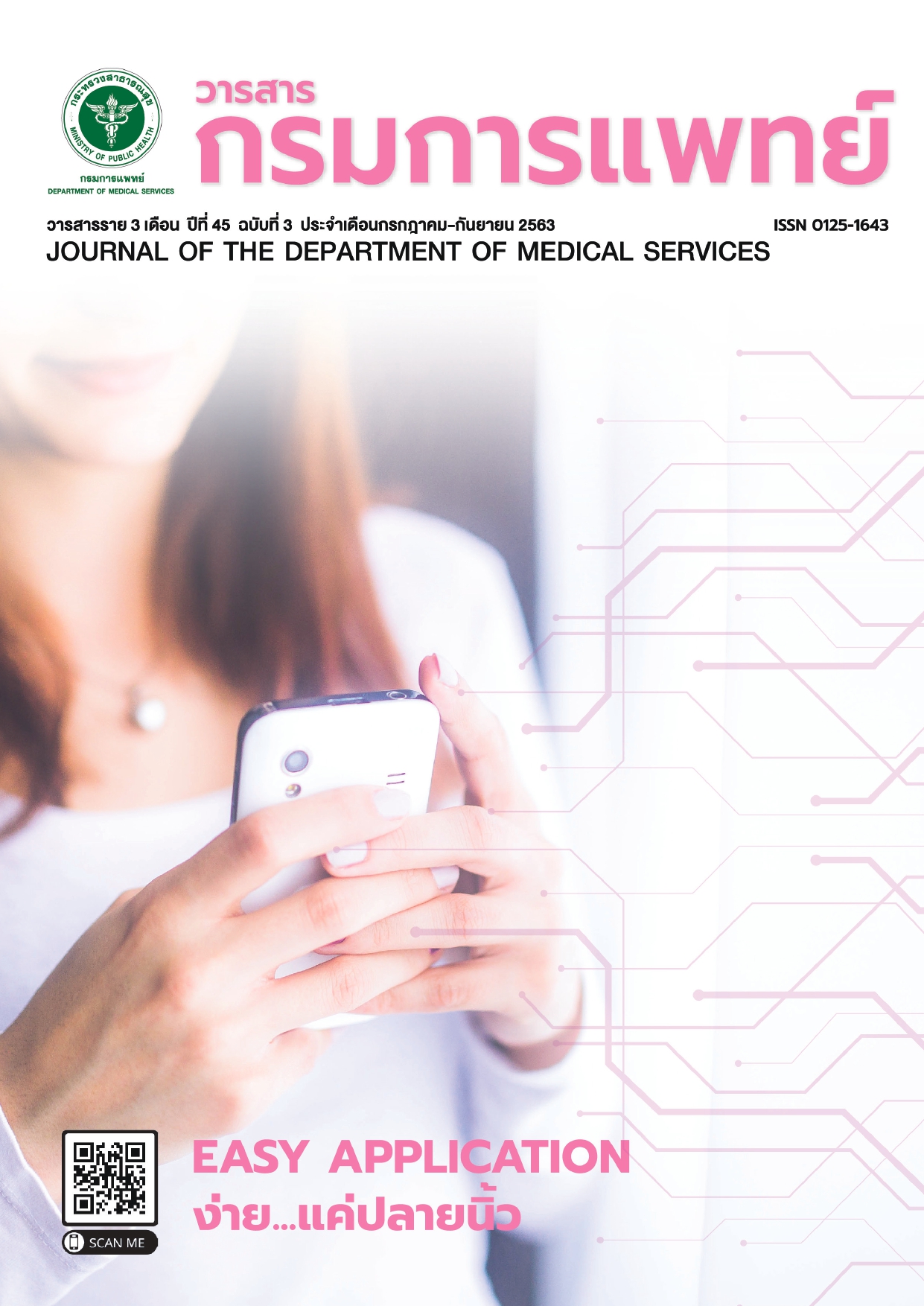 Downloads
How to Cite
1.
Srisubat A, Thanasithichai S, Srisa-ard W, Imsuwanasri T, Thaiyakul A. Annual Health Checkup According to the Civil Servants Medical Benefit Scheme : Which Test are Useful?. j dept med ser [Internet]. 2021 Jan. 4 [cited 2022 Oct. 1];45(3):59-66. Available from: https://he02.tci-thaijo.org/index.php/JDMS/article/view/248585
License
บทความที่ได้รับการตีพิมพ์เป็นลิขสิทธิ์ของกรมการแพทย์ กระทรวงสาธารณสุข
ข้อความและข้อคิดเห็นต่างๆ เป็นของผู้เขียนบทความ ไม่ใช่ความเห็นของกองบรรณาธิการหรือของวารสารกรมการแพทย์