Safety and Efficacy Evaluation of the 1st Legalized Pharmaceutical Grade Medical Cannabis for Palliative Cancer in Thailand
Keywords:
Medical cannabis, Cannabinoids, Cancer, Palliative care
Abstract
Background : Cancer patients often present with chronic pain, loss of appetite and insomnia. As the physiologic and metabolic derangement caused by abnormal metabolites or direct tumor invasion. It can be a challenge to ensure good quality of life at the end of life and a peaceful death. The discovery of endocannabinoids system (ECS) and their physiologic roles in past several decades especially the cancer treatment potential has spotlighted to the public and medical interest. The first legally medical cannabis amnesty bill had been proposed in Thailand and the Government Pharmaceutical Organization (GPO) launched the pharmaceutical grade of medical cannabis. However, there was no evidence of safety and standard effective dose for the cancer patients.
Objective : To study the safety and efficacy of the first legalized medical cannabis used in Thailand.
Method : The study was an experimental study. Fourteen of stage IV cancer patients were recruited and gradually titrated with balance THC and CBD 1 to 4 mg/daysublingually as in-patient at National Cancer Institute. All patients were followed up for three months.
Results : One of fourteen patients (7%) had transient hallucinations on the 3rd day of treatment and symptoms disappeared after discontinuing medical cannabis. Seven of 14 cases (50%) who complained of moderate to severe pain had improved pain score, and four of these cases had no opioids throughout the course. All 12 patients (100%) with insomnia had sleep improvement, and ten of twelve patients (83.33%) had better appetites.
Conclusions : Small dose of medical cannabis uses had no serious side effect and trended to benefit palliative care. The larger randomized control trial should be further investigated to elucidate this hypothesis.
Downloads
Download data is not yet available.
References
Strategy and planning division. Public Health Statistics A.D.2018. Office of the Permanent Secretary Ministry of Public Health; 2018.
Whelan TJ, Mohide EA, Willan AR, Arnold A, Tew M, Sellick S, et al. The supportive care needs of newly diagnosed cancer patients attending a regional cancer center. Cancer 1997; 80:1518-24.
Johnson JR, Burnell-Nugent M, Lossignol D, Ganae-Motan ED, Potts R, Fallon MT. Multicenter, double-blind, randomized, placebo-controlled, parallel-group study of the efficacy, safety, and tolerability of THC:CBD extract and THC extract in patients with intractable cancer-related pain. J Pain Symptom Manage 2010; 39:167-79.
An Introduction to the Endogenous Cannabinoid System. Biol Psychiatry 2016; 79:516–25.
Narcotics Control Act, (No.7) A.D.2019 [internet]. 2020 [Cited 2019 Aug 24]. Available from: http://www.ratchakitcha.soc. go.thDATA/PDF/2562/A/019/T_0001.PDF
Government Pharmaceutical Organization (GPO) [internet]. Bangkok: Government Pharmaceutical Organization, Ministry of Public Health; 2020 [Cited 2019 Oct 4]. Available from: https://www.gpo.or.th.
Institute of Medical Research and Technology Assessment, Department of Medical Services. Guidance on cannabis for medical use. 3rd ed. Bangkok: Cucumber Publishers; 2019.
Vigil JM, Stith SS, Adams IM, Reeve AP. Associations between medical cannabis and prescription opioid use in chronic pain patients: A preliminary cohort study. PLoS ONE 2017; 12:e0187795–e.
Bar-Lev Schleider L, Mechoulam R, Lederman V, Hilou M, Lencovsky O, Betzalel O, et al. Prospective analysis of safety and efficacy of medical cannabis in large unselected population of patients with cancer. Eur J Intern Med 2018; 49:37–43.
Johnson JR, Lossignol D, Burnell-Nugent M, Fallon MT. An open-label extension study to investigate the long-term safety and tolerability of THC/CBD oromucosal spray and oromucosal THC spray in patients with terminal cancerrelated pain refractory to strong opioid analgesics. J Pain Symptom Manage 2013;46:207–18.
Bar-Sela G, Zalman D, Semenysty V, Ballan E. The Effects of Dosage-Controlled Cannabis Capsules on Cancer-Related Cachexia and Anorexia Syndrome in Advanced Cancer Patients: Pilot Study. Integr Cancer Ther 2019;18.
Mupamombe CT, Nathan RA, Case AA, Walter M, Hansen E. Efficacy of medical cannabis for cancer-related pain in the elderly: A single-center retrospective analysis. J Clin Oncol 2019; 37, 13-3.
Blake A, Wan BA, Malek L, DeAngelis C, Diaz P, Lao N, et al. A selective review of medical cannabis in cancer pain management. Ann Palliat Med 2017; 6:215–22.
Jett J, Stone E, Warren G, Cummings KM. Cannabis use, lung cancer, and related issues. J Thorac Oncol 2018; 13:480–7.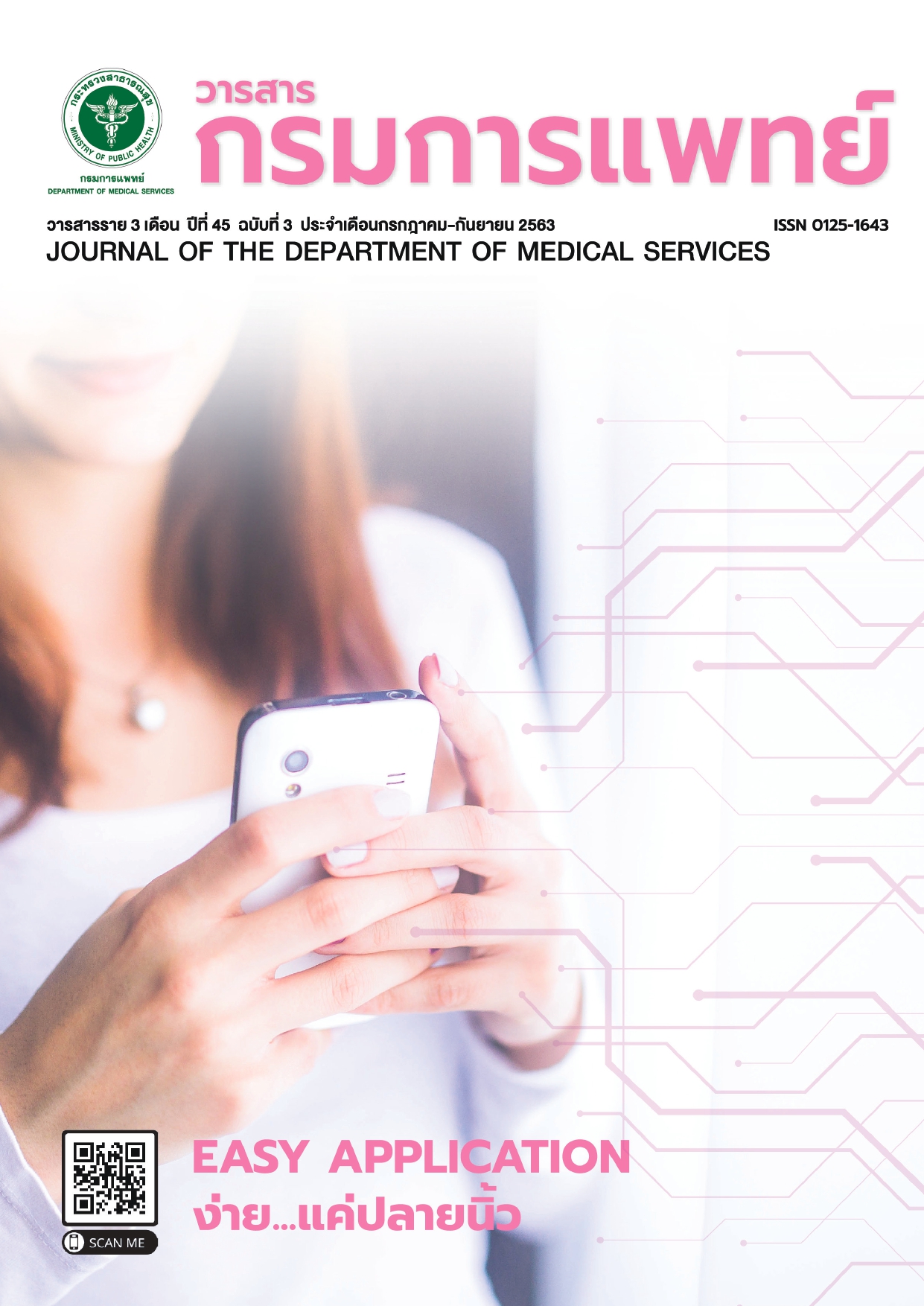 Downloads
How to Cite
1.
Thanasitthichai S, Simasatikul C, Srisubat A, Krongkaew W, Kunin B, Seedadard R, Chuensanit L, Sailamai P , Naewvong S, Buasom R, Krairittichai J, Suwanpidokkul N, Bodhibukkana C, Prayakprom P, Khaowroongrueng V. Safety and Efficacy Evaluation of the 1st Legalized Pharmaceutical Grade Medical Cannabis for Palliative Cancer in Thailand. j dept med ser [Internet]. 2021 Jan. 4 [cited 2022 Sep. 25];45(3):116-22. Available from: https://he02.tci-thaijo.org/index.php/JDMS/article/view/248645
License
บทความที่ได้รับการตีพิมพ์เป็นลิขสิทธิ์ของกรมการแพทย์ กระทรวงสาธารณสุข
ข้อความและข้อคิดเห็นต่างๆ เป็นของผู้เขียนบทความ ไม่ใช่ความเห็นของกองบรรณาธิการหรือของวารสารกรมการแพทย์