Complications of Root Amputation
Downloads
Download data is not yet available.
References
DeSanctis M, Murphy KG. The role of resective periodontal surgery in the treatment of furcation defects. Periodontol 2000 2000;22:154-68.
Weine FS. Endodontic Therapy. 6th ed. St. Louis: Mosby; 2004.
Hempton T, Leone C. A review of root respective therapy as a treatment option for maxillary molars. J Am Dent Assoc 1997;128: 449-55.
McDonald NJ, Hovland EJ. Surgical endodontics. In: Walton RE, Torabinejad M, editors. Principles and practice of endodontics. 2nd ed. Philadelphia: Saunders; 1996. 401-22.
Carnevale G, Pontoriero R, Hurzeler MB. Management of furcation involvement. Periodontol 2000 1995;9:69-89.
Kurtzman GM, Silverstein LH, Shatz PC. Hemisection as an alternative treatment for vertically fractured mandibular molars. Compend Contin Educ Dent 2006;27:126-9.
Ammons WF, Harrington GW. Furcation: The problem and its management.In: Newman MG, Takei HH, Carranza FA, editors. Carranza's clinical periodontology. Philadelphia: W.B. Saunders Co.; 2002. 825-9.
Carnevale G, Pontoriero R, di Febo G. Long-term effects of rootresective therapy in furcation-involved molars. A 10-year longitudinal study. J Clin Periodontal 1998;25:209-14.
Langer B, Stein SD, Wagenberg B. An evaluation of root resections.A ten-year study. J Periodontol 1981;52:719-22.
Klavan B. Clinical observations following root amputation in maxillary molar teeth. J Periodontol 1975;46:1-5.
Carranza FA, Newman MG, Takei HH, Klokkevold PR. Furcation: involvement and treatment. In: Carranza's clinical periodontology. 10th ed. St. Louis, Mo.: Suanders Elsevier; 2006. 1003.
Parmar G, Vashi P. Hemisection : A case-report and review. Endodontology 2003;15:26-9.
Dalkiz M, Cilingir A, Beydemir B. Bicuspidization: a case report. Gulhane Med J 2008;50:42-5.
Mantri V, Maria R, Kamat S, Raut WA. Root amputation : case reports and review. Endodontology 2013;25:89-96.
Kasaj A. Root resection procedures vs implant therapy in the management of furcation-involved molars. Quintessence Int 2014;45:521-9.
Park SY, Shin SY, Yang SM, Kye SB. Factors influencing the outcome of root-resection therapy in molars: a 10-year retrospective study.J Periodontol 2009;80:32-40.
Backman KJ. The incomplete root resection-case presentations.Int J Periodontics Restorative Dent 1982;2:60-71.
Newell DH. The role of the prosthodontist in restoring root-resected molars: a study of 70 molar root resections. J Prosthet Dent 1991;65: 7-15.
Caffesse RG. Resective procedures. In: Proceeding of the world workshop in clinical periodontics. Chicago: American Academy of Periodontology; 1989.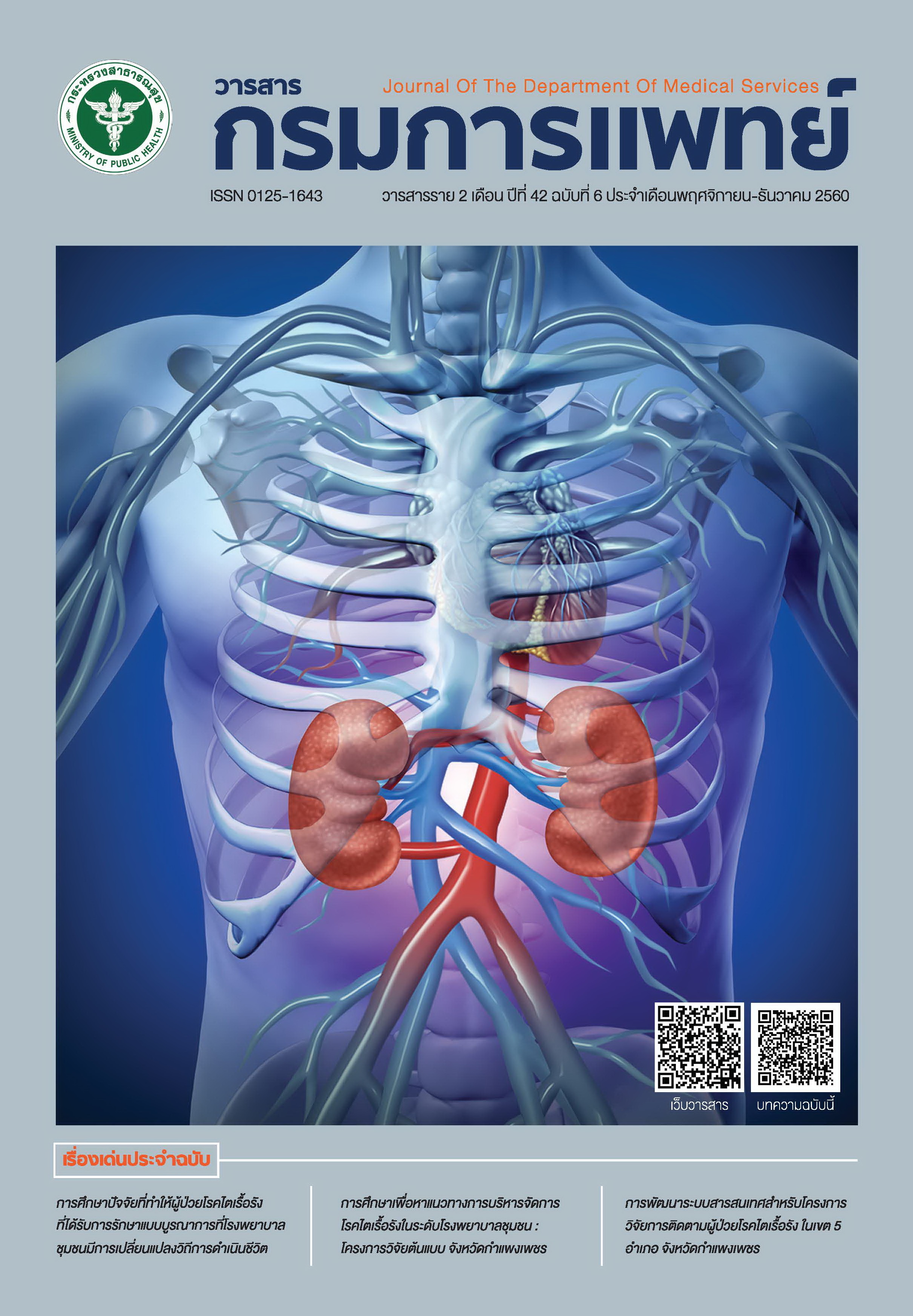 Downloads
How to Cite
1.
สุวลี ถาวรรุ่งโรจน์ ท.บ. Complications of Root Amputation. j dept med ser [Internet]. 2017 Dec. 1 [cited 2022 Aug. 8];42(6):135-8. Available from: https://he02.tci-thaijo.org/index.php/JDMS/article/view/248750
License
บทความที่ได้รับการตีพิมพ์เป็นลิขสิทธิ์ของกรมการแพทย์ กระทรวงสาธารณสุข
ข้อความและข้อคิดเห็นต่างๆ เป็นของผู้เขียนบทความ ไม่ใช่ความเห็นของกองบรรณาธิการหรือของวารสารกรมการแพทย์