Effectiveness of Gamma Knife for Patients with Brain Tumor : A Systematic Review
Keywords:
Gamma knife, Brain tumor, Effectiveness
Downloads
Download data is not yet available.
References
ประวิทย์ ประชาศิลป์ชัย. การผ่าตัดสมองด้วยรังสีแกมม่าไนฟ์. กรุงเทพมหานคร: แพทยสภาสาร; 1995, 159-63.
Muacevic A, Kreth FW, Horstmann GA, SchmidElsaesser R, Wowra B, Steiger HJ, Reulen HJ. Surgery and radiotherapy compared with gamma knife radiosurgery in the treatment of solitary cerebral metastases of small diameter. J Neurosurg 1999; 91: 35-43.
Koga T, Shin M, Saito N. Role of gamma knife radiosurgery in neurosurgery: past and future perspectives. Neurol Med Chir 2010; 50: 737-48.
Muacevic A, Wowra B, Siefert A, Tonn JC, Steiger HJ, Kreth FW. Microsurgery plus whole brain irradiation versus Gamma Knife surgery alone for treatment of single metastases to the brain: a randomized controlled multicentre phase III trial. J Neurooncol2008; 87: 299-307.
Bijlani A, Aguzzi G, Schaal DW, Romanelli P. Stereotactic radiosurgery and stereotactic body radiation therapy cost-effectiveness results.Front Oncol 2013; 3: 77.
Myrseth E, Møller P, Pedersen PH, Vassbotn FS, Wentzel-Larsen T, Lund-Johansen M. Vestibular schwannomas: clinical results and quality of life after microsurgery or gamma knife radiosurgery. Neurosurgery 2005; 56: 927-35.
Régis J, Pellet W, Delsanti C, Dufour H, Roche PH, Thomassin JM, et al. Functional outcome after gamma knife surgery or microsurgery for vestibular schwannomas. J Neurosurg 2002; 97: 1091-100.
Kim HJ, Huh JW, Jung TY, Kim IY, Kim HR, Jung S, et al. Clinical outcome with gamma- knife surgery or surgery for brain metastases from colorectal cancer. J Clin Neurosci 2013; 20: 1417-21.
Jo KW, Kim CH, Kong DS, Seol HJ, Nam DH, Park K, et al. Treatment modalities and outcomes for asymptomatic meningiomas. Acta Neurochir (Wien) 2011; 153: 62-7.
Jeon CJ, Kong DS, Nam DH, Lee JI, Park K, Kim JH. Communicating hydrocephalus associated with surgery or radiosurgery for vestibular schwannoma. J Clin Neurosci 2010; 17: 862-4.
Myrseth E, Møller P, Pedersen PH, Lund-Johansen M. Vestibular schwannoma: surgery or gamma knife radiosurgery? A prospective, nonrandomized study. Neurosurgery 2009; 64: 654-61.
Pollock BE, Lunsford LD, Kondziolka D, Flickinger JC, Bissonette DJ, Kelsey SF, et al. Outcome analysis of acoustic neuroma management: a comparison of microsurgery and stereotactic radiosurgery. Neurosurgery 1995; 36: 215-24.
Lee F, Linthicum F Jr, Hung G. Proliferation potential in recurrent acoustic schwannoma following gamma knife radiosurgery versusmicrosurgery. Laryngoscope 2002; 112: 948- 50.
Schöggl A, Kitz K, Reddy M, Wolfsberger S, Schneider B, Dieckmann K, et.al. Defining the role of stereotactic radiosurgery versus microsurgery in the treatment of single brain metastases. Acta Neurochir (Wien) 2000; 142: 621-6.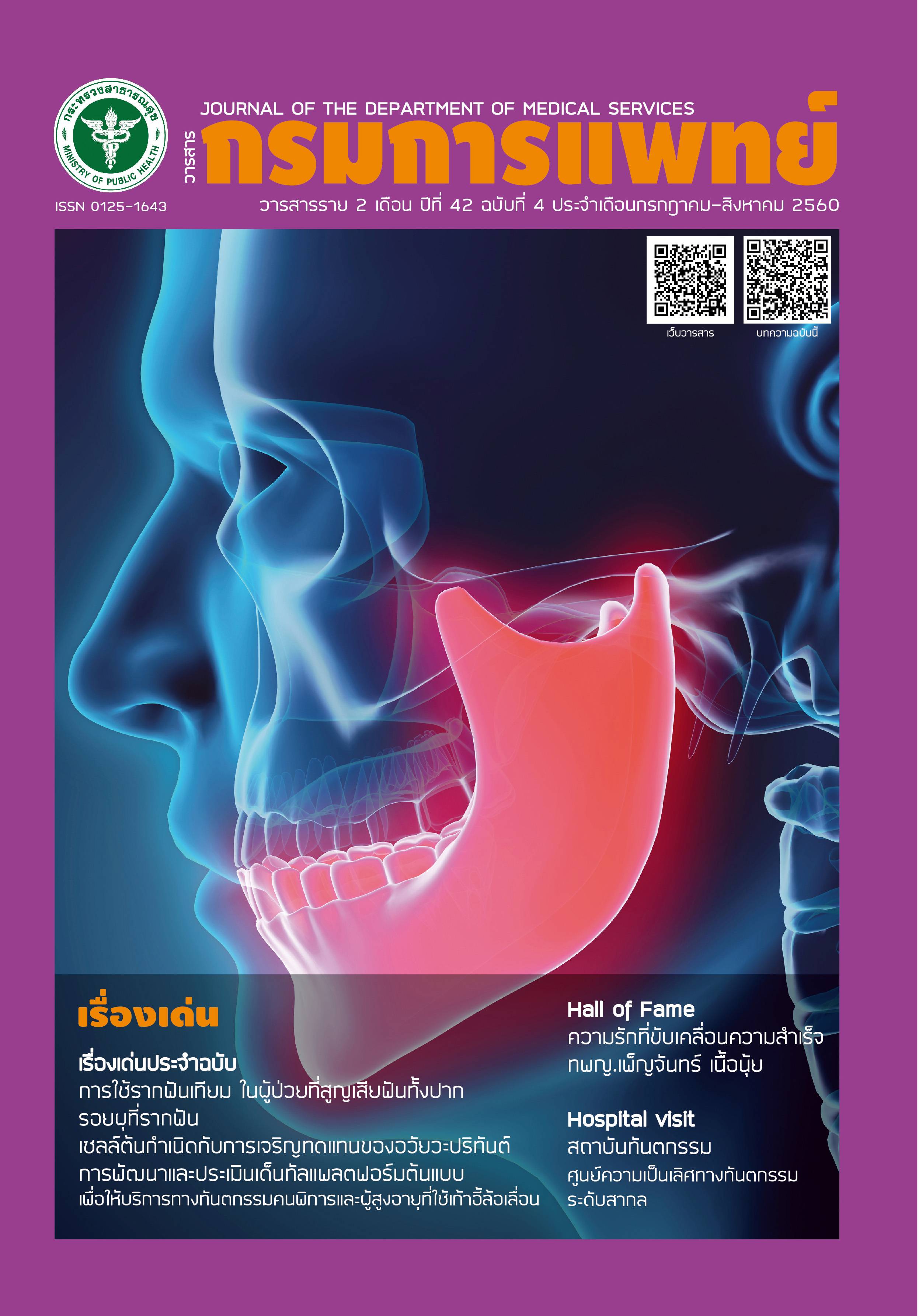 Downloads
How to Cite
1.
Srisubat A, Cheapudee S, Thaiyakul A, Thongoun P, Sanga N, Yingin P, Vijitleela A. Effectiveness of Gamma Knife for Patients with Brain Tumor : A Systematic Review . j dept med ser [Internet]. 2017 Aug. 1 [cited 2023 Jan. 29];42(4):64-9. Available from: https://he02.tci-thaijo.org/index.php/JDMS/article/view/248841
License
บทความที่ได้รับการตีพิมพ์เป็นลิขสิทธิ์ของกรมการแพทย์ กระทรวงสาธารณสุข
ข้อความและข้อคิดเห็นต่างๆ เป็นของผู้เขียนบทความ ไม่ใช่ความเห็นของกองบรรณาธิการหรือของวารสารกรมการแพทย์