Evaluated the Changes of Renal Function in Chronic Kidney Disease Patients Who Regularly used Non-Steroidal Anti-Inflammatory Drug After 1 Year Drug Withdrawal Compared with Control Chronic Kidney Disease
Keywords:
Non-steroidal anti-inflammatory drugs, Chronic kidney disease, Renal function
Downloads
Download data is not yet available.
References
Ingsathit A, Thakkinstian A, Chaiprasert A, Sangthawan P, Gojaseni P, Kiattisunthorn K, et al. Prevalence and risk factors of chronic kidney disease in the Thai adult population: Thai SEEK study. Nephrol Dial Transplant 2010; 25:1567-75.
สมาคมโรคไตแห่งประเทศไทย.แนวทางเวชปฏิบัติสำหรับโรคไตเรื้อรังก่อนการบำบัดทดแทนไต พ.ศ. 2552
Ejaz P, Bhojani K, Joshi VR. NSAIDs and kidney. J Assoc Physicians India 2004; 52:632-40.
Evan JM, McGregor E, McMahon AD, McGilchrist MM, Jones MC, White G, et al. Non-steroidal Anti-Inflammatory Drugs and hospitalization for acute renal failure.QJM 1995; 88:551-7.
Clive DM, Stoff JS. Renal syndromes associated with nonsteroidal antiinflammatory drugs. N Engl J Med 1984; 310:563-72.
Schwarz A, Krause PH, Kunzendorf U, Keller F, Distler A. The outcome of acute interstitial nephritis: risk factors for the transition from acute to chronic interstitial nephritis. Clin Nephrol 2000; 54:179-90.
Gooch K, Cullenton BF, Manns BJ, Zhang J, Alfonso H, Tonelli M, et al. NSAID use and progression of chronic kidney disease. Am J Med 2007; 120:280.e1-7.
Perneger TV, Whelton PK, Klag MJ. Risk of kidney failure associated with the use of acetaminophen, aspirin, and non-steroidal anti-inflammatory drugs. N Engl J Med 1994; 331:1675-9.
Ibanez L, Morlans M, Vidal X, Martinez MJ, Laporte JR. Case-control study of regular analgesic and nonsteroidal anti-inflammatory use and end-stage renal disease. Kidney int. 2005; 67:2393–8.
Rexrode KM, Buring JE, Glynn RJ, Stampfer MJ, Youngman LD, Gaziano JM, et al. Analgesic use and renal function in men. JAMA 2001; 286:315-21.
Van der woude FJ, Heinemann LA, Graf H, Lewis M, Moehner S, Assmann A, et al. Analgesics use and ESRD in younger age: a case-control study. BMC nephrol 2007; 8:15.
Curhan GC, Knight EL, Rosener B, Hankinson SE, Stampfer MJ. Lifetime nonnarcotic analgesic use and decline in renal function in women. Arch Intern Med 2004; 164:1519-24.
Nderitu P, Doos L, Jones PW, Davies SJ, Kadam UT. Non-steroidal anti-inflammatory drugs and chronic kidney disease progression: a systematic review. Fam Pract 2013; 30:247-55.
Bellomo R, Ronco C, Kellum JA, Mehta RL, Palevsky P. Acute renal failure-definition, outcome measures, animal models, fluid therapy and information technology needs: the Second International Consensus Conference of the Acute Dialysis Quality Initiative (ADQI) Group. Crit Care 2004; 8:R204-12.
De Broe ME, Elseviers MM. Over-the - counter analgesic use. J Am Soc Nephrol 2009; 20: 2098-103.
Henrich WL, Clark RL, Kelly JP, Buckalew VM, Fenves A, Finn WF, et al. Non-contrast-enhanced computerized tomography and analgesic related kidney disease: report of the national analgesic nephropthy study. J Am Soc Nephrol 2006; 17:1472-80.
Bennett WM, Henrich WL, Stoff JS. The renal effects of nonsteroidal anti-inflammatory drugs: summary and recommendations. Am J Kidney Dis 1996; 28:S56-62.
Sandler DP, Burr FR, Weinberg CR. Nonsteroidal anti-inflammatory drugs and the risk for chronic renal disease. Ann Intern Med 1991; 115:165-72.
Wei L, MacDonald TM, Jennings C, Sheng X, Flynn RW, Murphy MJ. Estimated GFR reporting is associated with decreased nonsteroidal antiinflammatory drug prescribing and increased renal function. Kidney int 2013; 84:174-8.
Thakar CV, Christianson A, Himmelfarb J, Leonard AC. Acute kidney injury episodes and chronic kidney disease risk in diabetes mellitus. Clin J Am Soc Nephrol 2011; 6:2567-72.
Murray TG, Goldberg M. Analgesic-associated nephropathy in the U.S.A.: epidemiologic, clinical and pathogenetic features. Kidney Int 1978; 13:64-71.
De Broe ME, Elseviers MM. Analgesic nephropathy. N Engl J Med 1998; 338:446-52.
Henrich WL, Agodoa LE, Barrett B, Bennett WM, Blantz RC, Buckalew VM, et al. Analgesics and the kidney: summary and recommendations to the Scientific Advisory Board of the National Kidney Foundation from an Ad Hoc Committee of the National Kidney Foundation. Am J Kidney Dis 1996; 27:162-5.
Oates JA, FitzGerald GA, Branch RA, Jackson EK, Knapp HR, Roberts LJ 2nd, et al. Clinical implicatioins of prostaglandin and thromboxane A2 formation. N Engl J Med 1988; 319:689-98.
Segasothy M, Samad SA, Zulfigar A, Bennett WM. Chronic renal disease and papillary necrosis associated with the long-term use of nonsteroidal anti-inflammatory drugs as the sole or predominant analgesic. Am J Kidney Dis 1994; 24:17-24.
Mackinnon B, Bouton-Jones M, Mclaughlin K. Analgesic-associated nephropathy in the West of Scotland: a 12-year observational study. Nephol Dial Transplant 2003;18: 1800-5.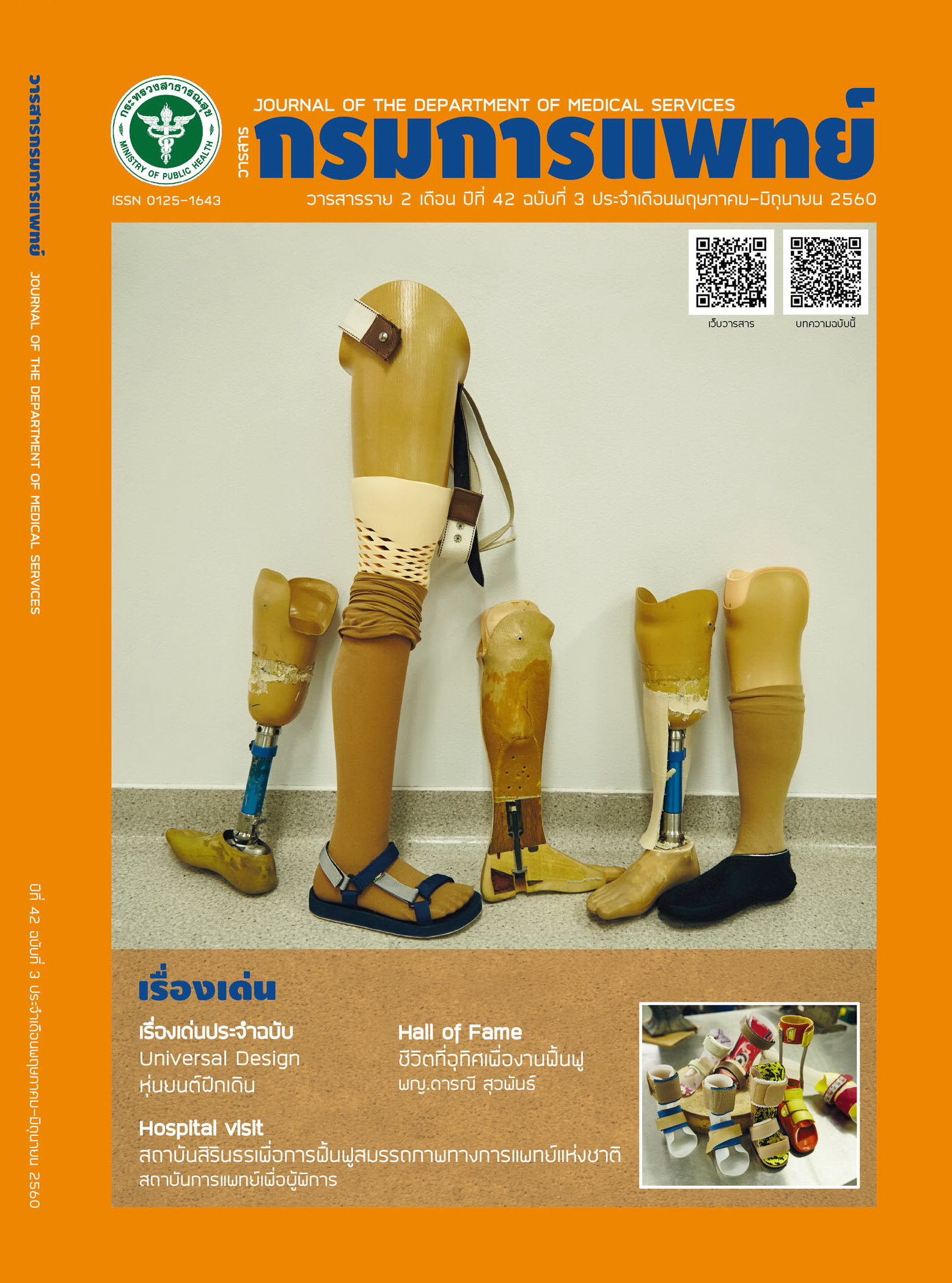 Downloads
How to Cite
1.
ธีรพล เมืองไพศาล พ.บ. สรวีย์ เตชะเทียมจันทร์ พ.บ. วงศ์ทิพารัตน์ มัณยานนท์ ภ.บ. Evaluated the Changes of Renal Function in Chronic Kidney Disease Patients Who Regularly used Non-Steroidal Anti-Inflammatory Drug After 1 Year Drug Withdrawal Compared with Control Chronic Kidney Disease. j dept med ser [Internet]. 2017 Jun. 1 [cited 2022 Aug. 15];42(3):52-6. Available from: https://he02.tci-thaijo.org/index.php/JDMS/article/view/248868
License
บทความที่ได้รับการตีพิมพ์เป็นลิขสิทธิ์ของกรมการแพทย์ กระทรวงสาธารณสุข
ข้อความและข้อคิดเห็นต่างๆ เป็นของผู้เขียนบทความ ไม่ใช่ความเห็นของกองบรรณาธิการหรือของวารสารกรมการแพทย์