Dentistry and COVID-19
Abstract
การระบาดของโรคอุบัติใหม่มีผลกระทบต่อทันตแพทย์และ งานทันตกรรมในหลายแง่มุม ทุกครั้งจะมีการปรับเปลี่ยนการทำงาน เพื่อให้เกิดความปลอดภัยทั้งต่อผู้ให้บริการและผู้รับบริการ ซึ่งเป็น หัวใจสำคัญของงานเพื่อนำไปสู่การวางมาตรฐานที่ดีขึ้น แพทย์และ ทันตแพทย์ผ่านประสบการณ์รับมือกับโรคระบาด เช่น ตับอักเสบ จากเชื้อไวรัส, โรคเอดส์, SARs, MERs และไข้หวัดนก มาก่อนที่จะ เกิดการระบาดของ COVID-19 ซึ่งแต่ละครั้งที่ผ่านมาก็มีพัฒนาการ หลายด้าน ทำให้มีมาตรฐานการบริการที่ดีขึ้นตามลำดับโดยเฉพาะ การควบคุมการติดเชื้อ
Downloads
Download data is not yet available.
References
Meng L, Hua F, BianZ. Coronavirus Disease 2019 (COVID-19):Emerging and Future Challenges for Dental and Oral Medicine Journal of Dental Research 2020; 99:481–7.
Ge ZY, Yang LM, Xia JJ, Fu XH, Zhang YZ. Possible aerosol transmission of COVID-19 and special precautions indentistry. Journal of Zhejiang University-SCIENCE B (Biomedicine & Biotechnology). https://doi.org/10.1631/jzus.B2010010
Xian P, Xin X, Yuqing L, Lei C, Xuedong Z, Biao R. Transmission routes of 2019-nCoV and controls in dental practice International Journal of Oral Science 2020;12:9 . https://doi.org/10.1038/s41368-020-0075-9
Zhang S, Zheng S. COVID-19 and dental practice what has been done in China? Report from WHOCC CHN26 11 April;2020.
Ren YF, Rasubala L, Malmstrom H, Eliav E. Dental Care and Oral Health under the Clouds of COVID-19JDR Clinical & Translational Research. Special Communication 2020. https://orcid.org/0000-0001-6428-2252
Benzian H, Niederman R. A dental response to the COVID-19 pandemic – Safe Aerosol-Free Emergent (SAFE) Dentistry.Preprints (www.preprints.org). Accessed March 7 May 2020.https://www.preprints.org/manuscript/202005.0104/v1
Strategies for optimizing the supply of facemasks. Centers for Disease Control and Prevention. Published March 17, 2020. Accessed March 27, 2020. https://www.cdc.gov/coronavirus/2019-ncov/hcp/ppe-strategy/face-masks.html
Livingston E, Desai A, Berkwits M. Sourcing Personal Protective Equipment during the COVID-19 Pandemic. Editorial: Opinion.JAMA Published online March 28, 2020.
Siegel JD, Rhinehart E, Jackson M, Chiarello L, and the Healthcare Infection Control Practices Advisory Committee,2007 Guideline for Isolation Precautions: Preventing Transmission of Infectious Agents in Healthcare Settings http://www.cdc.gov/ncidod/dhqp/pdf/isolation2007.pdf.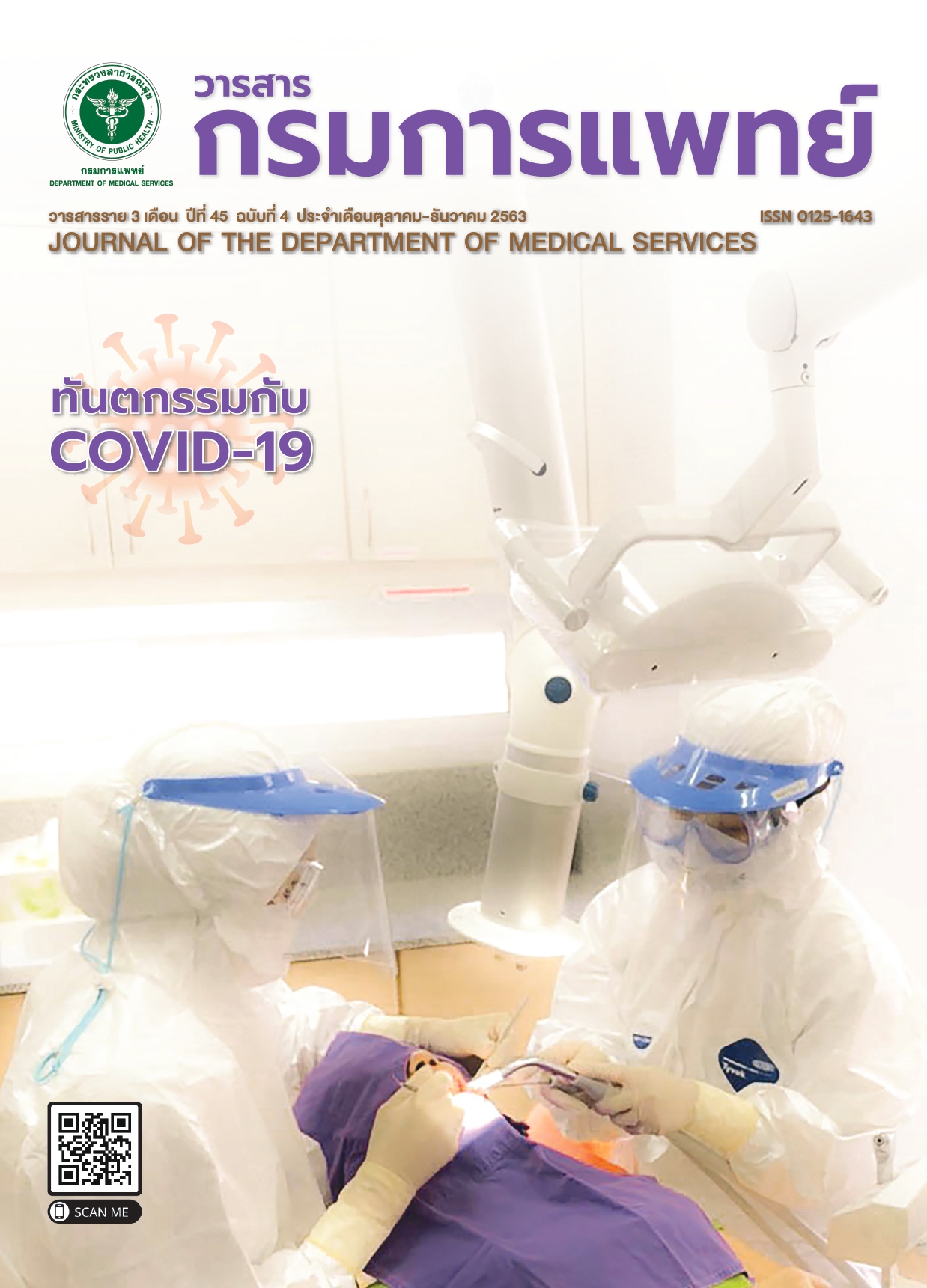 Downloads
How to Cite
1.
ชูเกียรติมั่น ก. Dentistry and COVID-19. j dept med ser [Internet]. 2021 Mar. 10 [cited 2022 Aug. 14];45(4):5-8. Available from: https://he02.tci-thaijo.org/index.php/JDMS/article/view/249731
License
บทความที่ได้รับการตีพิมพ์เป็นลิขสิทธิ์ของกรมการแพทย์ กระทรวงสาธารณสุข
ข้อความและข้อคิดเห็นต่างๆ เป็นของผู้เขียนบทความ ไม่ใช่ความเห็นของกองบรรณาธิการหรือของวารสารกรมการแพทย์