Risk of Recurrent Seizure in First Ever Seizure in Elderly
Keywords:
Risk, Recurrent seizure, Epilepsy, Elderly
Abstract
Background : There are some approach and treatment guidelines for first seizure generally used in all age groups. The risk of recurrent seizure is proved to be highly significant and reasonable to start antiepileptic medication after the second seizure. However, in elderly patients, the seizure etiology is commonly symptomatic causes therefore the risk of seizure recurrence could be different and possibly higher comparing to other age groups even in first seizure. In order to understand the risk of recurrent seizure in first seizure in the elderly, the specific study in old age patients with first seizure is required.
Objectives : To determine the risk factors of seizure recurrence in elderly and the treatment response in short (within 2 years) and long term duration (from 3-5 years).
Methods : Retrospective study of 149 patients who were older than 65 years and diagnosed of first seizure at Prasat Neurological Institute during January 1, 2007- December 31, 2017 was performed. Medical history, blood chemistry, routine electroencephalogram (EEG) and brain imaging (CT or MRI) were reviewed. We evaluated the risk factors of seizure recurrence and treatment response in short and long term duration.
Results : We identified 149 patients who had first seizure after the age of 65 years. 76 patients (51.0%) of this patients had recurrent seizures. The common etiologies were remote symptomatic (n = 78, 52.3%) and unknown causes (n = 44, 29.5%) respectively. Only clinical semiology of focal with impaired awareness and epileptic discharge abnormality were statistically significant predictors in term of seizure recurrence. Most of patients were treated by monotherapy and seizure could be controlled within 2 years.
Conclusions : Most of elderly patients with first seizure have evidence of cerebrovascular disease as seizure etiology. Focal with unawareness and epileptic discharge abnormality from EEG are significant predictors of seizure recurrence. Second seizure commonly recurs within 4 months. However, majority of the cases respond well to antiepileptic medication without serious adverse events.
Downloads
Download data is not yet available.
References
Sang Kun Lee, Epilepsy in the elderly: treatment and consideration of Comorbid diseases. Journal of EpilepsyResearch 2019; 9: 27-35.
Hauser WA, Annegers JF, Kurland LT. Incidence of epilepsy and unprovoked seizures in Rochester, Minnesota:1935-1984.Epilepsia 1993;34:453-68.
Tanaka A, Akamatsu N, Shouzaki T, Toyota T, Yamano M,Nakagawa M, et al. Clinical characteristics and treatment responses in new - onset epilepsy in elderly. Seizure 2013;22: 772-5.
Hauser WA, Beghi E. First seizure definitions and worldwide incidence and mortality. Epilepsia2008; 49: 8-12.
Pohlmann-Eden B, Beghi E, Camfield C, Camfield P. The first seizure and its management in adults and children. BMJ 2006;11: 339-42.
Falco-Walter JJ, Scheffer IE, Fisher RS. The new definition and classification of seizure and epilepsy. Epilepsy Res 2018;139: 73-9.
Fisher RS, Acarado C, Arzimanoglou A. A practical clinical definition of epilepsy. Epilepsia 2014; 55:475-82.
Kim LG, Johnson TL, Marson AG, Chadwick DW. Prediction of risk of seizure recurrence after a single seizure and early epilepsy: further results from the MESS trial. Lancet Neurol 2006; 5:317-22.
Report of the guideline development Subcommittee of American Academy of Neurology and the American Epilepsy Society. Evidence- based guideline: Management of an unprovoked first seizure in adults. Neurology 2015; 84:1705-13.
Fisher RS, Cross JH, D' Souza C, French JA, Haut SR, Higurashi N, et al. Instruction manual for the ILAE 2017 operational classification of seizure type. Epilepsia 2017; 58: 531-42.
Ghosh S, Jehi LE, New-onset epilepsy in the elderly:challenges for the internist. Cleve Clin J Med2014; 81: 490-8.
Chen LA, Cheng SJ, Joo SB. Epilepsy in the elderly. Inter J Gerontology 2012; 2: 63-7.
Thomus SV, Pradeep KS, Rajmohan SJ. First ever seizures in the elderly: a seven -year follow-up study. Seizure 1997;6:107-10.
Stephen LJ, Brodie MJ. Epilepsy in elderly people.Lancet2000; 22: 1441-6.
Assis TM, Bacellar A, Costa G, Nascimento OJ. Mortality predictors of epilepsy and epileptic seizures amonghospitalized elderly. Arq Neuropsiquitr 2015; 75:510-5.
Veles L, Selwa LM. Seizure disorders in the elderly. Am Fam Physician 2003; 15:325-32.
Stokx L, Kersten D, van der Velden K. Dutch general practice care for patients with epilepsy: results from the Dutch national Survey of Morbidity and Interventions. Fam Pract 1991; 8:125-8.
Phabphal K, Geater A, Limapichat K, Setthawatcharawanich S.Risk factors of recurrent seizure, co-morbidities, and mortality in new onset seizure in elderly. Seizure2013; 22: 577-80.
Malter MP, Nass RD, Kaluschke T, Fink GR, Burghaus L, Dohmen C. New onset status epilepticus in older patients: Clinical characteristics and outcome. Seizure 207; 51: 114-20.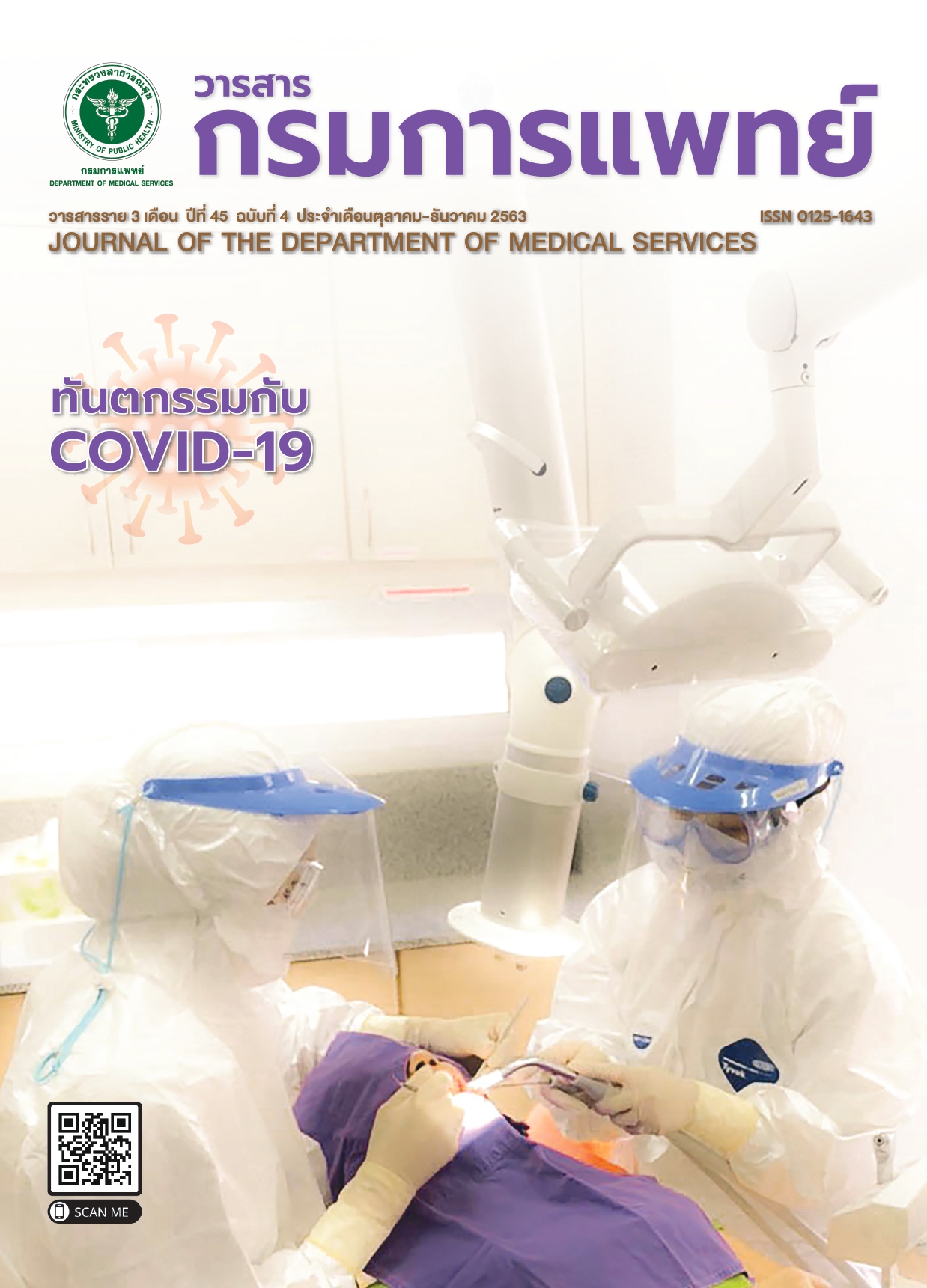 Downloads
How to Cite
1.
Wangphonphatthanasiri ข. Risk of Recurrent Seizure in First Ever Seizure in Elderly. j dept med ser [Internet]. 2021 Mar. 10 [cited 2022 Aug. 14];45(4):68-74. Available from: https://he02.tci-thaijo.org/index.php/JDMS/article/view/249759
License
บทความที่ได้รับการตีพิมพ์เป็นลิขสิทธิ์ของกรมการแพทย์ กระทรวงสาธารณสุข
ข้อความและข้อคิดเห็นต่างๆ เป็นของผู้เขียนบทความ ไม่ใช่ความเห็นของกองบรรณาธิการหรือของวารสารกรมการแพทย์