Fitting of Removable Dentures in Schizophrenic Patient Complicated with Tardive Dyskinesia
Keywords:
Tardive dyskinesia, Schizophrenic patient, Removable denture
Abstract
We report a schizophrenic patient who developed involuntary movement of her mouth and tongue during a dental visit. Tardive dyskinesia was suspected from her antipsychiatric medications, then her psychiatrist was consulted and notified about her concurrent symptoms. The dental management includes tooth extraction, prosthodontic treatment including single maxillary denture and lower partial removable acrylic denture with non anatomical teeth to minimize lateral force and improved stability. Denture adhesive is employed to increase retention of the maxillary denture. The result shows a satisfaction of mastication and recovery of facial esthetic. Both the dentist and patient are very satisfied with the treatment.
Downloads
Download data is not yet available.
References
Udomratn P,Vasiknanonte S, editors. Textbook of schizophrenia. The Psychiatric Association of Thailand.Songkhla: Chanmuang Press; 2009.
Jain R, Correll CU. Tardive dyskinesia: recognition, patient assessment, and differential diagnosis. J Clin Psychiatry 2018;79:16-23.
Cornett EM, Novitch M, Kaye AD, Kata V, Kaye AM. Medication-Induced tardive dyskinesia: a review and update. Ochsner J 2017; 17:162-74.
Chaubey S, Chaturvedi TP, Tripathi MN. Dental implications of tardive dyskinesia: a concise review. Dysphrenia 2013;3:126-8.
Anusa AM, Thavarajah R, Nayak D, Joshua E, Rao UK,Ranganathan K. A study on drug-Induced tardive dyskinesia:orofacial musculature involvement and patient's awareness.J Orofac Sci 2018; 10:86-95.
Blanchet PJ, Rompré PH, Lavigne GJ, Lamarche C. Oral dyskinesia: a clinical overview. Int J Prosthodont 2005;18:10-9.
Lumetti S, Ghiacci G, Macaluso GM, Amore M, Galli C, Calciolari E, et al. Tardive dyskinesia, oral parafunction,and Implant-supported rehabilitation. Care Rep Dent 2016;1-7.
Thatreenaranon S. Dental management in psychiatric patient.J Dent Assoc Thai 2009; 59:51-62.
Purkayastha SD, Gurenlian J. Oral healthcare for patients with schizophrenia. [cited 2020 Jun 2]. Avialable from:https://decisionsindentistry.com/article/oral-healthcarepatients-schizophrenia/.
Wey MC, Loh S, Doss JG, Bakar AK, Kisely S. The oral health of people with chronic schizophrenia: a neglected public health burden. Aust N Z J Psychiatry 2016; 50:685-94.
Toomtong S. Oral health status of schizophrenic patient.Bangkok: Somdet chawpraya institute of psychiatry;2005.
Roumanas ED. The social solution - denture esthetics,phonetics, and function. J Prosthodont 2009; 18:112-5.
Zarb GA, Bolender CL, Eckert SE, Jacob RF, Fenton AH,Mericske-Stern R. Prosthodontic treatment for edentulous patients: complete dentures and implant-supported prostheses 12th edition. St. Louis: Mosby; 2004.
Prabhu SS, Almousa S, Fotier K, Reebye UN. Diagnosis of tardive dyskinesia in an oral surgical office. Clin Med Rev Case Rep 2018; 5:226.
Chindavanig V. Removable prosthodontics core content review 2. [cited 2020 Jun 2]. Avialable from:http://www.dent.chula.ac.th/upload/download/30/file_18_1505.pdf.
Kumar PR, Shajahan PA, Mathew J, Koruthu A, Aravind P,Ahammed MF. Denture Adhesives in Prosthodontics:An Overview. J Int Oral Health 2015;7:93-5.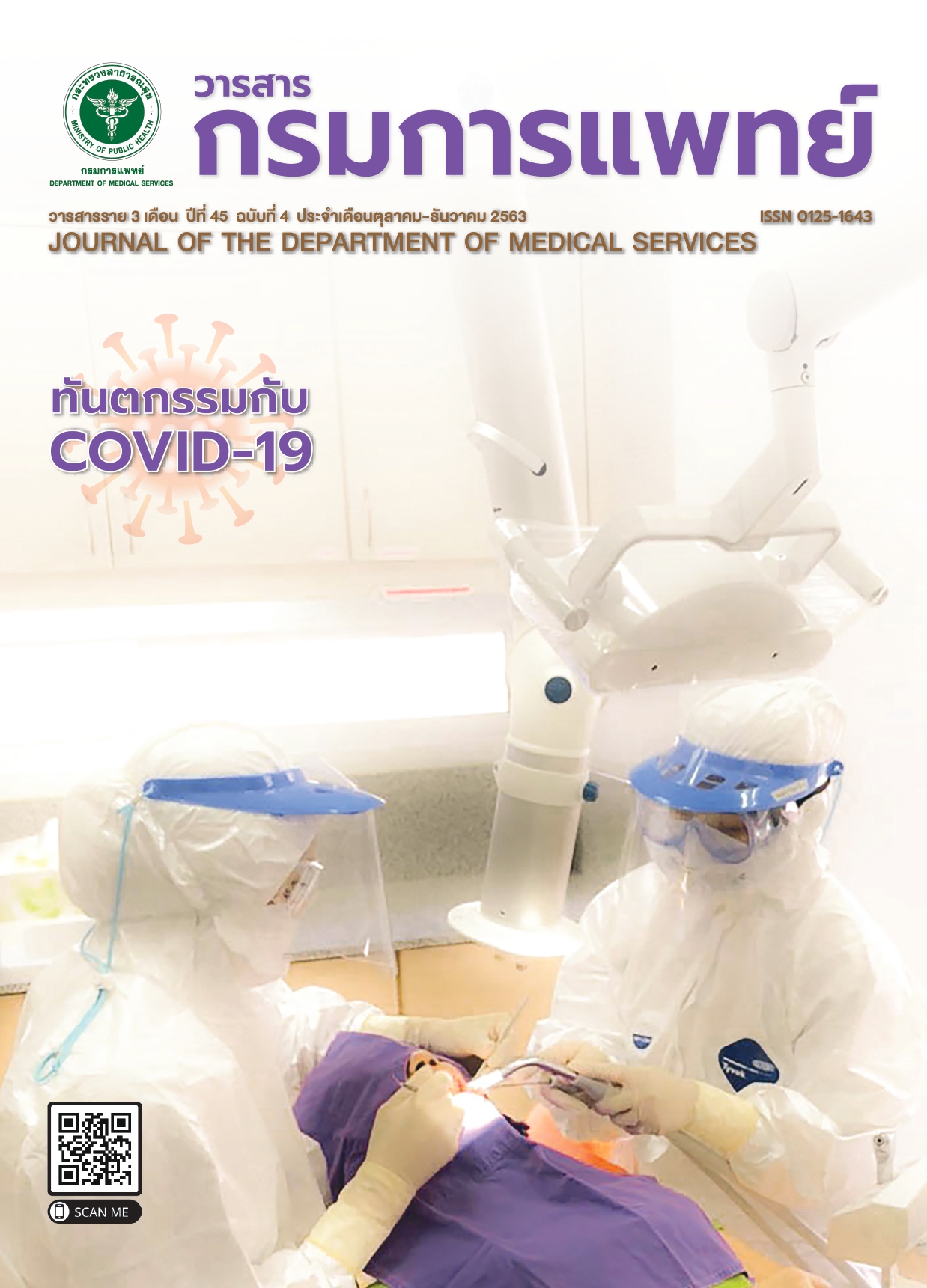 Downloads
How to Cite
1.
สุวรรณี ตุ่มทอง ท.บ. Fitting of Removable Dentures in Schizophrenic Patient Complicated with Tardive Dyskinesia. j dept med ser [Internet]. 2021 Mar. 10 [cited 2022 Aug. 14];45(4):253-9. Available from: https://he02.tci-thaijo.org/index.php/JDMS/article/view/249826
License
This work is licensed under a Creative Commons Attribution-NonCommercial-NoDerivatives 4.0 International License.
บทความที่ได้รับการตีพิมพ์เป็นลิขสิทธิ์ของกรมการแพทย์ กระทรวงสาธารณสุข
ข้อความและข้อคิดเห็นต่างๆ เป็นของผู้เขียนบทความ ไม่ใช่ความเห็นของกองบรรณาธิการหรือของวารสารกรมการแพทย์