CBD-enriched Medical Cannabis Product for Pediatric Drug Resistant Epilepsy Treatment in Thailand : Experiences from 2 Centers in Department of Medical Services, Ministry of Public Health
Keywords:
CBD enriched, Pediatric drug resistant epilepsy
Abstract
Background: Since 2019, Thailand has legalized medical cannabis use in special access scheme.Objective: To study the efficacy and safety of CBD-enriched medical cannabis product (MCP) for pediatric drug resistant epilepsy patients (PDREs) in Thailand.Methods: Retrospective descriptive study was conducted at Neurological Institute of Thailand and Queen Sirikit National Institute of Child Health in PDREs treated with CBD enriched MCP, CBD: THC ≥ 20:1.Results: Of 14 PDREs, 7 were male. Median age was 9 years (range 3-27). Median seizure frequency was 300 times per month. Median number of concomitant antiepileptic drugs was 4 (range2-6). Median CBD and THC dosage was 5.6 and 0.12 mg/kg/day (mkd). Five patients (35%) withdrew MCP, mostly due to seizure aggravation (28%) during the first 3 months. Median treatment duration of the remaining 9 patients was 18 months. The 50% responder rate in convulsive and total seizures was 50% and 43%. The % median monthly seizure reduction in convulsive and total seizures after 12 month-treatment was 57.5% and 67%. Adverse drug events (ADEs) were found in all patients but in 47% of 138 visits. The most common ADEs were somnolence (64%), seizure aggravation (43%), irritable (42%), and decreased appetite (28%). Serious ADEs were seizure aggravations leading to MCP withdrawal (28%), admissions due to seizure and drowsiness (14%), hepatitis (7%). The higher dose CBD starting group tended to have more seizure aggravation and drop out during titration (p= 0.086) but at 12th month the higher dose group had more seizure reduction rate than lower dose group with statistical significance (p=0.027)Conclusion: CBD-enriched MCP had potential efficacy and could be continuously used more than 12 months in Thai PDREs. ADEs were very common but mostly tolerated. Low dose initiation, slowly titration and closely monitoring for serious ADEs during the first 3 months are suggested.
Downloads
Download data is not yet available.
References
Kwan P, Arzimanoglou A, Berg AT, Brodie MJ, Allen Hauser W,Mathern G, et al. Definition of drug resistant epilepsy: consensus proposal by the ad hoc Task Force of the ILAE Commission on Therapeutic Strategies.Epilepsia 2010; 51: 1069–77.
Perrucca E. Cannabinoids in the Treatment of Epilepsy: Hard Evidence at Last? J Epilepsy Res 2017;7:61-76.
Devinsky O, Cross JH, Laux L, Marsh E, Miller I, Nabbout R, et al. Trial of cannabidiol for drug-resistant seizures in the Dravet syndrome. N Engl J Med 2017; 376:2011-20.
Devinsky O, Patel AD, Cross JH, Villanueva V, Wirrell EC, Privitera M, et al. Effect of Cannabidiol on Drop Seizures in the Lennox–Gastaut Syndrome. New Engl J Med 2018; 378: 1888–97.
Thiele EA, Marsh ED, French JA, Mazurkiewicz-Beldzinska M, Benbadis SR, Joshi C, et al. Cannabidiol in patients with seizures associated with Lennox-Gastaut syndrome (GWPCARE4):a randomised, double-blind, placebo-controlled phase 3 trial.Lancet 2018; 391: 1085–96.
Silvestro S, Mammana S, Cavalli E, Bramanti P, Mazzon E. Use of Cannabidiol in the Treatment of Epilepsy:Efficacy and Security in Clinical Trials. Molecule 2019;24:1459.
Pamplona FA, da Silva LR, Coan AC. Potential Clinical Benefits of CBD-Rich Cannabis Extracts Over Purified CBD in Treatment-Resistant Epilepsy: Observational Data Meta-analysis. Front Neurol 2018; 9:759.
The Narcotics Act (No. 7) B.E. 2562. [Internet]. 2020 [cited 2019 Mar 12]. Available from:http://www.ratchakitcha.soc.go.th/DATA/PDF/2562/A/019/T_0001.PDF
Narcotics Control Division Food and Drug Administration, Ministry of Public Health (2019). Guidelines for applying for permission in selling narcotics in category 5, only marijuana for treatment in the case of modern medicine. Through the approval of the Narcotics Control Committee, 404-8th (2019), 19 July 2019.
Child Neurology Association (Thailand). Recommendation for using CBD-enriched medical cannabis in pediatric drug resistant epilepsy. In: Department of Medical Services, Ministry of Public Health (3rd revision):Guidance on Cannabis for Medical Use,Cucumber (Thailand) LTD.; 2020.
Ronen GM, Streiner DL, Rosenbaum P. Health-related quality of life in children with epilepsy: development and validation of self-report and parent proxy measures. Epilepsia 2003; 44:598-612.
Thiele E, Marsh E, Mazurkiewicz-Beldzinska M, Halford JJ, Gunning B, Devinsky O, et al. Cannabidiol in patients with Lennox-Gastaut syndrome: Interim analysis of an open-label extension study. Epilepsia 2019;60:419–28.
Gofshteyn JS, Wilfong A, Devinsky O, Bluvstein J, Charuta J,Ciliberto MA, et al. Cannabidiol as a Potential Treatment for Febrile Infection-Related Epilepsy Syndrome (FIRES) in the Acute and Chronic Phases. Child Neurol 2017; 32:35-40.
Szaflarski JP, Bebin EM, Comi AM, Patel AD, Joshi C, Checketts D, et al. Long-term safety and treatment effects of cannabidiol in children and adults with treatment-resistant epilepsies:Expanded access program results.Epilepsia 2018;59: 1540–48.
Cannabidiol oral solution (Epidiolex®) [Internet]. Carlsbad (CA): Greenwich Biosciences, Inc.; 2018 [cited 2018 Aug 10].Package insert. Available from: https://www.accessdata.fda.gov/drugsatfda_docs/label/2018/210365lbl.pdf
Huntsman RJ, Tang-Wai R, Alcorn J, Vuong S, Acton B, Corley S, et al. Dosage related efficacy and tolerability of cannabidiol in children with treatment-resistant epileptic encephalopathy:preliminary results of the CARE-E study. Front Neurol 2019:10:716.
Trembly B, Sherman M. Double-blind clinical study of cannabidiol as a secondary anticonvulsant. Proceedings of:marijuana '90 international conference on cannabis and cannabinoids; 1990 July 8–11; Kolympari, Crete.International Association for Cannabinoid Medicines; 1990.
Tzadok M, Uliel-Siboni S, Linder I, Kramer U, Epstein O, Menascu S, et al. CBD-enriched medical cannabis for intractable pediatric epilepsy: The current Israeli experience. Seizure 2016; 35: 41-4.
Hausman-Kedem M, Menascu S, Kramer U. Efficacy of CBDenriched medical cannabis for treatment of refractory epilepsy in children and adolescents - An observational, longitudinal study. Brain Dev 2018;40: 544-51.
McCoy B, Wang L, Zak M, Al-Mehmadi S, Kabir N, Alhadid K, et al. A prospective open-label trial of a CBD/THC cannabis oil in dravet syndrome. Ann Clin Transl Neurol 2018;5: 1077-88.
Atakan Z. Cannabis, a complex plant: different compounds and different effects on individuals. Ther Adv Psychopharmacol 2012;2: 241–54.
Gaston TE, Bebin EM, Cutter GR, Liu Y, Szaflarski JP. Interactions between cannabidiol and commonly used antiepileptic drugs.Epilepsia 2017; 58:1586–92.
Sommerville K, Crockett J, Blakey GE, Morrison G. Bidirectional drug-drug interaction with co-administration of cannabidiol and clobazam in a phase 1 healthy volunteer trial. American Epilepsy Society Abstracts Database (Abst. 1.433). Available from: https://www.aesnet.org/meetings_events/ annual_meeting_abstracts/view/381188 Accessed May 7, 2018.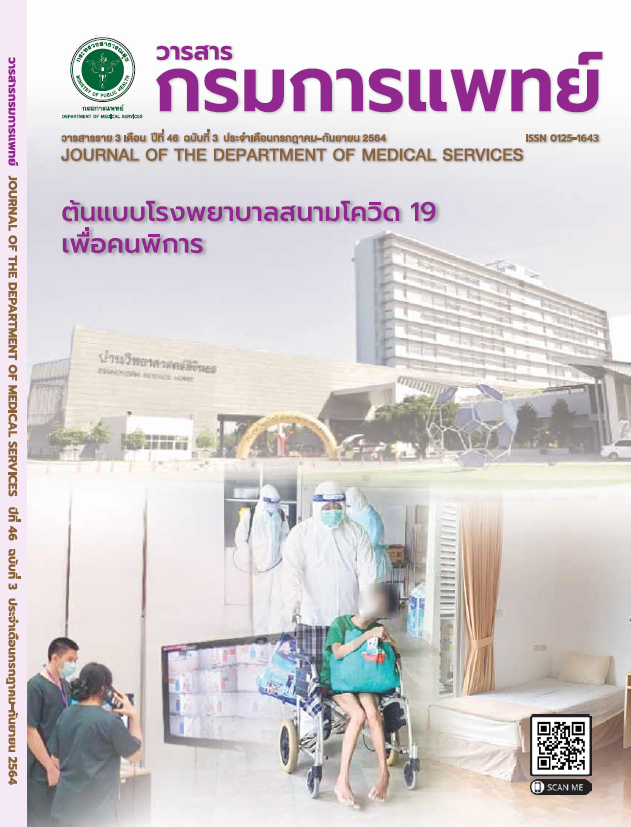 Downloads
How to Cite
1.
Lusawat A, Suwannachote S, Sudachan P, Sri-udomkajorn S, Sattatporn C, Wechapinan T, Sakpichaisakul K. CBD-enriched Medical Cannabis Product for Pediatric Drug Resistant Epilepsy Treatment in Thailand : Experiences from 2 Centers in Department of Medical Services, Ministry of Public Health. j dept med ser [Internet]. 2021 Nov. 30 [cited 2023 Feb. 1];46(3):60-72. Available from: https://he02.tci-thaijo.org/index.php/JDMS/article/view/250456
License
Copyright (c) 2021 Department of Medical Services, Ministry of Public Health
This work is licensed under a Creative Commons Attribution-NonCommercial-NoDerivatives 4.0 International License.
บทความที่ได้รับการตีพิมพ์เป็นลิขสิทธิ์ของกรมการแพทย์ กระทรวงสาธารณสุข
ข้อความและข้อคิดเห็นต่างๆ เป็นของผู้เขียนบทความ ไม่ใช่ความเห็นของกองบรรณาธิการหรือของวารสารกรมการแพทย์