A Case Report of Morbilliform Eruption after Vaccination of CoronaVac Vaccine
Keywords:
COVID-19, vaccine, sinovac, coronavac
Abstract
The severe acute respiratory syndrome coronavirus 2 (SARS-CoV-2) causes the coronavirus disease 2019 (COVID-19) systemic viral syndrome responsible for an ongoing global pandemic. COVID-19 has led to high morbidity and mortality worldwide. The absence of immunity in the population could be susceptible to new waves of COVID-19 infection. The effective equipment to prevent this pandemic is the development of a potential vaccine against the disease. CoronaVac (Sinovac Life Sciences, Beijing, China) is an inactivated vaccine alternative against COVID-19, that has shown immunogenicity with vaccine-induced neutralizing antibodies to SARS-CoV-2. Nowadays, we have few reports about this vaccine, due to a short time of development. Currently, we report a case of 29-year-old Thai female with the developing of morbilliform rash on the face and chest 40 minutes following the first dose vaccination.
Downloads
Download data is not yet available.
References
WHO. Coronavirus disease (COVID-19) situation report - 163. Geneva: World Health Organization, 2020 [Available from: https://www.who.int/ docs/default-source/coronaviruse/situation-reports/20200701-covid- 19-sitrep-163.pdf?sfvrsn=c202f05b_2.
Sanche S, Lin YT, Xu C, Romero-Severson E, Hengartner N, Ke R. High Contagiousness and Rapid Spread of Severe Acute Respiratory Syndrome Coronavirus 2. Emerg Infect Dis. 2020;26(7):1470-7.
Gao Q, Bao L, Mao H, Wang L, Xu K, Yang M, et al. Development of an inactivated vaccine candidate for SARS-CoV-2. Science. 2020;369(6499):77-81.
Zhang Y, Zeng G, Pan H, Li C, Hu Y, Chu K, et al. Safety, tolerability, and immunogenicity of an inactivated SARS-CoV-2 vaccine in healthy adults aged 18-59 years: a randomised, double-blind, placebo-controlled, phase 1/2 clinical trial. Lancet Infect Dis. 2021;21(2):181-92.
Korman AM, Alikhan A, Kaffenberger BH. Viral exanthems: An update on laboratory testing of the adult patient. Journal of the American Academy of Dermatology. 2017;76(3):538-50.
Mawhirt SL, Frankel D, Diaz AM. Cutaneous Manifestations in Adult Patients with COVID-19 and Dermatologic Conditions Related to the COVID-19 Pandemic in Health Care Workers. Curr Allergy Asthma Rep. 2020;20(12):75.
Fattori A, Cribier B, Chenard MP, Mitcov M, Mayeur S, Weingertner N. Cutaneous manifestations in patients with coronavirus disease 2019: clinical and histological findings. Hum Pathol. 2021;107:39-45.
Gwynn ME, DeRemer DL, Saunders KM, Parikh J, Bollag RJ, Clemmons AB. Immune-mediated adverse events following influenza vaccine in cancer patients receiving immune checkpoint inhibitors. J Oncol Pharm Pract. 2020;26(3):647-54.
Naranjo CA, Busto U, Sellers EM, Sandor P, Ruiz I, Roberts EA, et al. A method for estimating the probability of adverse drug reactions. Clin Pharmacol Ther. 1981;30(2):239-45.
Chu DK, Abrams EM, Golden DBK, Blumenthal KG, Wolfson AR, Stone CA, Jr., et al. Risk of Second Allergic Reaction to SARS-CoV-2 Vaccines: A Systematic Review and Meta-analysis. JAMA Intern Med. 2022;182(4):376-85.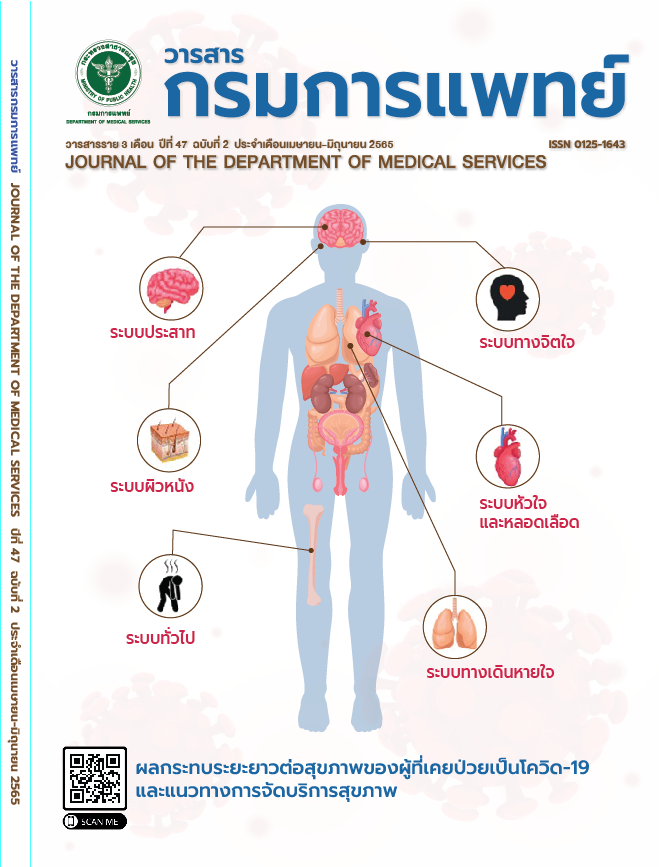 Downloads
How to Cite
1.
Singthong S, Wichaidit M, Kullavanijaya P, Chunhasewee C, Kootiratrakarn T, Tresukosol P. A Case Report of Morbilliform Eruption after Vaccination of CoronaVac Vaccine. j dept med ser [Internet]. 2022 Jun. 29 [cited 2022 Sep. 29];47(2):116-9. Available from: https://he02.tci-thaijo.org/index.php/JDMS/article/view/250605
License
Copyright (c) 2022 Department of Medical Services, Ministry of Public Health
This work is licensed under a Creative Commons Attribution-NonCommercial-NoDerivatives 4.0 International License.
บทความที่ได้รับการตีพิมพ์เป็นลิขสิทธิ์ของกรมการแพทย์ กระทรวงสาธารณสุข
ข้อความและข้อคิดเห็นต่างๆ เป็นของผู้เขียนบทความ ไม่ใช่ความเห็นของกองบรรณาธิการหรือของวารสารกรมการแพทย์