Development and Evaluation of a Mobile Application for Mealtime Bolus Insulin Dosage Calculation (CarbInHand)
Keywords:
Diabetes Mellitus, Mobile Application, Insulin, Dosage Calculation, Carbohydrate Counting
Abstract
Background: The calculation of bolus insulin injection is essential for controlling the blood glucose level in patients with Type 1 Diabetes Mellitus (T1DM). Many studies showed that small numbers of patients could calculate correctly. Therefore, the use of calculation tools may help provide more accurate results.Objective: To develop and evaluate a mobile application for mealtime bolus insulin dosage calculation for T1DM patients.Method: A survey was conducted among the caregivers of T1DM patients to identify the needed interface and functions of the application (app.). Information used in the app was in Thai and was verified by the healthcare expert panel (clinicians, pharmacists, and nutritionists). Twenty participants tested the app. The data on time used in insulin calculation and errors were collected. The participants' satisfaction was evaluated after seven days of use.Results: The developed app. called "CarbInHand", could calculate the amount of carbohydrate in foods which determine an adequate dosage of bolus insulin. The accuracy between insulin dosage calculation manually vs using the app were 28.5% vs 42%, respectively. The average time used in calculation manually vs using the app. were 0.755 vs 1.075 minutes, respectively. Participants satisfied with the app. in the highest levels of all aspects assessed. The highest scores were in the installation process and the usefulness to T1DM patients and caregivers.Conclusions: "CarbInHand" is the app. that T1DM patients can use as a tool to assist in the calculation of bolus insulin dosage and carbohydrate counting with high accuracy and satisfaction. The app. contains data on the amount of carbohydrates in 387 food items, reducing the burden of remembering carbohydrates in foods. It can be used offline on iOS and Android operating systems.
Downloads
Download data is not yet available.
References
International Diabetes Federation. IDF Diabetes atlas. 7th ed. Brussels: Karakas Print; 2015.
Himatongkam T. Complete knowledge of diabetes. Bangkok: Wittayapat; 2557.
American Diabetes Association. Standards of medical care in diabetes-2014. Diabetes Care 2014; 37 Suppl 1: S14-S80.
Delahanty LM, McCulloch DK [Internet]. UpToDate; 2017 [update 2017 Mar 20; cited 2017 Oct 13] Patient education: Type 1 diabetes mellitus and diet; [10]. Available from: https:// www.uptodate.com/contents/type-1-diabetes-mellitus-anddiet-beyond-the-basics?source=search_result&search=Patient+ education%3A+Type+1+diabetes+mellitus+and+diet+%28 Beyond+the+Basics%29&selectedTitle=1%7E150#H1
Gökşen D, Atik Altınok Y, Özen S, Demir G, Darcan S. Effects of carbohydrate counting method on metabolic control in children with type 1 diabetes mellitus. J Clin Res Pediatr Endocrinol 2014; 6:74-8.
Bishop FK, Maahs DM, Spiegel G, Owen D, Klingensmith GJ, Bortsov A, et al. The carbohydrate counting in adolescents with type 1 diabetes (CCAT) study. Diabetes Spectrum 2009; 22:56-62.
Faulkner L. Beyond the five-user assumption: benefits of increased sample sizes in usability testing. Behav Res Methods Instrum Comput 2003; 35:379-83.
Kawamura T, Takamura C, Hirose M, Hashimoto T, Higashide T, Kashihara Y, et al. The factors affecting on estimation of carbohydrate content of meals in carbohydrate counting. Clin Pediatr Endocrinol 2015; 24:153-65.
Likhitmasakul S, Riewtrakul S, Kongsomboonwetch S, Rodari P, editor. Carbohydrate counting for health and diabetes control. Bangkok: Diabetes association of Thailand; 2560.
Likhitmasakul S, Riewtrakul S, Somwang S, Tongpang S, editor. Carbohydrate counting manual. Bangkok: Diabetes association of Thailand ; 2560.
Knight BA, McIntyre HD, Hickman IJ, Noud M. Qualitative assessment of user experiences of a novel smart phone application designed to support flexible intensive insulin therapy in type 1 diabetes. BMC Med Inform Decis Mak2016;16:119.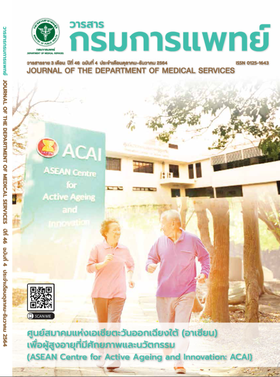 Downloads
How to Cite
1.
Petcharotai T, Insuk S. Development and Evaluation of a Mobile Application for Mealtime Bolus Insulin Dosage Calculation (CarbInHand). j dept med ser [Internet]. 2022 Jan. 21 [cited 2022 Oct. 7];46(4):22-9. Available from: https://he02.tci-thaijo.org/index.php/JDMS/article/view/251120
License
Copyright (c) 2022 Department of Medical Services, Ministry of Public Health
This work is licensed under a Creative Commons Attribution-NonCommercial-NoDerivatives 4.0 International License.
บทความที่ได้รับการตีพิมพ์เป็นลิขสิทธิ์ของกรมการแพทย์ กระทรวงสาธารณสุข
ข้อความและข้อคิดเห็นต่างๆ เป็นของผู้เขียนบทความ ไม่ใช่ความเห็นของกองบรรณาธิการหรือของวารสารกรมการแพทย์