Ultrasonography is not Inferior to Fluoroscopy to Guide in Extracorporeal Shock Waves for Treatment of Renal and Upper Ureteral Calculi
Keywords:
Renal stone, Ureteral stone, ESWL, Ultrasound guided
Abstract
Background : Extracorporeal shock wave lithotripsy (ESWL) is the standard treatment for urinary stones, which mainly uses fluoroscopy to determine the location of stones. Developing using ultrasound to determine the location of stones instead of traditional methods will be useful so that patients and doctors do not have to be exposed to X-rays from the use of fluoroscopy.Objective : To compare the efficacy and safety of ultrasound and fluoroscopy to guide in extracorporeal shock wave for treatment of renal and upper ureteral calculi.Methods : This study was a single-center study, randomized, non-inferiority trial in 154 patients who had radiopaque renal and upper ureteral calculi. Patients were randomly assigned to an ultrasound or fluoroscopy-guided SWL group. A standardized SWL protocol was used. The stone-free rate and the complications were compared.Results : Stone size and location, age, and body mass index were comparable between groups. The stone-free rate was 80.5% in the ultrasoundguided group compared to 81.8% in the fluoroscopy-guided group (p = 0.837). These results were not significantly different and proved to be non-inferior based (p = 0.037). The complication rate (gross hematuria) was 31.6% in the ultrasound-guided group compared to 38.2% in the fluoroscopy-guided group (p = 0.395). No patients had serious complications.Conclusions : Our study demonstrated that the clinical results of ultrasound-guided SWL were not inferior to the effects of fluoroscopy-guided SWL, while no ionizing radiation is needed.
Downloads
Download data is not yet available.
References
Amornyotin S, Srikureja W, Pausawasdi N,PrakanrattanaU, Kachintorn U. Intravenous sedation for gastrointestinal endoscopy in very elderly patients of Thailand. Asian Biomed 2011; 5: 485-91.
Raksamani A. Intravenous anesthetics. In: Suwanchinda V,Phakanrattana U, eds. Siriraj's text-book of anesthesiology. 2nd ed. Bangkok: Bangkok Wetchasan Printing House; 1995. p 163-175.
Harper NJ. Propofol and food allergy. Br J Anaesth 2016;116:11–3.
Sommerfield DL, Lucas M, Schilling A, Drake-Brockman TFE,Sommerfield A, Arnold A, et al. Propofol use in children with allergies to egg, peanut, soybean or other legumes. Anesthesia 2019;74:1252-9.
Heidari SM, Shetabi HR, TarashiKashani S. Comparison between the effects of propofol-ketamine and propofol-fentanyl for sedation in cataract surgery. Scientific Journal of Kurdistan University of Medical Sciences.2019; 24:30-40.
Akhondzadeh R, Ghomeishi A, Nesioonpour S, Nourizade S. A comparison between the effects of propofol-fentanyl with propofol-ketamine for sedation in patients undergoing endoscopic retrograde cholangiopancreatography outside the operating. Biomed J 2016; 39:145-9.
Tutal ZB, Gulec H, Dereli N, Babayigit M, Kurtay A, Inceoz H,et al. Propofol-ketamine combination: a choice with less complications and better hemodynamic stability compared to propofol? On a prospective study in a group of colonoscopy patients. Ir J Med Sci 2016; 185:699-704.
Kawattikul J, Duangkhamchan R, Butthai S. The efficacy of combination of ketamine and propofol for sedation in colonoscopy. Mahasarakham Hospital Journal 2017; 14:20-9
Khajavi M, Emami A, Etezadi F, Safari S, Sharifi A, Moharari RS.Conscious sedation and analgesia in colonoscopy: ketamine/propofol combination has superior patient satisfaction versus fentanyl/propofol. Anesth Pain Med 2013; 3: 208-13.
Nazemroaya B, Majedi MA, Shetabi H, Salmani S. Comparison of propofol and ketamine combination (Ketofol) and propofol and fentanyl combination (Fenofol) on quality if sedation and analgesia in the lumpectomy: a randomized clinical trial. Adv Biomed Res 2018; 7:134.
Tosun Z, Aksu R, Guler G, Esmaoglu A, Akin A, Aslan D, Boyaci A. Propofol-ketamine vs propofol-fentanyl for sedation during pediatric upper gastrointestinal endoscopy. Pediatr Anesth 2007;17:983-8.
Riham H, Wael E. Ketamine/propofol versus fentanyl/propofol for sedating obese patients undergoing endoscopic retrograde cholangiopancreatography (ERCP). Egyptian Journal of Anaesthesia 2013; 29:207-211.
Bahattin T, Yonca Ozavardar P, Arzu C, Pinar Z. Addition of low dose ketamine to midazolam-fentanyl propofol based sedation for colonoscopy: a randomized, double blind, control trial. J Clin Anesth 2015; 27:301-6.
Amornyotin S, kongphlay S. Clinical efficacy of combination of propofol and ketamine (ketofol) for deep sedation in colonoscopic procedure. Journal of Gastroenterology and Hepatology Research 2015; 4:1689-93.
Blagrove M, Morgan CJA, Curran HV, Bromley L, Brandner B. The incidence of unpleasant dreams after sub-anaesthetic ketamine.Psychopharmacology 2008; 203:109-20.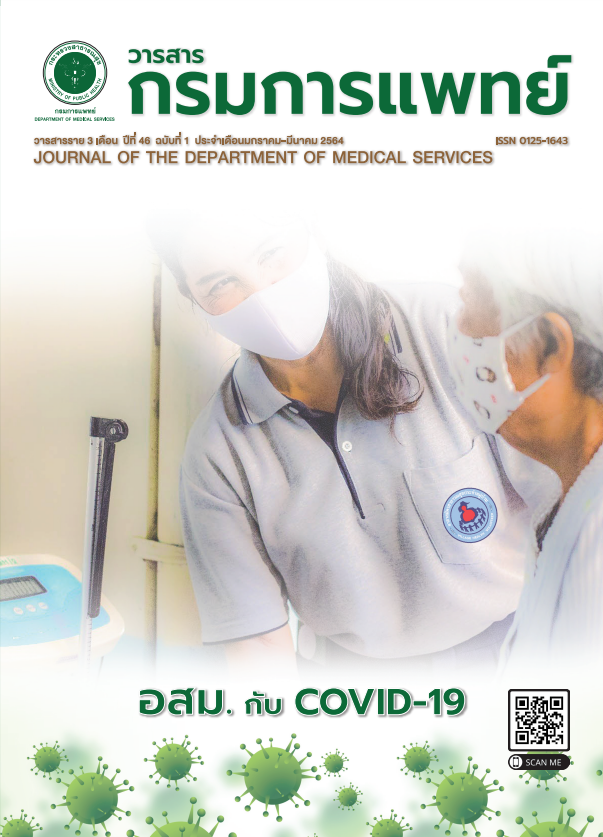 Downloads
How to Cite
1.
Siritanan น, Sukkhum ว. Ultrasonography is not Inferior to Fluoroscopy to Guide in Extracorporeal Shock Waves for Treatment of Renal and Upper Ureteral Calculi. j dept med ser [Internet]. 2021 Jun. 18 [cited 2022 Aug. 14];46(1):30-6. Available from: https://he02.tci-thaijo.org/index.php/JDMS/article/view/251646
License
This work is licensed under a Creative Commons Attribution-NonCommercial-NoDerivatives 4.0 International License.
บทความที่ได้รับการตีพิมพ์เป็นลิขสิทธิ์ของกรมการแพทย์ กระทรวงสาธารณสุข
ข้อความและข้อคิดเห็นต่างๆ เป็นของผู้เขียนบทความ ไม่ใช่ความเห็นของกองบรรณาธิการหรือของวารสารกรมการแพทย์