Unexpected Antibodies in Cancer Patients at Maha Vajiralongkorn Thanyaburi Hospital
Keywords:
Unexpected antibodies, Cancer, Blood component
Abstract
Background : Unexpected antibodies are antibodies beyond the blood type ABO that are clinically important and cause reactions after receiving the blood components. Most cancer patients experience anemia caused by chemotherapy, radiation or from cancer. Therefore, unexpected antibodies are the problem for monitoring the cause of transfusion reactions.Objective : To study 1) prevalence of types of unexpected antibodies in cancer patients receiving blood components. 2) unexpected antibodies related to with antibody types in cancer patients requesting blood components at Maha Vajiralongkorn Thanyaburi Hospital.Method : This retrospective study based on data from cancer patients who received blood components from Maha Vajiralongkorn Thanyaburi Hospital.Result : Total of 2,516 patients, the results showed that 95 patients with unexpected antibodies (3.77%), colon cancer associated with Auto anti-I, lung cancer associated with Anti-C, Anti-e and Anti-Leb (p-value <0.05). The relation of antibody types showed Anti-C with Anti-e, Anti-c with Anti-E, Anti-E with Anti-S, Anti-Dia with Anti-Fyb, Anti-Lea with Anti-Fyb, Anti-Lea with Anti-Leb (p-value <0.01) and Anti-E with Anti-P1, Anti-P1 with Anti-Fya (p-value <0.05).Conclusion : The relationship between unexpected antibodies and type of cancer will be useful in the surveillance reaction after blood transfusion of patients with further cancer.
Downloads
Download data is not yet available.
References
Rizzo JD, Brouwers M, Hurley P, Seidenfeld J, Somerfield MR,Temin S. American society of clinical oncology/american society of hematology clinical practice guideline update on the use of epoetin and darbepoetin in adult patients with cancer. J Oncol Pract 2010;6:317-20.
Dunne JR, Gannon CJ, Osborn TM, Taylor MD, Malone DL,Napolitano LM. Preoperative anemia in colon cancer:assessment of risk factors. Am Surg 2002;68:582-7.
Pujade-Lauraine E, Gascon P. The burden of anaemia in patients with cancer. Oncology 2004;67:1-4.
Cella D, Dobrez D, Glaspy J. Control of cancer-related anemia with erythropoietic agents: a review of evidence for improved quality of life and clinical outcomes. Ann Oncology 2003;14:511-9.
Groopman JE, Itri LM. Chemotherapy-induced anemia in adults:incidence and treatment. J Natl Cancer Inst 1999;91:1616-34.
Smith RE Jr, Tchekmedyian S. Practitioners' practical model for managing cancer-related anemia. Oncology(Williston Park)2002;16(9 Suppl 10):55-63.
Knight K, Wade S, Balducci L. Prevalence and outcomes of anemia in cancer: a systematic review of the literature. Am J Med 2004;116 Suppl 7A:11s-26s.
Skillings JR, Sridhar FG, Wong C, Paddock L. The frequency of red cell transfusion for anemia in patients receiving chemotherapy. A retrospective cohort study. Am J Clin Oncol 1993;16:22-5.
Langer CJ, Choy H, Glaspy JA, Colowick A. Standards of care for anemia management in oncology: focus on lung carcinoma. Cancer 2002;95:613-23.
Caro JJ, Salas M, Ward A, Goss G. Anemia as an independent prognostic factor for survival in patients with cancer: a systemic, quantitative review. Cancer 2001;91:2214-21.
Beutler E, Waalen J. The definition of anemia: what is the lower limit of normal of the blood hemoglobin concentration? Blood 2006;107:1747-50.
Franco RS. Measurement of red cell lifespan and aging. Transfus 2012;39:302-7.
Mock DM, Matthews NI, Zhu S, Strauss RG, Schmidt RL, Nalbant D, et al. Red blood cell (RBC) survival determined in humans using RBCs labeled at multiple biotin densities. Transfusion 2011;51:1047-57.
Dicato M, Plawny L, Diederich M. Anemia in cancer. Ann Oncol 2010;21(suppl 7):vii167-72.
Kim HJ, Lim YH, Yoo BH, Woo S-H, Hong KH, Kim JW. A detection of unexpected blood antibody at the time of transfusion was needed, during the operation -A case report.Korean J Anesthesiol 2013;64:65-8.
Guideline on hemovigilance. National blood centre thai red cross society. Bangkok; 2015
Ko K-H, Yoo B-H, Kim K-M, Lee W-Y, Yon J-H, Hong K-H, et al.Frequency of unexpected antibody and consideration during transfusion. Korean J Anesthesiol 2012;62:412-7.
Oh DJ , Kim MJ , Seo DH , Song EY , Han KS , Kim HO, et al.The frequency of unexpected antibodies in blood donors and transfusion candidates in Korea. Korean J Blood Transfus 2003;14:160-72.
Po-ngernnak P , Sasjeenpong S , Chuesakul K , Pangwangthong K. The prevalence of red blood cell alloantibodies in lower Northern Thailand. J Med Assoc Thai 2016; 99:1337-43.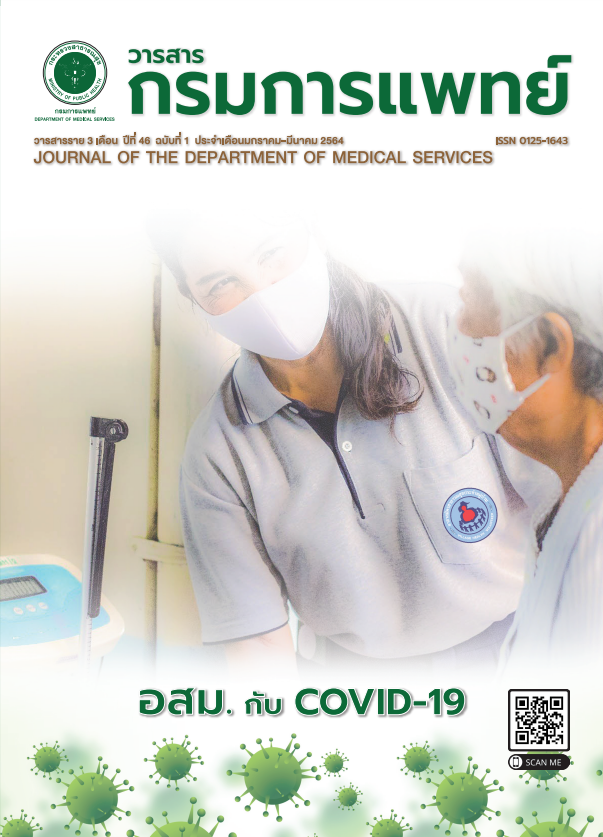 Downloads
How to Cite
1.
Kheauchanta ส, Muksikapan ป, Klaitong ช. Unexpected Antibodies in Cancer Patients at Maha Vajiralongkorn Thanyaburi Hospital. j dept med ser [Internet]. 2021 Jun. 18 [cited 2022 Aug. 14];46(1):64-72. Available from: https://he02.tci-thaijo.org/index.php/JDMS/article/view/251681
License
This work is licensed under a Creative Commons Attribution-NonCommercial-NoDerivatives 4.0 International License.
บทความที่ได้รับการตีพิมพ์เป็นลิขสิทธิ์ของกรมการแพทย์ กระทรวงสาธารณสุข
ข้อความและข้อคิดเห็นต่างๆ เป็นของผู้เขียนบทความ ไม่ใช่ความเห็นของกองบรรณาธิการหรือของวารสารกรมการแพทย์