The Effects of Using MU Sucker with Traumatic and Caregiver's Satisfaction in Young Child Patients
Keywords:
Using MU sucker, Suction, Trauma, Satisfactions, Young children
Abstract
Background : Respiratory tract infection is the major cause of sticky nasal secretion. Children under the age of 15 months with an ineffective cough are unable to remove their own secretions. Nasopharyngeal and oral suctioning is extremely necessary. However, this activity causes bleeding which can provoke anxiety in parents.
Objectives : to compare trauma from bleeding during suction in young child patients and caregiver's satisfaction. Between the group of using standard suction tube and MU sucker.
Methods : This was a pilot study. Sample group was young child aged 1-15 months were diagnosed with pneumonia or acute bronchiolitis and requires sputum suctioning. Sixty two cases were divided into 2 groups: the control group used the standard suction tube. The MU sucker trial group used a paired study method, according to the age of the patient. The data analysis was consisting of frequency, percentage, mean and standard deviation. Mann-Whitney U Test was used to compare the trauma differences between the experimental group and the control group. The independent samples t-test was used to measure satisfaction. Pearson Product Moment Coefficient was used to analyze treatment associated factors.
Results : Trauma in the experimental group was lower than the control (p = 0.91). The caregiver's satisfaction was not different (p=0.282), but caregiver in the experimental group felt that their child decreased fighting (p = 0.014). Cost of MU sucker suctioning was lower than standard.
Conclusion : Suctioning in the nose and mouth for young children can use MU sucker suctioning because the efficacy was not different. Complications of suctioning depends on the skill of the nurses.
Downloads
Download data is not yet available.
References
Chantarojsiri T. Pediatric Pulmonary 2009: Current Knowledge and Practice. Beyond enterprise Co., Ltd.Bangkok; 2009.
Srasom C, Klunklin P, Thaiyapirom N. Effectiveness of preventive interventions for acute lower respiratory tract infection among children under the age of five: a systematic review. Nursing Journal 2011; 38: 123-42.
Leith DE. The development of cough. Am Rev Respir Dis 1985;131: S39-42.
Chernick V. Kendig's disorders of the respiratory tract in children.7th edition. Philadelphia: Saunders; 2006.
Sontimuang S, Santati S, Orathai P, Daramas T. The efficacy of oropharyngeal and nasopharyngeal suctioning by using MU-TIP on premature infants receiving nasal continuous positive airway pressure ventilatory support.Rama Nurs J 2011; 17: 203 - 17.
Pothamuang W. Effects of the evidence-based practice promotion for acute pain management in neonates on knowledge, practices among nurses and effectiveness of pain management at Thammasat University Hospital.Bangkok:Thammasat University Hospital; 2012.
Phuwayanon S. Effects of oral sucrose solution for pain relief in premature infants during tracheal suction.Rama Nurs J 2016;22: 134 - 48.
Endogenous pain control therapy. [Internet]. 2007. [cited 2019 Aug 10] Available from: https://www.digital_collect.lib.buu.ac.th›dcms › files › chapter2.
Jongrak Utrarachkij. MU-Sucker. [Internet]. 2016. [cited 2019 Jul 12]. Available from:https://www.thailandtechshow.com/view_techno.php?id=686.
Srisatidnarakul B. The methodology in nursing research. U & I Inter Media Co., Ltd. Bangkok; 2004.
Chansakul S, Bowarnkitiwong S. Nonparametric Statistics and Its Application in Nursing Research. [Internet].2017. [cited 2019 Jul 12]. Available from: https:// www.tci-thaijo.org/index.php/EAUHJSci/article/view/74360.
Wattana P. Relationships between transformational leadership of head nurses, lifelong learning, job performance of professional nurses. [Internet]. 2008. [cited 2019 Jul 12]. Available from:https://www.digital_collect.lib.buu.ac.th/dcms/files/51923988/chapter2.pdf.
Rodriguez H, Hartert TV, Gebretsadik T, Carroll KN, Larkin EK. A simple respiratory severity score that may be used in evaluation of acute respiratory infection. [Internet]. 2016. [cited 2019 Jul 12]. Available from:https://www.ncbi.nlm.nih.gov/pmc/articles/PMC4751705/.
Horn SD, Torres A Jr, Willson D, Dean JM, Gassaway J, Smout R.Development of a pediatric age – and disease –specific severity measure. J Pediatr 2002: 141: 496-503.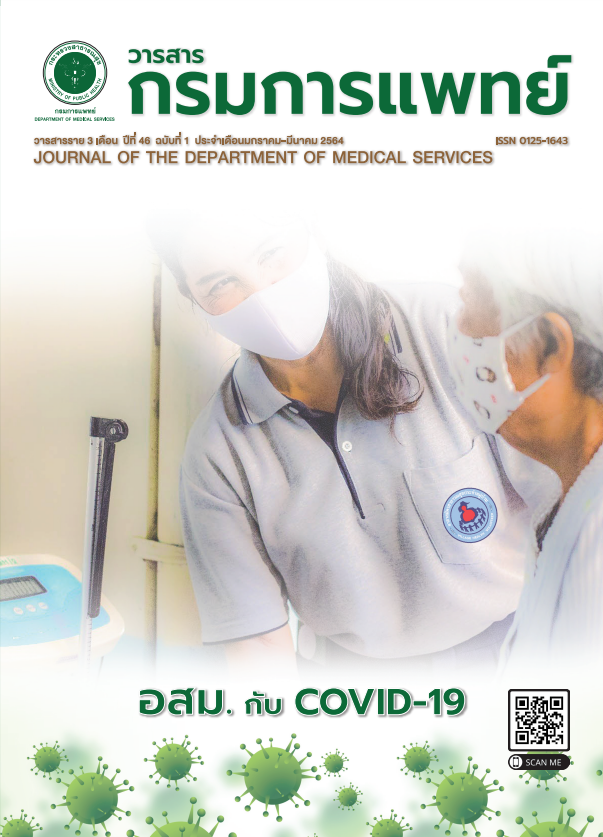 Downloads
How to Cite
1.
Singhapol อ. The Effects of Using MU Sucker with Traumatic and Caregiver's Satisfaction in Young Child Patients. j dept med ser [Internet]. 2021 Jun. 18 [cited 2022 Aug. 14];46(1):237-42. Available from: https://he02.tci-thaijo.org/index.php/JDMS/article/view/251892
License
This work is licensed under a Creative Commons Attribution-NonCommercial-NoDerivatives 4.0 International License.
บทความที่ได้รับการตีพิมพ์เป็นลิขสิทธิ์ของกรมการแพทย์ กระทรวงสาธารณสุข
ข้อความและข้อคิดเห็นต่างๆ เป็นของผู้เขียนบทความ ไม่ใช่ความเห็นของกองบรรณาธิการหรือของวารสารกรมการแพทย์