Treatment of the Salivary Duct Carcinoma of the Submandibular Gland with En Bloc Resection and Pectoralis Major Myocutaneous Flap: a Case Report
Keywords:
Submandibular gland tumor, Salivary duct carcinoma, Pectoralis major myocutaneous flap
Abstract
Due to an improvement of microvascular techniques in recent years, free flaps are recognized as a gold standard in reconstructive surgery. But there are disadvantages of free flaps surgery such as instruments accessibility, increased operative time and complicated surgical techniques. The objective of this article was to show the advantages of a large cervical defect reconstruction with pectoralis major myocutaneous flap (PMMF) in a challenging clinical case. A 41 years old woman presented with right submandiblar mass. A diagnosis of salivary duct carcinoma (SDC) of right submandibular gland was confirmed by immunohistological technique. En bloc resection of submandibular area left a large triangular cervical defect of 20x15x14 cm. The pectoralis major myocutaneous flap (PMMF) was used as a reconstructive choice to resolve this problem. Post-operative follow up of the flap showed good functional and aesthetic result.
Downloads
Download data is not yet available.
References
Ariyan S. The pectoralis major myocutaneous flap. A versatile flap for reconstruction of the head and neck. Plast Reconstr Surg 1979; 63:73–80.
Spiro RH. Salivary neoplasms: overview of a 35-year experience with 2,807 patients. Head Neck Surg 1986;8:177–84.
Liu R, Gullane P, Brown D, Irish J. Pectoralis major myocutaneous pedicled flap in head and neck reconstruction: retrospective review of indications and results in 244 consecutive cases at the Toronto General Hospital. J Otolaryngol 2001;30: 34–40.
Teo KG, Rozen WM, Acosta R. The pectoralis major myocutaneous flap. J Reconstr Microsurg 2013; 29, 449–56.
Vartanian JG, Carvalho AL, Carvalho SM, Mizobe L, Magrin J, Kowalski LP. Pectoralis major and other myofascial/myocutaneous flaps in head and neck cancer reconstruction:experience with 437 cases at a single institution. Head Neck 2004;26:1018–23.
Granzow JW, Suliman A, Roostaeian J, Perry A, Boyd JB.Supraclavicular artery island flap (SCAIF) vs free fasciocutaneous flaps for head and neck reconstruction. Otolaryngol Head Neck Surg 2013; 148:941–8.
O'Neill JP, Shine N, Eadie PA, Beausang E, Timon C. Free tissue transfer versus pedicled flap reconstruction of head and neck malignancy defects. Ir J Med Sci 2010; 179:337–43.
Wahlberg P, Anderson H, Biorklund A, Moller T, Perfekt R. Carcinoma of the parotid and submandibular glands–a study of survival in 2,465 patients. Oral Oncol 2002; 38:706–13.
Preuss SF, Klussmann JP, Wittekindt C, Drebber U, Beutner D,Guntinas-Lichius O. Submandibular gland excision: 15 years of experience. J Oral Maxillofac Surg 2007; 65: 953–7.
Strick MJ, Kelly C, Soames JV, Mclean NR. Malignant tumours of the minor salivary glands – a 20 years review.Br J Plast Surg 2004; 57:624–31.
Xie S, Yang H, Bredell M, Shen S, Huijun Y, Jin L, et al. Salivary duct carcinoma of the parotid gland: A case report and review of the literature. Oncology lett 2015; 9:371–4.
Chandrasekar C, Salati N, Rao L, Radhakrishnan R. Salivary duct carcinoma in the mandibular anterior region:The role of immunohistochemical markers in its definitive diagnosis. J Oral Maxillofac Pathol 2016; 20:505–9.
Hinni ML, Ferlito A, Brandwein-Gensler MS, Takes RP, Silver CE,Westra WH et al. Surgical margins in head and neck cancer: a contemporary review. Head Neck 2013; 35:1362–70.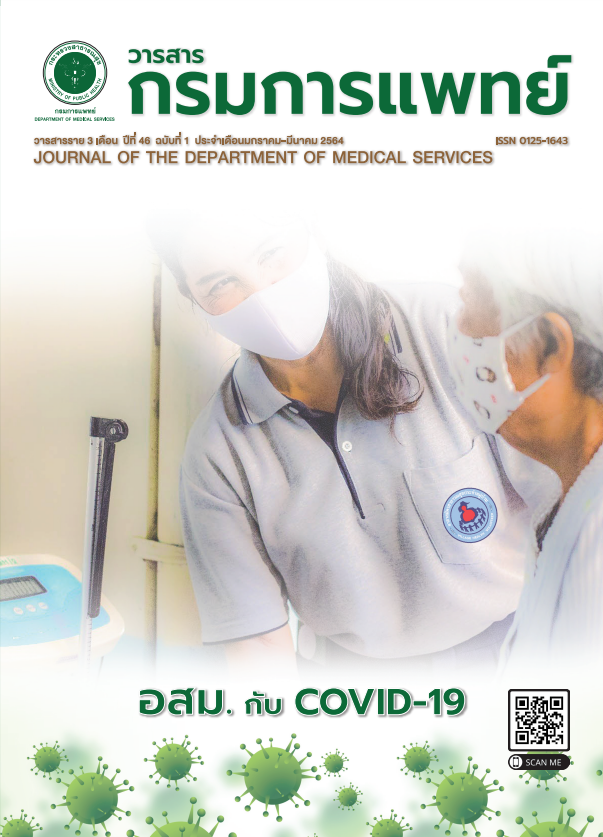 Downloads
How to Cite
1.
Raweepakawat เ. Treatment of the Salivary Duct Carcinoma of the Submandibular Gland with En Bloc Resection and Pectoralis Major Myocutaneous Flap: a Case Report. j dept med ser [Internet]. 2021 Jun. 18 [cited 2022 Aug. 14];46(1):256-63. Available from: https://he02.tci-thaijo.org/index.php/JDMS/article/view/251897
License
This work is licensed under a Creative Commons Attribution-NonCommercial-NoDerivatives 4.0 International License.
บทความที่ได้รับการตีพิมพ์เป็นลิขสิทธิ์ของกรมการแพทย์ กระทรวงสาธารณสุข
ข้อความและข้อคิดเห็นต่างๆ เป็นของผู้เขียนบทความ ไม่ใช่ความเห็นของกองบรรณาธิการหรือของวารสารกรมการแพทย์