Agreement of Interpretation of Preschool Visual Acuity Tests among Doctor Screeners and a Teacher Screener: Preschool Vision Screening Model in Thailand
Keywords:
Child, Vision Screening, Visual Acuity, Eye, Child Care, Ophthalmologists
Abstract
Background: Polyphenols are essential compounds for anti-inflammation commonly found in green tea (Camellia sinensis). They influence the inflammatory process by controlling and inhibiting pro-inflammatory cytokines such as cyclooxygenase-2 (COX-2) which is a prominent substance in dental diseases namely periodontal inflammation and oral cancer. However, their quantitative levels of polyphenols depend on geographical locations.Objectives: The aim of this research is to determine the polyphenol levels, important compounds for Cyclooxygenase-2 (COX-2) inhibition, of green tea extracted from various geographical locations in Thailand.Method: 70% Ethanol extraction samplings of green tea products were done in groups representing each province in Thailand. The chemotype levels of polyphenols was determined by total polyphenols (Folin-Ciocalteu method) and total flavonoid. Catechin-specific epigallocatechin gallate (EGCG) level was then measured by high-performance liquid chromatography (HPLC). Result: Total polyphenols, total flavonoids, and EGCG content in green tea from each province in Thailand are significantly different (p<0.05). The highest amount of polyphenols and flavonoids is Chiang Rai tea. The highest amount of EGCG is Chiang Mai tea. Anti-inflammatory test results resembled as IC50 are ranked in descending order from Chiang Rai, Assam, Narathiwat and Chiang Mai green tea which corresponding to the amount of important substances in green tea, but there is no statistically significant difference (p< 0.05). Conclusion: Chemotype levels of polyphenols in green tea vary in different cultivation areas ranked in descending order from Chiang Rai province (Assum tea), Narathiwatprovince and Chiang Mai Province. The chemotype levels of polyphenols exhibiting preliminary anti-inflammatory properties correlate directly to the concentration of tea. Accordingly, it is shown that green tea grown in Thailand statistically significantly exhibits anti-inflammatory properties.
Downloads
Download data is not yet available.
References
Holmes JM, Clarke MP. Amblyopia. Lancet 2006; 367:1343-51.
Grant S, Moseley MJ. Amblyopia and real-world visuomotortasks. Strabismus 2011; 19:119-28.
Webber AL, Wood JM, Gole GA, Brown B. The effect of amblyopia on fine motor skills in children. Invest Ophthalmol Vis Sci 2008;
:594-603.
van Leeuwen R, Eijkemans MJ, Vingerling JR, Hofman A, de Jong PT, Simonsz HJ. Risk of bilateral visual impairment in individuals
with amblyopia: the Rotterdam study. Br J Ophthalmol 2007; 91:1450-1.
Holmes JM. When to screen for amblyopia. J AAPOS 2020; 24:65-6.
Asare AO, Malvankar-Mehta MS, Makar I. Community vision screening in preschoolers: initial experience using the Plusoptix S12C automated photoscreening camera. Can J Ophthalmol 2017; 52:480-5.
Blows SJ, Murphy EP, Martin FJ, Davies RM. Vision screening in preschoolers: the New South Wales Statewide Eyesight Preschooler Screening program. Med J Aust 2014; 200:222-5.
Bottin D, Waldhauser K, Bertelli E. The pediatric vision screening program performed in Bolzano in 2010: significance of the orthoptic re-examination. Strabismus 2013; 21:81-4.
Bušić M, Bjeloš M, Petrovečki M, Elabjer BK, Bosnar D, ramic S, et al Zagreb Amblyopia Preschool Screening Study: near and
distance visual acuity testing increase the diagnostic accuracy of screening for amblyopia. Croat Med J 2016; 57:29-41.
Couser NL. The W.H.E.E.L.S. Preschool Vision Screening Program's Initial Outcomes for 12,402 Children Screened Using the Plusoptix Photoscreener. Int Sch Res Notices 2014; 2014:793546.
Griffith JF, Wilson R, Cimino HC, Patthoff M, Martin DF, Traboulsi EI. The Use of a Mobile Van for School Vision Screening: Results of 63 841 Evaluations. Am J Ophthalmol 2016; 163:108-14.e101.
Hered RW, Wood DL. Preschool vision screening in primary care pediatric practice. Public Health Rep 2013;128(3):189-97.
Jeong SH, Kim US. Ten-Year Results of Home Vision-Screening Test in Children Aged 3-6 Years in Seoul, Korea. Semin Ophthalmol 2015;30(5-6):383-8.
Khandekar R, Parast N, Arabi A. Evaluation of 'vision screening' program for three to six-year-old children in the Republic of Iran. Indian J Ophthalmol 2009;57(6):437-42.
Langeslag-Smith MA, Vandal AC, Briane V, Thompson B, Anstice NS. Preschool children's vision screening in New Zealand: a retrospective evaluation of referral accuracy. BMJ Open 2015;5(11):e009207.
Matsuo T, Matsuo C, Kio K, Ichiba N, Matsuoka H. Is refraction with a hand-held autorefractometer useful in addition to visual acuity testing and questionnaires in preschool vision screening at 3.5 years in Japan? Acta Med Okayama 2009;63(4):195-202.
Mehravaran S, Duarte PB, Brown SI, Mondino BJ, Hendler K, Coleman AL. The UCLA preschool vision program, 2012-2013. J aapos 2016;20(1):63-7.
Mema SC, McIntyre L, Musto R. Childhood vision screening in Canada: public health evidence and practice. Can J Public Health
;103(1):40-5.
O'Colmain U, Low L, Gilmour C, MacEwen CJ. Vision screening in children: a retrospective study of social and demographic factors with regards to visual outcomes. Br J Ophthalmol 2016;100(8):1109-13.
Ransbarger KM, Dunbar JA, Choi SE, Khazaeni LM. Results of a community vision-screening program using the Spot photoscreener. J aapos 2013;17(5):516-20.
Toufeeq A, Oram AJ. School-entry vision screening in the United Kingdom: practical aspects and outcomes. Ophthalmic Epidemiol 2014;21(4):210-6.
Wang L, Congdon N, Hogg RE, Zhang S, Li M, Shi Y, et al. The cost-effectiveness of alternative vision screening models among preschool children in rural China. Acta Ophthalmol 2019;97(3):e419-25.
Schmidt P, Maguire M, Dobson V, Quinn G, Ciner E, Cyert L, et al. Comparison of preschool vision screening tests as administered by licensed eye care professionals in the Vision In Preschoolers Study. Ophthalmology 2004;111(4):637-50.
Tailor V, Bossi M, Greenwood JA, Dahlmann-Noor A. Childhood amblyopia: current management and new trends. Br Med Bull 2016;119(1):75-86.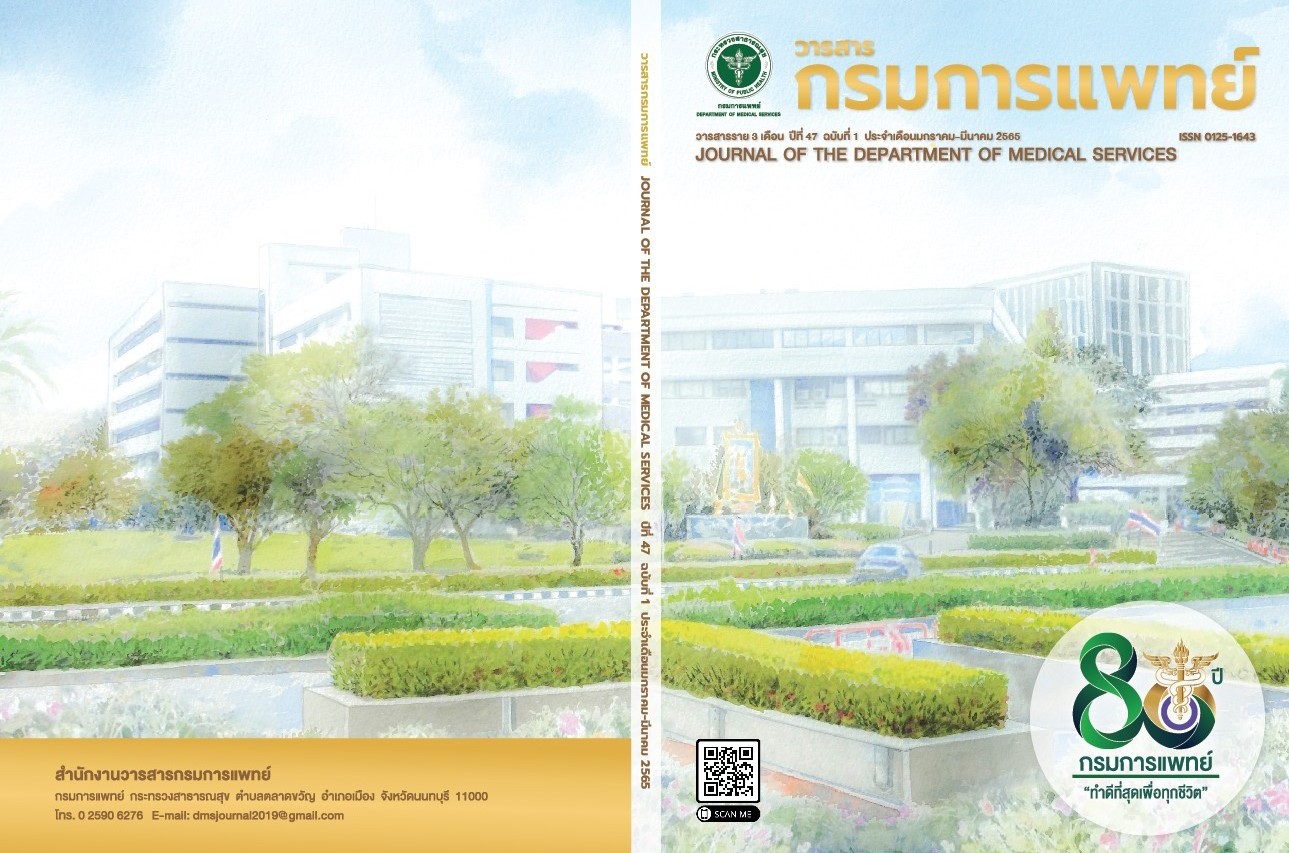 Downloads
How to Cite
1.
สินธุวงศ์ ส, กิตติญาณปัญญา ศ, พิมพ์ดี อ, จารุกำเนิดกนก ภ, ชัยศรีสวัสดิ์สุข ณ. Agreement of Interpretation of Preschool Visual Acuity Tests among Doctor Screeners and a Teacher Screener: Preschool Vision Screening Model in Thailand. j dept med ser [Internet]. 2022 Mar. 31 [cited 2022 Sep. 28];47(1):114-8. Available from: https://he02.tci-thaijo.org/index.php/JDMS/article/view/252831
License
Copyright (c) 2022 Department of Medical Services, Ministry of Public Health
This work is licensed under a Creative Commons Attribution-NonCommercial-NoDerivatives 4.0 International License.
บทความที่ได้รับการตีพิมพ์เป็นลิขสิทธิ์ของกรมการแพทย์ กระทรวงสาธารณสุข
ข้อความและข้อคิดเห็นต่างๆ เป็นของผู้เขียนบทความ ไม่ใช่ความเห็นของกองบรรณาธิการหรือของวารสารกรมการแพทย์