Pediatric submandibular space infection from non-odontogenic cause
Keywords:
Submandibular space infection, Submandibular gland abscess, non-odontogenic infections, incision and drainage
Abstract
Submandibular space infection is a serious infection that can occur as a result of odontogenic or nonodontogenic infections. The infection should be treated promptly, as it can spread rapidly, resulting in airway obstruction. The author reported an eight-month-old boy without any systemic diseases presenting with a swelling of the lower right facial region for three days that rapidly grew in size for one day despite intravenous antibiotic administration ,suspected source from submandibular gland abscess. Intravenous fluids, more proper empirical antibiotics, and analgesics were administered to the patient. The incision and drainage were done extraorally under general anesthesia. The patient improved gradually and full recovery was within 10 days.
Downloads
Download data is not yet available.
References
Boscolo-Rizzo P, Da Mosto MC. Submandibular space infection: a potentially lethal infection. Int J Infect Dis. 2009 May;13(3):327-33.
Heimdahl A, von Konow L, Satoh T, Nord CE. Clinical appearance of orofacial infections of odontogenic origin in relation to microbiological findings. J Clin Microbiol. 1985 Aug;22(2):299-302.
Parkins G. Padiatric Oro-facial Fascial Space Infections. J West Afr Coll Surg. 2018;8(4):10-14.
Al-Malik M, Al-Sarheed M. Pattern of management of oro-facial infection in children: A retrospective. Saudi J Biol Sci. 2017 Sep;24(6):1375-9.
Gendron R, Grenier D, Maheu-Robert L. The oral cavity as a reservoir of bacterial pathogens for focal infections. Microbes Infect. 2000;2:897–906.
Li X, Kolltveit KM, Tronstad L, Olsen I Systemic diseases caused by oral infection. Clin. Microbiol. Rev. 2000;13:547–58.
Mishra G, Sharma KR, Chauhan D, Jayam C. Submandibular Space infection arising from grossly decayed primary molar with systemic condition- A case report. Arch of Dent and Med Res 2016;2(1):64-7.
Tan PT. Deep neck infections in children. J Microbiol Immunol Infect. 2001 Dec; 34(4): 287-92.
Lawrence R, Bateman N. Controversies in the management of deep neck space infection in children: an evidence-based review. Clin Otolaryngol. 2017; 42: 156–63.
V N Okoje, K U Omeje, E Okafor, Y I Adeyemo, J Abubaccar, Cap Roberts, et al. Oro-Facial fascial space infection in a pediatric gambian population: A review of 93 cases. J West Afr Coll Surg. 2018;8(4):1-23.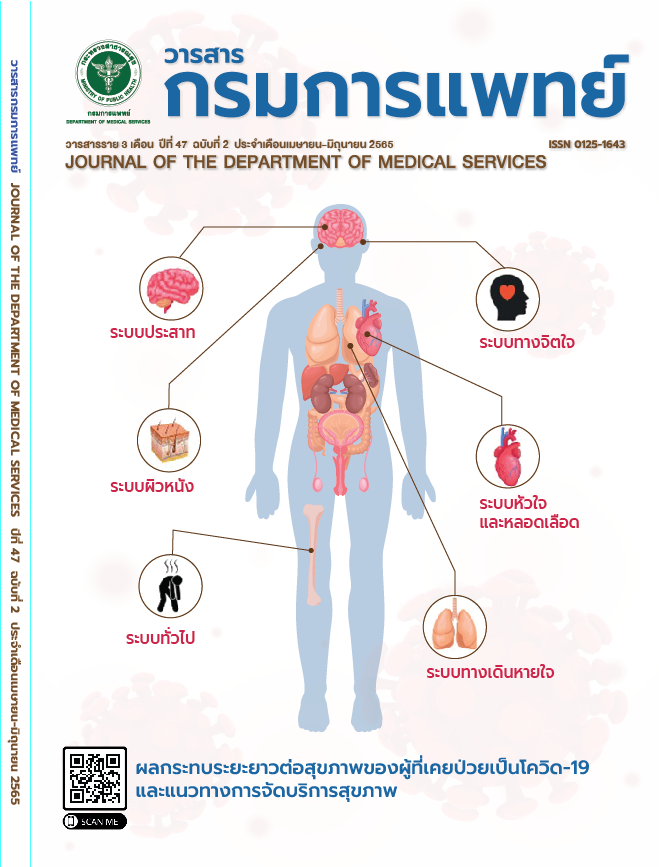 Downloads
How to Cite
1.
Thammasarnsophon D. Pediatric submandibular space infection from non-odontogenic cause. j dept med ser [Internet]. 2022 Jun. 29 [cited 2022 Sep. 29];47(2):135-9. Available from: https://he02.tci-thaijo.org/index.php/JDMS/article/view/253095
License
Copyright (c) 2022 Department of Medical Services, Ministry of Public Health
This work is licensed under a Creative Commons Attribution-NonCommercial-NoDerivatives 4.0 International License.
บทความที่ได้รับการตีพิมพ์เป็นลิขสิทธิ์ของกรมการแพทย์ กระทรวงสาธารณสุข
ข้อความและข้อคิดเห็นต่างๆ เป็นของผู้เขียนบทความ ไม่ใช่ความเห็นของกองบรรณาธิการหรือของวารสารกรมการแพทย์