A Case Report of CORE Syndrome (Cough/ Asthma, obesity/OSA, Rhinosinusitis, Esophageal Reflux)
Keywords:
CORE syndrome, asthma, obesity/OSA, rhinosinusitis, esophageal reflux
Abstract
This article is a case report of difficult to treat asthmatic patient leading to investigate the associated co-morbid conditions. CORE syndrome consists of coughing from asthma (cough/asthma), obesity associated with obstructive sleep apnea (obesity/OSA), rhinosinusitis or allergic rhinitis and esophageal reflux. They are often combined and contribute patients with pre-existing asthma that are difficult to control and unresponsive to existing treatments. Therefore, the physician must assess the severity and symptoms of asthma patients by considering co-morbidities or contributing factors that make asthma difficult to control and lead to the proper treatment.
Downloads
Download data is not yet available.
References
Arter JL, Chi DS, M G, Fitzgerald SM, Guha B, Krishnaswamy G. Obstructive sleep apnea, inflammation, and cardiopulmonary disease. Front Biosci. 2004 Sep 1;9:2892-900.
Damianaki A, Vagiakis E, Sigala I, Pataka A, Rovina N, Vlachou A, et al. The co-existence of obstructive sleep apnea and bronchial asthma: Revelation of a new asthma phenotype? J Clin Med. 2019 Sep 16;8(9):1476.
Teodorescu M, Barnet JH, Hagen EW, Palta M, Young TB, Peppard PE. Association between asthma and risk of developing obstructive sleep apnea. JAMA. 2015 Jan 13;313(2):156-64.
Wang Y, Liu K, Hu K, Yang J, Li Z, Nie M, et al. Impact of obstructive sleep apnea on severe asthma exacerbations. Sleep Med. 2016 Oct;26:1-5.
Kong DL, Qin Z, Shen H, Jin HY, Wang W, Wang ZF. Association of obstructive sleep apnea with asthma: A meta-analysis. Sci Rep. 2017 Jun 22;7(1):4088.
Yigla M, Tov N, Solomonov A, Rubin AH, Harlev D. Difficult-to-control asthma and obstructive sleep apnea. J Asthma. 2003 Dec;40(8):865-71.
Julien JY, Martin JG, Ernst P, Olivenstein R, Hamid Q, Lemière C, et al. Prevalence of obstructive sleep apnea-hypopnea in severe versus moderate asthma. J Allergy Clin Immunol. 2009 Aug;124(2):371-6.
Caples SM, Gami AS, Somers VK. Obstructive sleep apnea. Ann Intern Med. 2005 Feb 1;142(3):187-97.
Krishnaswamy G, Girish M, Guha B, Ballard R, Vyas H, Chi DS. Recognizing the impact of obstructive sleep apnea in patients with asthma [Internet]. The Journal of Respiratory Diseases. 2015 [updated 2005 Oct 1; cited 2021 Oct 26]. Available from: https://www.patientcareonline.com/view/recognizing-impact-obstructive-sleep-apnea-patients-asthma
Abdul Razak MR, Chirakalwasan N. Obstructive sleep apnea and asthma. Asian Pac J Allergy Immunol. 2016 Dec;34(4):265-271.
Schachter LM, Peat JK, Salome CM. Asthma and atopy in overweight children. Thorax. 2003 Dec;58(12):1031-5.
Sleep Society of Thailand. Clinical recommendations for diagnosis and management of obstructive sleep apnea in Thailand for adults 2018. Bangkok: Sleep Society of Thailand; 2018.
Chirakalwasan N, Ruxrungtham K. The linkage of allergic rhinitis and obstructive sleep apnea. Asian Pac J Allergy Immunol. 2014 Dec;32(4):276-86.
Global Initiative for Asthma (GINA). Diagnosis and management of difficult-to-treat and severe asthma in adolescent and adult patients: A GINA pocket guide for health professionals [Internet]. 2021 [cited 2021 Oct 26]. Available from: https://ginasthma.org/wp-content/uploads/2021/08/SA-Pocket-guide-v3.0-SCREEN-WMS.pdf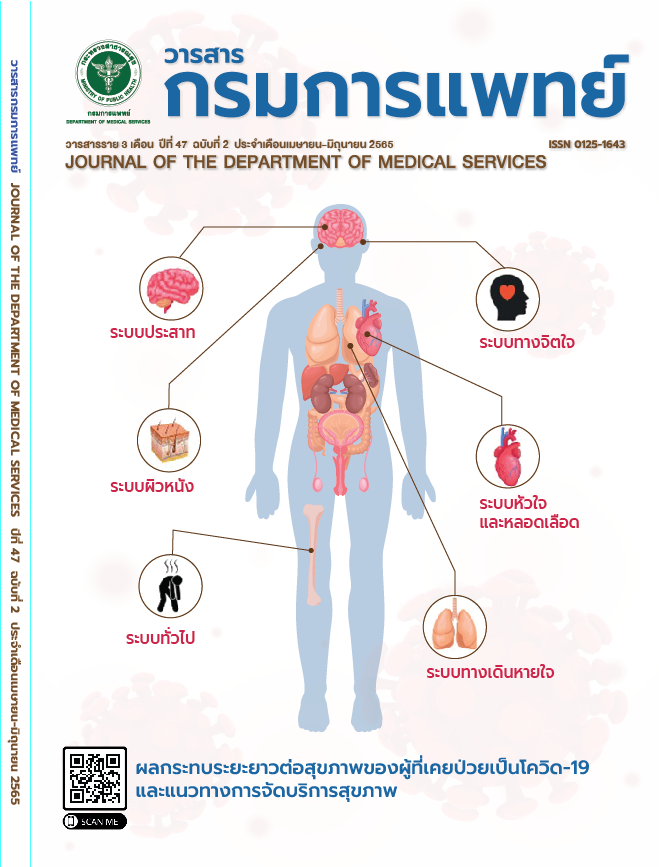 Downloads
How to Cite
1.
Luekitinun ์, Panjapornpon K. A Case Report of CORE Syndrome (Cough/ Asthma, obesity/OSA, Rhinosinusitis, Esophageal Reflux). j dept med ser [Internet]. 2022 Jun. 29 [cited 2022 Sep. 29];47(2):120-4. Available from: https://he02.tci-thaijo.org/index.php/JDMS/article/view/253162
License
Copyright (c) 2022 Department of Medical Services, Ministry of Public Health
This work is licensed under a Creative Commons Attribution-NonCommercial-NoDerivatives 4.0 International License.
บทความที่ได้รับการตีพิมพ์เป็นลิขสิทธิ์ของกรมการแพทย์ กระทรวงสาธารณสุข
ข้อความและข้อคิดเห็นต่างๆ เป็นของผู้เขียนบทความ ไม่ใช่ความเห็นของกองบรรณาธิการหรือของวารสารกรมการแพทย์