Outcomes of Continuos Dissection Technique with Monopolar Probe in Cerebellopontine Angle Tumor Resection
Keywords:
Continuous dissection technique with monopolar probe, Cerebellopontine angle tumor, Facial nerve
Abstract
Background: Cerebellopontine angle tumor (CP angle tumor) is the common skull base tumor and the surgical outcomes are vary between institution. Facial nerve palsy is the most important morbidity with incidence rate of 63-94% which is the condiction of disability. Recently, the new continuous and dynamic stimulation technique is used to identify facial nerve during surgical resection. This study describes the new technique as the continuous dissection technique with the monopolar probe, which is limited documents in literature.Objective: To describe the facial nerve outcomes, the degree of resection, workflow, and the safety of the new technique with monopolar probe.Methods: A cross-sectional study was conducted between 2017 and 2018. Medical records and the data of twenty-one patients who had the CP angle tumor performing the continuous mapping dissection technique with the monopolar probe was retrospectively collected and analysed. Age, sex, pre and post-operative facial nerve function, pre and post-operative tumor size, and complications were collected. The categorical data and continuous data outcomes between before and after surgery were compared using Fishers' exact test and Wilcoxon signed rank test. The ethics committee, Rajavithi hospital, reviewed and approved this study.Results: The female was predominant, and the mean age was 54.38±12.52 years. The most common tumor was acoustic neuroma (90.5%), and the mean operative time was 4.28±1.69 hrs. The median size of post operative tumor was significantly smaller than that of preoperative tumor (p<0.001: 0.50 vs 3.28 cm). The preoperative facial nerve function was not different before and after surgery. Only one patient had a complication (4.8%), and total tumor removal was done in seven patients.Conclusion: The monopolar probe's continuous dissection technique is a safe technique with good workflow and good outcomes compared with standard procedure.
Downloads
Download data is not yet available.
References
Office of Inspection and Evaluation Office of the Permanent Secretary. Guidelines for project implementation Promoting child development in honor of HRH Princess Maha Chakri Sirindhorn The Royal Crown Prince Opportunity to celebrate the 5th Cycle, 2 April 2015, 2016, Nonthaburi.
Rajanagarindra Institute of Child Development, Ministry of Public Health, Department of Mental Health. Thai development skills inventory for children from birth to five years; 2010.
Feldman R, Eidelman AI. Intervention program for premature infants. How and do they affect development?Clinics in Perinatology; 1998.
Knowles MS, Swanson RA, Holton EF. The adult learner: the definitive classic in adult education and human resource development 7th ed. London: Elsevier; 2011.
Chawaphanth S. Surveillance and Promotion of Early Childhood Using Andragogy. J Nurs Sci 2018; 36: 4-17.
Busaba Authavee, Bampen Phongphetdit. The use of the DSPM to promote child development, 5th Regional Health Promotion Center, Ratchaburi; 2017
Anita J. Hughes. Moter Development Interventions for Preterm Infant: A Systematic Review and Meta-analysis; 2016.
Brooks-Gunn J, Liaw FR, Klebanov PK. Effects of early intervention on cognitive function of low birth weight preterm infant. J Pediatr 1992; 120:350-9.
Thawittha L. Preterm infant development promoting behaviors among primary caregivers and related factors.Nursing Journal;2016.
Paiprasert S. Factors affecting development of children aged 0-3 years old in Health Inspection Region 18.Journal of Pediatrics;2012.
Sakolwasan U. Knowledge, Self-efficacy, and Behaviors in Promoting Preterm Infant Development Among Primary Caregivers. Chiang Mai University; 2007.
Sutalangka M. Maternal Care and Related Factors in Developmental Care of Preterm Infants. Nursing Journal; 2017.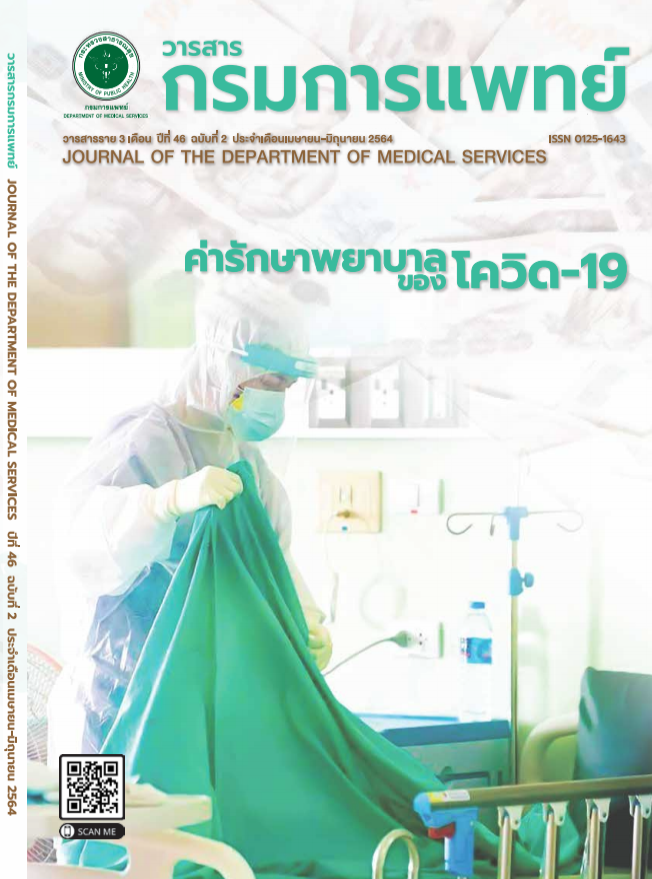 Downloads
How to Cite
1.
Gunnarut I. Outcomes of Continuos Dissection Technique with Monopolar Probe in Cerebellopontine Angle Tumor Resection. j dept med ser [Internet]. 2021 Sep. 3 [cited 2022 Sep. 28];46(2):91-5. Available from: https://he02.tci-thaijo.org/index.php/JDMS/article/view/253568
License
This work is licensed under a Creative Commons Attribution-NonCommercial-NoDerivatives 4.0 International License.
บทความที่ได้รับการตีพิมพ์เป็นลิขสิทธิ์ของกรมการแพทย์ กระทรวงสาธารณสุข
ข้อความและข้อคิดเห็นต่างๆ เป็นของผู้เขียนบทความ ไม่ใช่ความเห็นของกองบรรณาธิการหรือของวารสารกรมการแพทย์