The Top 5 Interesting Anti-Aging Nutrients and Drugs
Keywords:
Anti-aging medicine, Nutritional supplement, Metformin, Statin, Coenzyme Q10, Omega-3 fatty acids, Astragalus
Abstract
Anti-aging medicine is a novel medical discipline that gathers and combines diverse scientific knowledge in order to be able to early detect the disease, including to prevent and to treat various diseases with an objective to return the body's malfunctions caused by aging to the most optimal outcome. With a focus on holistic health care, anti-aging strategies usually encompass regular exercise, meditation, stress management, hormonal therapy, healthy nutrition and supplements. In this review, we present information on five main drugs and supplements that are scientifically supported to prevent or delay aging, including Metformin, Statin, Coenzyme Q10, Omega-3 fatty acids and Astragalus. We also outline potential mechanisms involved in the response to these drugs and highlight the potential clinical implications associated with their consumption.
Downloads
Download data is not yet available.
References
Sergiev PV, Dontsova OA, Berezkin GV. Theories of aging: anever-evolving field.Acta Naturae 2015;7:9-18.
Jin K. Modern biological theories of aging. Aging Dis 2010;1:72-4.
Podhorecka M, Ibanez B, Dmoszynska A. Metformin-its potential anti-cancer and anti-aging effects. Postepy Hig Med Dosw (Online) 2017;71:170-5.
Wang YW, He SJ, Feng X, Cheng J, Luo YT, Tian L, et al.Metformin: a review of its potential indications. Drug Des Devel Ther 2017;11:2421-9.
Piskovatska V, Stefanyshyn N, Storey KB, Vaiserman AM,Lushchak O. Metformin as a geroprotector:experimental and clinical evidence. Biogerontology. 2019;20(1):33-48.
Ziegler V, Albers A, Fritz G. Lovastatin protects keratinocytes from DNA damage-related pro-apoptotic stress responses stimulated by anticancer therapeutics. Biochim Biophys Acta 2016;1863:1082-92.
Yoon HE, Lim SW, Piao SG, Song JH, Kim J, Yang CW. Statin upregulates the expression of klotho, an anti-aging gene, in experimental cyclosporine nephropathy. Nephron Exp Nephrol 2012;120:e123-33.
Zhao W, Xiao ZJ, Zhao SP. The benefits and risks of statin therapy in ischemic stroke: a review of the literature.Neurol India 2019;67:983-92.
Sørensen AL, Hasselbalch HC, Nielsen CH, Poulsen HE, Ellervik C.Statin treatment, oxidative stress and inflammation in a Danish population. Redox Biol 2019;21:101088.
Rodrigues G, Moreira AJ, Bona S, Schemitt E, Marroni OA, Di Naso FC, et al. Simvastatin reduces hepatic oxidative stress and endoplasmic reticulum stress in nonalcoholic steatohepatitis experimental model. Oxid Med Cell Longev 2019;2019:3201873.
Grundy SM, Stone NJ, Bailey AL, Beam C, Birtcher KK,Blumenthal RS, et al. 2018 AHA/ACC/AACVPR/AAPA/ABC/ACPM/ADA/AGS/APhA/ASPC/NLA/PCNA guideline on the management of blood cholesterol: a report of the American college of cardiology/American heart association task force on clinical practice guidelines. Circulation 2019;139:e1182- 86.
McGuinness B, Craig D, Bullock R, Malouf R, Passmore P.Statins for the treatment of dementia. Cochrane Database Syst Rev 2014;7:CD007514.
Geifman N, Brinton RD, Kennedy RE, Schneider LS, Butte AJ.Evidence for benefit of statins to modify cognitive decline and risk in Alzheimer's disease. Alzheimers Res Ther 2017;9:10.
Beckwitt CH, Brufsky A, Oltvai ZN, Wells A. Statin drugs to reduce breast cancer recurrence and mortality.Breast Cancer Res 2018;20:144.
Alfaqih MA, Allott EH, Hamilton RJ, Freeman MR, Freedland SJ. The current evidence on statin use and prostate cancer prevention: are we there yet?. Nat Rev Urol 2017;14:107-19.
Broniarek I, Jarmuszkiewicz W. Statins and mitochondria. Postepy Biochem 2016;62:77-84.
Qu H, Guo M, Chai H, Wang WT, Gao ZY, Shi DZ. Effects of coenzyme Q10 on statin-induced myopathy: an updated meta-analysis of randomized controlled trials. J Am Heart Assoc 2018;7:e009835.
Díaz-Casado ME, Quiles JL, Barriocanal-Casado E, Gonzalez–Garcia P, Batfino M, Lopez LC, et al. The paradox of coenzyme Q10 in aging. Nutrients. 2019;11:2221.
Hargreaves IP, Mantle D. Coenzyme Q10 supplementation in fibrosis and aging. Adv Exp Med Biol.2019;1178:103-12.
Zozina VI, Covantev S, Goroshko OA, Krasnykh LM, Kukes VG.Coenzyme Q10 in cardiovascular and metabolic diseases: current state of the problem. Curr Cardiol Rev. 2018;14:164-74.
Yang YK, Wang LP, Chen L, Yao XP, Yang KQ, Gao LG, et al.Coenzyme Q10 treatment of cardiovascular disorders of ageing including heart failure, hypertension and endothelial dysfunction. Clin Chim Acta 2015;450:83-9.
Zhu ZG, Sun MX, Zhang WL, Wang WW, Jin YM, Xie CL. The efficacy and safety of coenzyme Q10 in Parkinson's disease:a meta-analysis of randomized controlled trials. Neurol Sci 2017;38:215-24.
Žmitek K, Pogacnik T, Mervic L, Žmitek J, Pravst I. The effect of dietary intake of coenzyme Q10 on skin parameters and condition: Results of a randomised, placebo-controlled,double-blind study. Biofactors 2017;43:132-40.
Jain AP, Aggarwal KK, Zhang PY. Omega-3 fatty acids and cardiovascular disease. Eur Rev Med Pharmacol Sci 2015;19:441-5.
Wan Y, Zheng J, Wang F, Li D. Fish, long chain omega-3 polyunsaturated fatty acids consumption, and risk of all-cause mortality: a systematic review and dose-response meta-analysis from 23 independent prospective cohort studies.Asia Pac J Clin Nutr 2017;26:939-56.
Canhada S, Castro K, Perry IS, Luft VC. Omega-3 fatty acids'supplementation in Alzheimer's disease: A systematic review. Nutr Neurosci 2018;21:529-38.
Auyeung KK, Han QB, Ko JK. Astragalus membranaceus: A review of its protection against inflammation and gastrointestinal cancers. Am J Chin Med 2016;44:1-22.
Han R, Wu WQ, Wu XP, Liu CY. Effect of total flavonoids from the seeds of Astragali complanati on natural killer cell function.J Ethnopharmacol 2015;173:157-65.
Wang SF, Wang Q, Jiao LJ, Huang YL, Garfield D, Zhang J, et al. Astragalus-containing traditional Chinese medicine, with and without prescription based on syndrome differentiation, combined with chemotherapy for advanced non-small-cell lung cancer: a systemic review and meta-analysis. Curr Oncol 2016;23:e188-95.
Lin S, An X, Guo Y, Gu J, Xie T, Wu Q, et al. Meta-analysis of astragalus-containing traditional Chinese medicine combined with chemotherapy for colorectal cancer: efficacy and safety to tumor response. Front Oncol 2019;9:749.
Liu P, Zhao H, Luo Y. Anti-aging implications of Astragalus membranaceus (Huangqi): a well-known Chinese tonic. Aging Dis 2017;8:868-86.
Salvador L, Singaravelu G, Harley CB, Flom P, Suram A, Raffaele JM. A natural product telomerase activator lengthens telomeres in humans: a randomized, double blind, and placebo controlled study. Rejuvenation Res 2016;19:478-84.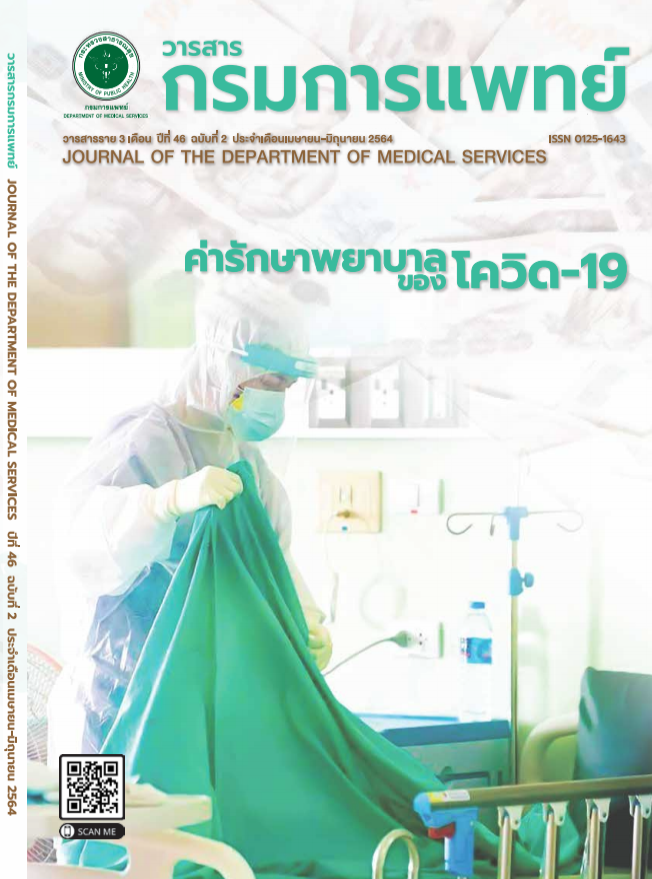 Downloads
How to Cite
1.
Kiatsurayanon ช, Pratchyapruit ว. The Top 5 Interesting Anti-Aging Nutrients and Drugs. j dept med ser [Internet]. 2021 Sep. 3 [cited 2022 Aug. 9];46(2):166-72. Available from: https://he02.tci-thaijo.org/index.php/JDMS/article/view/253591
License
This work is licensed under a Creative Commons Attribution-NonCommercial-NoDerivatives 4.0 International License.
บทความที่ได้รับการตีพิมพ์เป็นลิขสิทธิ์ของกรมการแพทย์ กระทรวงสาธารณสุข
ข้อความและข้อคิดเห็นต่างๆ เป็นของผู้เขียนบทความ ไม่ใช่ความเห็นของกองบรรณาธิการหรือของวารสารกรมการแพทย์