The Effect of Beverages in Thailand on Color Stability of Resin Composite
Keywords:
beverages, coffee, color change, resin composite, tea
Abstract
Background: Discoloration of restorations is the common obstacle in dentistry. Some beverages may affect color stability of resin composites and diminish esthetics.Objective: To evaluate the effects of popular beverages in Thailand on color stability of resin composites.Method: Filtek-Z250, Filtek-Z350, and Filtek-Bulk fill were immersed in coffee, green tea, Thai tea, orange juice and cola for 28 days. The color of resib composite was observed according to CIE L*a*b* system using spectrophotometer. Then, color change (∆E) and whiteness index were calculated. Statistical analysis was performed with MANOVA with Post Hoc Tukey's test (p < 0.05 and 95% confidence interval).Results: Resin composites in this study showed a statistically significant in color changes after 28 days of immersion in various beverages. Filtek-Bulk fill which immersed in coffee showed the highest color change, followed by Filtek- Z250 and Filtek-Z350 immersed in coffee, respectively. Coffee and Thai tea induced the highest color change of resin composite.  Beverages in this study except cola significantly decreased the whiteness index of resin composites.Conclusion: Type of resin composite and the drink affects the color change. The nanofilled composite resin exhibited the least color change, while coffee and Thai tea produced the highest color change.
Downloads
Download data is not yet available.
References
Zimmerli B, Strub M, Jeger F, Stadler O, Lussi A. Composite materials: composite materials: composition, properties and clinical applications. A literature review." Schweiz Monatsschr Zahnmed. 2010;120(11):972-86.
Catelan A, Briso AL, Sundfeld RH, Goiato MC, dos Santos PH. Color stability of sealed composite resin restorative materials after ultraviolet artificial aging and immersion in staining solutions. J Prosthet Dent. 2011;105(4):236-41
Buyukyilmaz S, Ruyter IE. Color stability of denture base polymers. Int J Prosthodont. 1994;7(4):372-82.
Nasim I, Neelakantan P, Sujeer R, Subbarao CV. Color stability of microfilled, microhybrid and nanocomposite resins--an in vitro study. J Dent. 2010;38 Suppl 2:e137-42.
Poggio C, Vialba L, Berardengo A, Federico R, Colombo M, Beltrami R, et al. Color Stability of New Esthetic Restorative Materials: A Spectrophotometric Analysis. J Funct Biomater. 2017;8(3):26.
Inokoshi S, Burrow MF, Kataumi M, Yamada T, Takatsu T. Opacity and color changes of tooth-colored restorative materials. Oper Dent. 1996;21(2):73-80.
Ergucu Z, Turkun LS, Aladag A. Color stability of nanocomposites polished with one-step systems. Oper Dent. 2008;33(4):413-20.
Yannikakis SA, Zissis AJ, Polyzois GL, Caroni C. Color stability of provisional resin restorative materials. J Prosthet Dent. 1998;80(5):533-9.
Shamszadeh S, Sheikh-Al-Eslamian SM, Hasani E, Abrandabadi AN, Panahandeh N. Color Stability of the Bulk-Fill Composite Resins with Different Thickness in Response to Coffee/Water Immersion. Int J Prosthodont. 2016;2016:7186140.
Campodonico C, Tantbirojn D, Olin P, Versluis A. Cuspal deflection and depth of cure in resin-based composite restorations filled by using bulk, incremental and transtooth-illumination techniques. J Am Dent Assoc 2011; 142:1176-82.
Özdaş D, Kazak M, Çilingir A, Subaşı MG, Tiryaki M, Günal Ş. Color stability of composites after short-term oral simulation: An in vitro study. Open Dent J. 2016;10:431-7.
Nuaimi H, Ragab H. Effect of aggressive beverage on the color stability of different nano-hybrid resin based composite. Eur J Dent. 2014;3(3):190-3.
Ertas E, Guler AU, Yucel AC, Koprulu H, Guler E. Color stability of resin composites after immersion in different drinks. Dent Mater J. 2006;25(2):371-6.
Meenakshi CM, Sirisha K. Surface quality and color stability of posterior composites in acidic beverages. J Conserv Dent. 2020 Jan-Feb;23(1):57-61.
Bansal K, Acharya SR, Saraswathi V. Effect of alcoholic and non-alcoholic beverages on color stability and surface roughness of resin composites: An in vitro study. J Conserv Dent. 2012;15(3):283-88.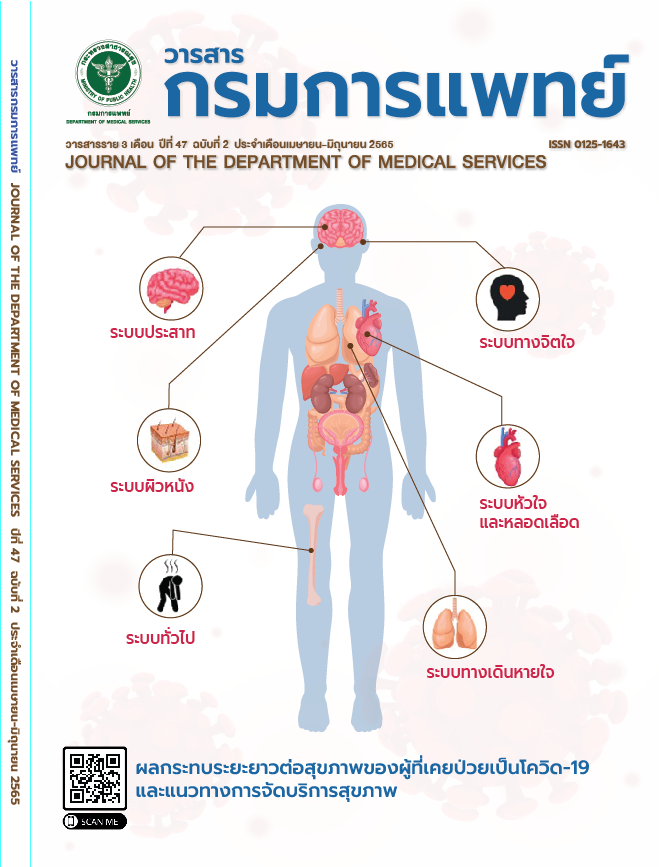 Downloads
How to Cite
1.
Rattanapokha P, Wayakanon K, Posritong S. The Effect of Beverages in Thailand on Color Stability of Resin Composite. j dept med ser [Internet]. 2022 Jun. 29 [cited 2022 Nov. 28];47(2):22-30. Available from: https://he02.tci-thaijo.org/index.php/JDMS/article/view/253663
License
Copyright (c) 2022 Department of Medical Services, Ministry of Public Health
This work is licensed under a Creative Commons Attribution-NonCommercial-NoDerivatives 4.0 International License.
บทความที่ได้รับการตีพิมพ์เป็นลิขสิทธิ์ของกรมการแพทย์ กระทรวงสาธารณสุข
ข้อความและข้อคิดเห็นต่างๆ เป็นของผู้เขียนบทความ ไม่ใช่ความเห็นของกองบรรณาธิการหรือของวารสารกรมการแพทย์