The Dental Implant Placement and the Techniques of Alveolar Bone Augmentation: Case Reports
Keywords:
sinus lift, lateral window approach, crestal approach, hydraulic pressure sinus lift
Abstract
After extraction the natural teeth, the alveolar part of the jaw will be minimized its size due to loss of balance between compressive and tensile forces on it. The disuse atrophic alveolar bone cannot support the dental implant. It can be solved by bone augmentation surgery in many techniques. The upper molar regions usually augmented by lifting the floor of maxillary sinus with bone graft. This paper reports the case of severe atrophic ridge at the area of the tooth 16 with maxillary sinus floor pneumatization. It was augmented by surgical lift with lateral window approach technique and xenograft bone placement. The crestal approach for lifting the sinus floor has 2 methods (1) sinus floor lift with DASK kit (Dentium Advanced Sinus kit) and (2) hydraulic pressure sinus lift with CAS kit (OSSTEM).
Downloads
Download data is not yet available.
References
Blomqvist JE, Alberius P, Isaksson S. Two-stage maxillary sinus reconstruction with endosseous implants: a prospective study. Int J Oral Maxillofac Implants 1998;13(6):758-66.
Mish CE. Contemporary implant Dentistry.3rded. St Louis, MO: Mosby; 2007. p. 934-6.
Scarano A. Maxillary Sinus Augmentation with Decellularized Bovine Compact Particles: A Radiological, Clinical, and Histologic Report of 4 Cases. Biomed Res Int. 2017 May 2. PMID:28349056.
Cho SW, Yang BE, Cheon KJ, Jang WS, Kim JW, Byun SH. A simple and safe approach for maxillary sinus augmentation with the advanced surgical guide. Int J Environ Res Public Health. 2020 Aug 31;17:6335. PMID: 32878152.
Mish CE. Contemporary implant Dentistry.4thed. St Louis, MO: Mosby; 2020. p.454-8.
Mish CE. Contemporary implant Dentistry.4thed. St Louis, MO: Mosby; 2020. p. 1021.
Wallace SS, Tarnow DP, Froum SJ, Cho SC,Zadeh HH, Stoupel J, et al. Maxillary sinus elevation by lateral window approach: evolution of technology and technique. J Evid Based Dent Pract 2012;12:161-71.
Sohn DS. New bone formation in the maxillary sinus with/ without bone graft. Turkyilmaz L, editors. Implant dentistry-The most promising discipline of dentistry; 2011 [cited 2022 Jan 4]. Available from: https://www.intechopen.com/chapters/21545
Kim YK, Cho YS, Yum PY. Assessment of dentists' subjective satisfaction with a newly developed device for maxillary sinus membrane elevation by the crestal approach. J Periodontal Implant Sci 2013;43(6):308-14.
Alsabbagh AY, Alsabbagh MM, Nahas BD, Rajih S. Comparison of three different methods of internal sinus lifting for elevation heights of 7 mm: an ex vivo study. Int J Implant Dent. 2017 Sep 4;3(1):40. PMID: 28871524.
Froum SJ, Wallace SS, Elian N, Cho SC, Tarnow DP. Comparison of mineralized cancellous bone allograft (puros) and anorganic bovine bone matrix (bio-oss) for sinus augmentation: histomorphometry at 26 to 32 weeks after grafting. Int J Periodontics Restorative Dent 2006;26(6):543-51.
Esposito M, Grusovin MG, Felice P, Karatzopoulos G, Worthington HV, Coulthard P. Interventions for replacing missing teeth: horizontal and vertical bone augmentation techniques for dental implant treatment. Cochrane Database Syst Rev 2009;4:1469-93.
Keller EF, Eckert SE, Tolman DE. Maxillary antral and nasal one-stage inlay composite bone graft: preliminary report on 30 recipient sites. J Oral Maxillofac Surg 1994;52(5):438-47.
Summer RB. A new concept in maxillary implant surgery: the osteotome technique. Compendium 1994;15:152-4.
Fulvio G, Claudio G, Marco T, Grazia T, Silvio MM, Matteo C.Maxillary sinus membrane elevation using a special drilling system and hydraulic pressure: a 2-year prospective cohort study. Int J Periodontics Restorative Dent 2018;38(4):593-9.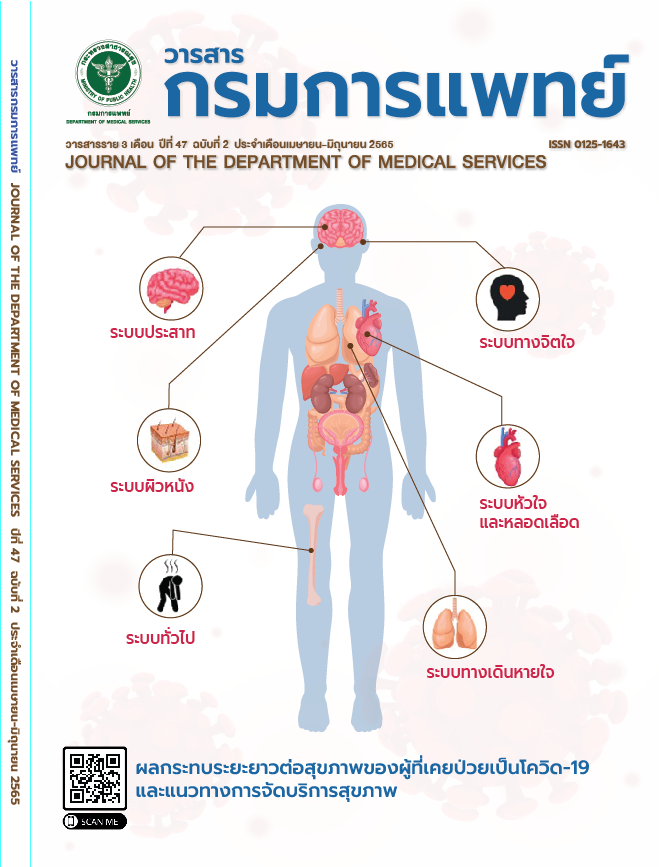 Downloads
How to Cite
1.
Wongsinudom C. The Dental Implant Placement and the Techniques of Alveolar Bone Augmentation: Case Reports . j dept med ser [Internet]. 2022 Jun. 29 [cited 2022 Sep. 29];47(2):125-34. Available from: https://he02.tci-thaijo.org/index.php/JDMS/article/view/254720
License
Copyright (c) 2022 Department of Medical Services, Ministry of Public Health
This work is licensed under a Creative Commons Attribution-NonCommercial-NoDerivatives 4.0 International License.
บทความที่ได้รับการตีพิมพ์เป็นลิขสิทธิ์ของกรมการแพทย์ กระทรวงสาธารณสุข
ข้อความและข้อคิดเห็นต่างๆ เป็นของผู้เขียนบทความ ไม่ใช่ความเห็นของกองบรรณาธิการหรือของวารสารกรมการแพทย์