Factors Associated with Extended Duration of Treatment in New Smear Positive Pulmonary Tuberculosis Patients in Bandung Crown Prince Hospital, Udonthani Province
Keywords:
Smear positive pulmonary tuberculosis, Risk factor, Duration of treatment
Abstract
Background: Tuberculosis (TB) was a global public health emergency and required multiple drugs treatment for many months.Objective: The study determined factors associated with extended duration of treatment in new smear positive pulmonary tuberculosis patients.Methods: A retrospective cohort study was conducted in Bandung Crown Prince Hospital, Udonthani Province. Medical records of new TB patients with smear positive from 1st October 2016 – 30th September 2019 had been reviewed from the date of diagnosis and during treatment until patients cured or completed. Patient characteristics, co-disease, adherence and adverse drug reactions were analyzed for frequency, percentage, and standard deviation. Chi-square and Binary logistic regression analyzed factors affecting duration of treatment.Results: This study included 243 tuberculosis patients. Patients with extended treatment duration were 37.45%, the average duration of treatment was 7.23 ±1.93 months. Individual factors found to have influence duration of treatment were body weight, sputum smear, patient types and adverse drug reaction reports in statistically significant manner (p<0.05). Factors affecting duration of treatment were adverse drug reactions (adjusted OR 2.5, 95% CI = 1.41, 8.65; p-value <0.001).Conclusion: Adverse drug reaction is significantly associated with the duration of treatment. Healthcare facilities should have close monitoring to reduce the rate of extension of the treatment period.
Downloads
Download data is not yet available.
References
Bureau of AIDS, TB and STIs, Department of Disease Control,Thailand Ministry of Public Health. Clinical practice guidelines of tuberculosis treatment in adult. Bangkok: Agriculture Cooperative Printing Authority of Thailand;2017.
World Health Organization. Global tuberculosis report 2020. Geneva:World Health Organization; 2020.
Bureau of Tuberculosis Department of Disease Control Ministry of Public Health. National tuberculosis control program guideline,Thailand, 2018. Bangkok: Aksorn graphic and design;2018.
Department of Disease Control, Nakhonphanom Provincial Health Office. Service Plan Health Area 8,Tuberculosis branch [Internet].2019 [Cited 2020 Sep 28]. Available from: URL; https://r8way.moph.go.th/r8wayadmin/page/uploads_file/20191224172049_5.TB%20 R8%20SP%2025%E0%B8%98%E0%B8%8462.pdf.
Rungaramsin S. Factors related to tuberculosis treatment duration in Buriram Hospital. MJSSBH 2009;24:49-58.
Phochanasomboon K. Outcomes of Pharmaceutical Care in Tuberculosis Patients at Faculty of Medicine Vajira Hospital,Navamindrahiraj University. Vajira Med J 2016; 60:171-80.
Pramual P, Khiewyoo J, Tesana N. Factors Related to A Sputum Conversion after 2-3 Months among New Positive Pulmonary Tuberculosis Patients in Sisaket Provice. KKU Res J 2014; 14:93-105.
Buranachonapa P, Sonthisombat P, Tunsupasawasdeekhul S.Factors Associated with Sputum non-conversion after Completion of Intensive Phase in Patients with Pulmonary Tuberculosis,Tuberculosis Clinic Buddhachinnaraj Hospital, Phitanuloke. Graduate Research Conference. Khon Kaen University; 2013.
Nissapatorn V, Kuppusamy I, Josephine FP, Jamaiah I, Rohela M, Khairul Anuar A. Tuberculosis: a resurgent disease in immunosuppressed patients. Southeast Asian J Trop Med Public Health 2006;37: 153-60.
Pulido F, Pena JM, Rubio R, Moreno S, Gonzalez J, Guijarro C, et al.Relapse of tuberculosis after treatment in human immunodeficiency virus-infected patients. Arch Intern Med 1997;157 227-32.
Perriens JH, S. Louis ME, Mukadi YB, Brown C, Prignot J, Pouthier F, et al. Pulmonary tuberculosis in HlV-infected patients in Zaire.A controlled trial of treatment for either 6 or 12 months. N Engl J Med 1995; 332:779-84.
Blumberg HM, Burman WJ, Chaisson RE, Daley CL, Etkind SC,Friedman LN, et al. American Thoracic Society/Centers for Diseases Control and Prevention/infectious Diseases Society of America:Treatment of Tuberculosis. Am J Respir Crit Care Med 2003; 167:603-62.
Ai X, Men K, Guo L, Zhang T, Zhao Y, Sun X, et al. Factors associated with low cure rate of tuberculosis in remote poor areas of Shaanxi Province, China: a case control study. BMC Public Health 2010; 10:112.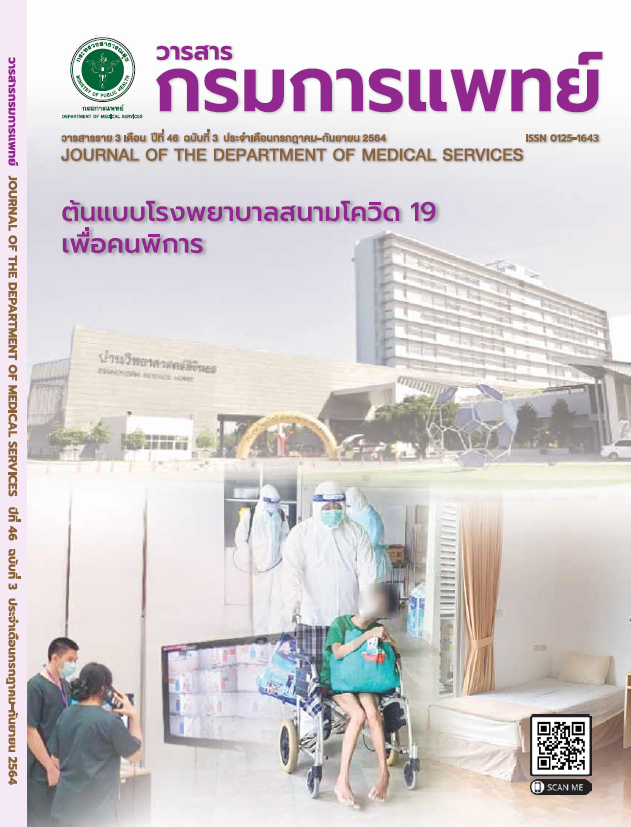 Downloads
How to Cite
1.
Namsaeng C, Hachai W. Factors Associated with Extended Duration of Treatment in New Smear Positive Pulmonary Tuberculosis Patients in Bandung Crown Prince Hospital, Udonthani Province. j dept med ser [Internet]. 2021 Nov. 30 [cited 2023 Feb. 6];46(3):45-9. Available from: https://he02.tci-thaijo.org/index.php/JDMS/article/view/255039
License
This work is licensed under a Creative Commons Attribution-NonCommercial-NoDerivatives 4.0 International License.
บทความที่ได้รับการตีพิมพ์เป็นลิขสิทธิ์ของกรมการแพทย์ กระทรวงสาธารณสุข
ข้อความและข้อคิดเห็นต่างๆ เป็นของผู้เขียนบทความ ไม่ใช่ความเห็นของกองบรรณาธิการหรือของวารสารกรมการแพทย์