Effects and Safety of Cannabis Sublingual Oil THC 1.7% w/v Formula in Patients with End Stage Cancers in Medical Cannabis Clinic, Chao Phya Abhiabhubejhr Hospital
Keywords:
Cannabis sublingual oil, End stage cancers, Palliative care
Abstract
Background: There is insufficient evidence for medical cannabis to support appropriate use in health system.
Objectives: This study evaluated the effects and safety of cannabis sublingual oil THC 1.7% w/v formula in patients with end stage cancers.
Method: Retrospective study from medical records of 103 patients who attended medical cannabis clinic and had at least one time of follow up.
Results: According to 6 times monthly check-ups, the results showed that cannabis sublingual oil THC 1.7% w/v formula could help relieving pain, anorexia, insomnia, and anxiety significantly. Quality of life of these patients tended to increase especially last three months. The median of utility score of the EQ-5D-5L questionnaire before start cannabis sublingual oil THC 1.7% w/v was 0.767 and increased to 0.928 on the sixth month after. The incidence of adverse events was 30.10% which majority of events were manageable. However, only 11 patients had completed the 6-month follow-up, accounting for 77.3% dropout rate.
Conclusions: Cannabis sublingual oil THC 1.7% w/v formula could improve quality of life and be well tolerated in patients with end stage cancers. However, it needs further studies in the large sample.
Downloads
Download data is not yet available.
References
The Narcotics Act (No. 7) B.E. 2562.[Internet].2019 [cited 2020 Dec 13]. Available from:http://www.ratchakitcha.soc.go.th/DATA/PDF/2562/A/019/T_0001.PDF
Ministry of Public Health, Thailand. Medical cannabis listed in service plan 20.[Internet].2019 [cited 2020 Dec 13]. Available form: http://www.medcannabis.go.th/
Department of medical science. Guidance on Cannabis for Medical Use. Eds 3. Nonthaburi: Ministry of Public Health; 2020.
Medical cannabis service plan committee. Guidance on medical cannabis services, integrative clinic; western and Thai traditional medicine in health settings under Permanent secretary office.Nonthaburi: Health Administration Division; 2019.
Department of medical science. Counseling guidance on medical cannabis counseling. use. Nonthaburi:Ministry of Public Health;2020.
Bar-Lev Schleider L, Mechoulam R, Lederman V, Hilou M,Lencovsky O, Betzalel O, et al. Prospective analysis of safety and efficacy of medical cannabis in large unselected population of patients with cancer. Eur J Intern Med 2018;49:37-43.
Johnson JR, Burnell-Nugent M, Lossignol D, Ganae-Motan ED,Potts R, Fallon MT. Multicenter, double-blind,randomized,placebo-controlled, parallel-group study of the efficacy, safety,and tolerability of THC:CBD extract and THC extract in patients with intractable cancer-related pain. J Pain Symptom Manage 2010; 39:167-79.
Nelson K, Walsh D, Deeter P, Sheehan F. A phase II study of delta-9-tetrahydrocannabinol for appetite stimulation in cancer-associated anorexia. J Palliat Care 1994;10(1):14-8. PMID:8035251.
Cyr C, Arboleda MF, Aggarwal SK, Balneaves LG, Daeninck P,Néron A, et al. Cannabis in palliative care: current challenges and practical recommendations. Ann Palliat Med 2018; 7:463-477.
Boehnke KF, Litinas E, Clauw DJ. Medical Cannabis Use Is Associated With Decreased Opiate Medication Use in a Retrospective Cross-Sectional Survey of Patients With Chronic Pain. J Pain 2016; 17:739-44.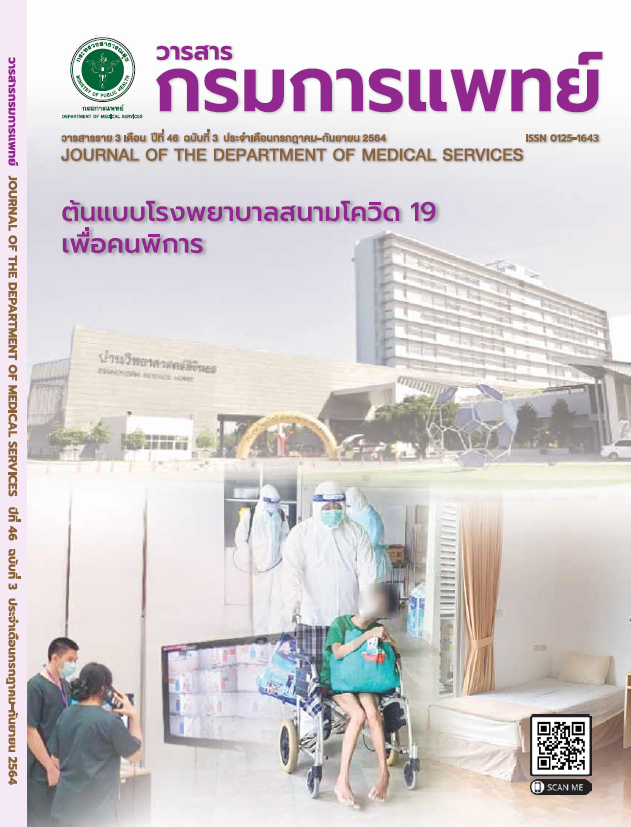 Downloads
How to Cite
1.
Kraikosol ว, Chaocharoen อ, Laemluang พ, Musigawong ณ, Kwankhao ผ. Effects and Safety of Cannabis Sublingual Oil THC 1.7% w/v Formula in Patients with End Stage Cancers in Medical Cannabis Clinic, Chao Phya Abhiabhubejhr Hospital. j dept med ser [Internet]. 2021 Nov. 30 [cited 2022 May 18];46(3):50-9. Available from: https://he02.tci-thaijo.org/index.php/JDMS/article/view/255040
License
บทความที่ได้รับการตีพิมพ์เป็นลิขสิทธิ์ของกรมการแพทย์ กระทรวงสาธารณสุข
ข้อความและข้อคิดเห็นต่างๆ เป็นของผู้เขียนบทความ ไม่ใช่ความเห็นของกองบรรณาธิการหรือของวารสารกรมการแพทย์