Cost of Magnetic Resonance Imaging (MRI) in a Specialized Cancer Hospital
Keywords:
Unit cost, Cost-analysis, Magnetic Resonance Imaging, MRI
Abstract
Background: Cancer is an importance global health problem. Radiographic imaging, like magnetic resonance imaging (MRI) help to improved diagnosis, prognosis, and treatment planning for cancer. However, previous studies have never been reported on the unit cost and the break-even point of MRI in the cancer patients. Objective: This study aimed to analyzing the unit cost and break-even point of MRI. Method: The data were retrieved from the medical records between January 1st, 2017 and December 31st, 2017 at Lopburi Cancer Hospital. Results: The study was found that there were totally 493 services. The average capital cost was 7,463,083.00 baht, the average material cost was 3,624,610.42 baht and the average labor cost was 547,777.27 baht. The unit cost was 28,321.63 baht/ service and the average break-even point was 1,948 service/ year. That was not full workload and effect to the highly unit cost. Conclusion: MRI services for cancer hospital represents a highly cost. The cause is small amount of patient, so that the hospital should be co-operate with the hospital in the health network area to increasing the MRI service for the generally and sustainability service.
Downloads
Download data is not yet available.
References
Bray F, Ferlay J, Soerjomataram I, Siegel RL, Torre LA, Jemal A.Global cancer statistics 2018: GLOBOCAN estimates of incidence and mortality worldwide for 36 cancers in 185 countries. CA Cancer J Clin. 2018;68(6):394–424
Imsamran W, Pattatang A, Supaattagorn P, Chiawiriyabunya I, Namthaisong K, Wongsena M, et al. Cancer in Thailand volume IX 2013-2015. Bangkok Thailand: National Cancer Institute Ministry of Public Health; 2018.
Pascual S, Miralles C, Bernabé JM, Irurzun J, Planells M. Surveillance and diagnosis of hepatocellular carcinoma: A
systematic review. World J Clin Cases. 2019 Aug 26;7(16):2269–86.
Ryder SD. Guidelines for the diagnosis and treatment of hepatocellular carcinoma (HCC) in adults. Gut. 2003 May
;52(suppl 3):iii1–8.
Graves MJ, Zhu C. Basic principles of magnetic resonance imaging. Springer; 2015.
Westbrook C, Talbot J. MRI in Practice. John Wiley & Sons; 2018.
Zech CJ, Justo N, Lang A, Ba-Ssalamah A, Kim M-J, Rinde H,et al. Cost evaluation of gadoxetic acid-enhanced magnetic resonance imaging in the diagnosis of colorectal-cancer metastasis in the liver: Results from the VALUE Trial. Eur Radiol.2016 Nov 1;26(11):4121–30.
Moore SG, Shenoy PJ, Fanucchi L, Tumeh JW, Flowers CR. Cost-effectiveness of MRI compared to mammography for breast cancer screening in a high risk population. BMC Health Serv Res. 2009 Jan 13;9(1):9.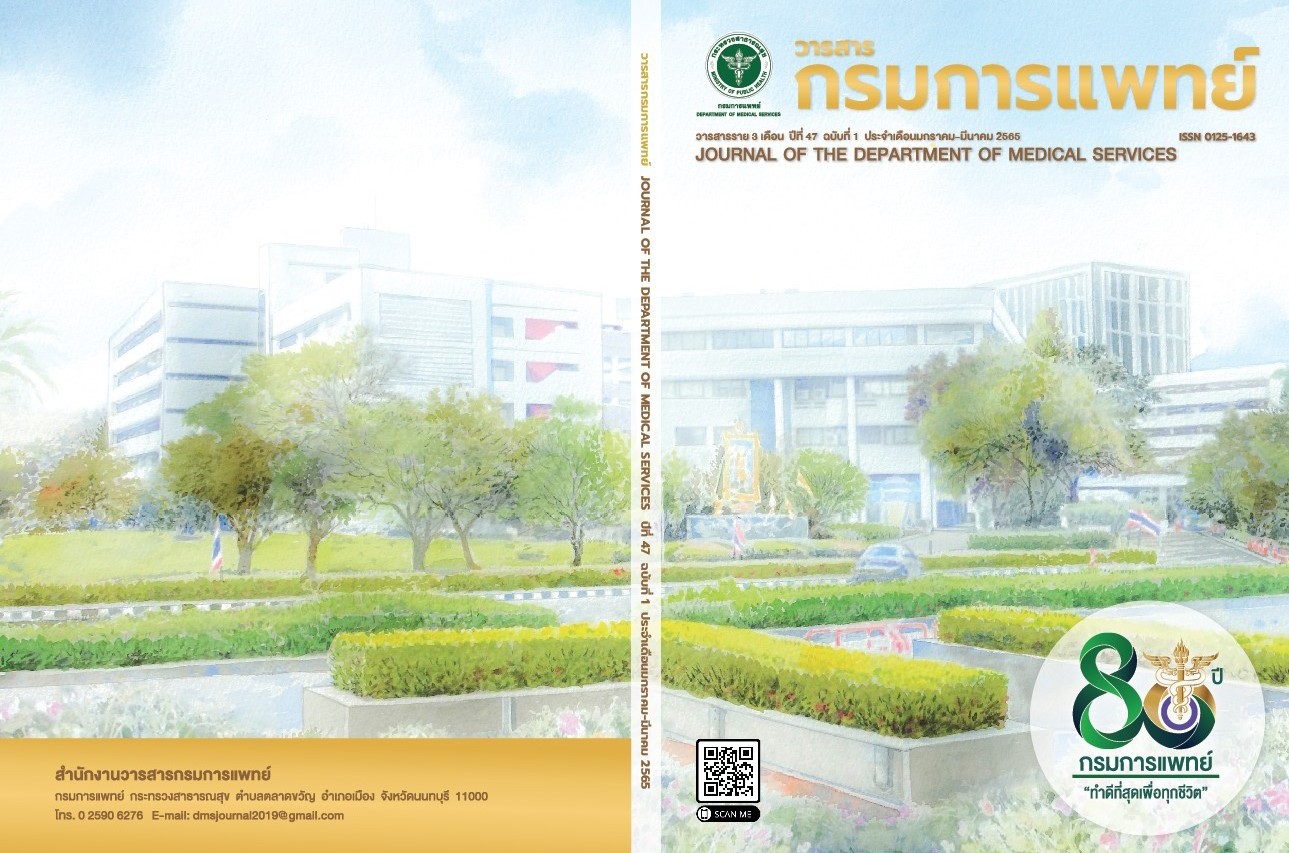 Downloads
How to Cite
1.
Boonkerd A, Chunpenmongkol S, Uadrang S. Cost of Magnetic Resonance Imaging (MRI) in a Specialized Cancer Hospital. j dept med ser [Internet]. 2022 Mar. 31 [cited 2022 Oct. 6];47(1):26-32. Available from: https://he02.tci-thaijo.org/index.php/JDMS/article/view/256913
License
This work is licensed under a Creative Commons Attribution-NonCommercial-NoDerivatives 4.0 International License.
บทความที่ได้รับการตีพิมพ์เป็นลิขสิทธิ์ของกรมการแพทย์ กระทรวงสาธารณสุข
ข้อความและข้อคิดเห็นต่างๆ เป็นของผู้เขียนบทความ ไม่ใช่ความเห็นของกองบรรณาธิการหรือของวารสารกรมการแพทย์