Difficulty Falling-asleep and Sleep Quality in a Website-based Survey
Keywords:
Difficulty falling asleep, sleep quality, PSQI
Abstract
Background: There are many people suffering from difficulty falling asleep. Though some recovers spontaneously, some repeats itself and there comes a time when perpetuating factors psychologically influence a progress to insomnia disorders. 80% of Insomnia disorders are comprised of Sleep Onset Latency insomnia. Objective: A brief survey to get an idea about the current situation of "difficulty falling asleep" in the society and to lay the foundation for further development / knowledge management in preventing insomnia disorder predisposed by "difficulty falling asleep". Method: Data from 91 Thai adults obtained using an internet-based questionnaire survey were analyzed using descriptive statistics and Spearmen's Rank Correlation to examine associations between data scores from sleep-onset symptom question groups and the global scores / each component scores on the Pittsburgh Sleep Quality Index (PSQI). Results: Two-third of the study participants have poor sleep quality. One-third of those with poor sleep quality have a problem with difficulty falling sleep. Difficulty falling asleep has a strong positive correlation with overall sleep quality, but weak to moderate correlation with other each PSQI components. Conclusion: Difficulty falling asleep is a common symptom. Gaining on insight into "difficulty falling asleep" is in real need.
Downloads
Download data is not yet available.
References
นัยพินิจ คชภักดี, วิทยาศาสตร์พื้นฐานการนอนหลับ ใน : กัลยา ปัญจพรผล, ประพันธ์ กิตติวรวิทย์กุล, นฤชา จิรกาลวสาน, มณฑิดา วีรวิกรม, วิชญ์ บรรณหิรัญ, บรรณาธิการ. Basic Sleep Medicine.พิมพ์ครั้งที่ 1 กรุงเทพ : สมาคมโรคจากการหลับแห่งประเทศไทย ; 2560. หน้า 1-11.
Avidan AY. Normal Sleep in Humans. In: Kryger MH, Avidan AY, Berry RB, editors. Atlas of Clinical Sleep Medicine. 2nd ed. Philadelphia: Saunders Elsevier; 2014. p. 70-97.
Fuller PM, Gooley JJ and Saper CB. Neurobiology of the Sleep-Wake Cycle. Journal of Biological Rhythms, 2006 ; 21:482-493.
Pacheco D. Sleep Latency [Internet]. Seattle: Sleep Foundation; 2021[cited 2022 Feb 7]. Available from: https://www.sleepfoundation.org/how-sleep-works/sleep-latency.
Saper CB, Fuller PM, Pedersen NP, Lu J and Scammel TE. Sleep State Switching. Neuron.2010; 68(6): 1023-1042.
Manner R, Friedman L, Siebern AT, Carney C, Edinger J, Epstein D, Haynes P, Pigeon W and Karlin BE. Cognitive Behavioral Therapy for insomnia in Veterans: Therapist Manual. Washington DC: U.S. Department of Veterans Affairs; 2014.
Bjorøy I, Jørgensen VA, Pallesen S and Bjorvatn B. The Prevalence of Insomnia Subtypes in Relation to Demographic Characteristics, Anxiety, Depression, Alcohol Consumption and Use of Hypnotics. Front. Psychol. 2020; 11: 527. doi: 10.3389/fpsyg.2020.00527
Buysse DJ, Reynolds CF, Monk TH, Berman SR and Kupfer DJ. The Pittsburgh Sleep Quality Index: A New Instrument for Psychiatric Practice and Research. Psychiatry Res 1989;28: 193-213.
Aritake S, Asaoka S, Kagimura T, Shimura A, Futenma K, Komada Y and Inoue Y. Internet-Based Survey of Factors Associated with Subjective Feeling of Insomnia, Depression, and Low Health-Related Quality of Life Among Japanese Adults with Sleep Difficulty. Int.J. Behav. Med. 2015;22:233-238.
ตุลยา สีตสุวรรณ, สนทรรศ บุษราทิจ, พิมลรัตนาอัมพวัลย์, วัฒนชัย โชตินัยวัตรกุล. การทดสอบความเที่ยงและความตรงของแบบประเมินคุณภาพการนอนหลับพิตส์เบิร์กฉบับภาษาไทยในผู้ป่วยที่มีปัญหาการนอนหลับ. J Med Assoc Thai 2014;97 Suppl 3:S57-67.
Smith S, Trinder J. The effect of arousals during sleep onset on estimates of sleep onset latency. J. Sleep Res. 2000;9:129-135.
Khosravi A, Emanian MH, Hashemi H and Fotouhi. Components of Pittsburgh Sleep Quality Index in Iranian adult population : on item response theory model [Internet]. Sleep Med x; 2021 [cited 2022 Jun 16] Available from : doi ; 10.1016/j.sleepx.2021.100038.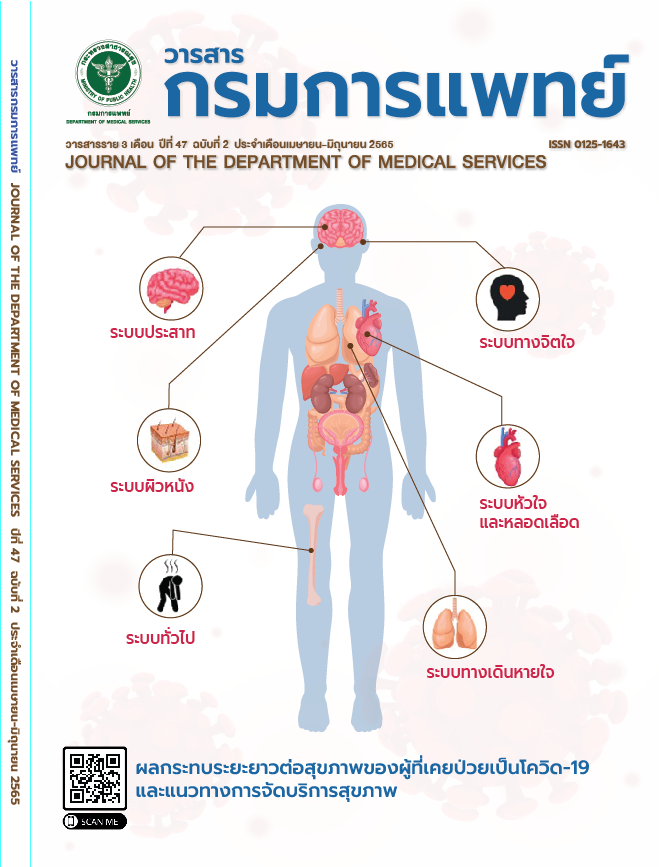 Downloads
How to Cite
1.
Sonthiraksa T. Difficulty Falling-asleep and Sleep Quality in a Website-based Survey. j dept med ser [Internet]. 2022 Jun. 29 [cited 2022 Sep. 29];47(2):109-15. Available from: https://he02.tci-thaijo.org/index.php/JDMS/article/view/257295
License
Copyright (c) 2022 Department of Medical Services, Ministry of Public Health
This work is licensed under a Creative Commons Attribution-NonCommercial-NoDerivatives 4.0 International License.
บทความที่ได้รับการตีพิมพ์เป็นลิขสิทธิ์ของกรมการแพทย์ กระทรวงสาธารณสุข
ข้อความและข้อคิดเห็นต่างๆ เป็นของผู้เขียนบทความ ไม่ใช่ความเห็นของกองบรรณาธิการหรือของวารสารกรมการแพทย์