Experience of Dislocated Hip Reduction by Emergency Physician at the Emergency Room, Nakhonpathom Hospital
Keywords:
Hip dislocation, Reduction, Emergency physician, Emergency room
Abstract
Introduction : Native hip dislocation is a true emergency condition due to avascular necrosis complication which is directly related with time to hip reduction. Therefore, hip reduction as fast as possible is very crucial. The procedure should be done within 6 hours after the injury. However, there was no data regarding dislocated hip reduction done by emergency physicians (EPs) in Thailand.
Objectives : To study the method and time result of dislocated hip reduction by EPs at emergency room, Nakhonpathom hospital.
Methods : Retrospective reviewed data from Injury Surveillance Windows; ISWIN data program and electronic medical record for studied the dislocated hip which reduced by EPs at the emergency room, Nakhonpathom hospital, Thailand from 2013 to 2020.
Results : Eighteen dislocated hip patients were treated by procedural sedation depended on patient conditions before hip reduction was done at the emergency room. Twelve (92,3%6) from 13 native hip dislocations was reduced successfully. Median treatment time from native hip injury to post reduction film was 174 minutes (83-260 minutes). The time was statically significant faster than the median treatment time which was 490 minutes (335-830 minutes) in the operating theater. Four (80%6) out of 5 prosthetic hip dislocations was successfully reduced. All patients had no complications from the treatment.
Conclusion : Dislocated hip reduction at the emergency room resulted in rapid treatment within 6 hours after the injury. An emergency physician reduced the dislocated hip by the Lefkowitz technique had an excellent success rate both native hip dislocations and prosthetic hip dislocations.
Downloads
Download data is not yet available.
References
Courtney C. Hip and femur injuries. In: Tintinalli J, Ma OJ, Yealy DM, Meckler GD, Stapczynski JS, Cline DM, et al, editors. Tintinalli's emergency medicine. 9thed. NewYork: McGraw-Hill; 2019 p. 1842-1250.
Murray BL. Femur and hip. In: Marx JA, Hockberger RS, Walls RM, Biros MH, Danzl DF, Gausche-Hill M, et al, editors. Rosen'semergency medicine: concepts and clinical practice. 8thed. Philadelphia: Elsevier/Saunders; 2014 p.672-697.
Kain MS, Tornetta P. Hip dislocations and fractures of the femoral head. In: Court-Brown CM, Heckman JD, McQueen MM, Ricci WM, Tornetta P, McKee MD, editors. Rockwood and Green's fractures in adults. 8th ed. Philadelphia: Wolters Kluwer; 2015.p. 1983-2030.
Ahmed G. Shiraz S. Riaz M. Ibrahim T. Late versus early reduction in traumatic hip dislocations: a meta-analysis. Eur J Orthop Surg Traumatol 2017; 27(8): 1109-16.
Hougaard K, Thomsen PB. Traumatic posterior dislocation of the hip - prognostic factors influencing the incidence of avascular necrosis of the femoral head. Arch Orthop Trauma Surg 1986; 106: 32–5.
Kellam P, Ostrum RF: Systematic review and meta-analysis of vascular necrosis and posttraumatic arthritis after traumatic hip dislocation. J Orthop Trauma 2016; 30(1):10-6.
Dawson-Amoah K, Raszewski J, Duplantier N, Waddell BS. Dislocation of the Hip: A Review of Types, Causes, and Treatment. Ochsner J 2018; 18(3): 242-52.
Walden PD, Hamer JR. Whistler technique used to reduce traumatic dislocation of the hip in the emergency department setting. J Emerg Med 1999; 17(3): 441-4.
Hendey GW, Avila A. The r Morgan technique for the reduction of the dislocated hip. Ann Emerg Med 2011; 58(6): 536-40.
Dan M, Phillips A, Simonian M, Flannagan S. Rocket launcher: A novel reduction technique for posterior hip dislocations and review of current literature. Emerg Med Austr 2015; 27: 192–5.
Gottlieb M. Hip Dislocations in the Emergency Department: A Review of Reduction Techniques. J Emerg Med 2018; 54(3): 339-47.
Gagg J, Jones L, Shingler G, Bothma N, Simpkins H, Gill S, et al. Door to relocation time for dislocated hip prosthesis: multicentre comparison of emergency department procedural sedation versus theatre-based general anaesthesia. Emerg Med J 2009;26(1): 39-40.
Horn AE, Ufberg JW. Management of common dislocations. In: Roberts JR, Custalow CB,Thomsen TW, Hedges JR, Chanmugam AS, Chudnofsky CR, et al, editors. Roberts and Hedges' clinical procedures in emergency medicine. 6thed. Philadelphia: Elsevier/Saunders; 2014. p. 954-998.
Gottlieb M. Hip joint dislocation reduction. In: Reichman EF, editor. Reichman's emergency medicine procedures. 3rded. New York: McGraw-Hill; 2019. p.919-925.
Germann CA, Geyer DA, Perron AD. Closed reduction of prosthetic hip dislocation by emergency physicians. Am J Emerg Med 2005;23(6): 800-5.
Lawrey E, Jones P, Mitchell R. Prosthetic hip dislocations: is relocation in the emergency department by emergency staff better? Emerg Med Australasia 2012; 24: 166-74.
Bommiasamy AK, Opel D, McCallum R, Yonge JD, Perl VU, Connelly CR, et al. Conscious sedation versus rapid sequence intubation for the reduction of native traumatic hip dislocation. Am J Surg 2018; 216(5): 869-73.
Frymann SJ, Cumberbatch GLA, Stearman ASL. Reduction of dislocated hip prosthesis in the emergency department using conscious sedation: a prospective study. Emerg Med J 2005;22(11): 807-9.
Myers JG, Kelly J. Procedural Sedation and Analgesia in Adults. In: Tintinalli J, Ma OJ, Yealy DM, Meckler GD, Stapczynski JS, Cline DM, et al, editors. Tintinalli's emergency medicine. 9th ed. New York: McGraw-Hill;2019 p. 248-258.
ประกาศราชวิทยาลัยวิสัญญีแพทย์แห่งประเทศไทยปี พ.ศ.2562. แนวทางเวชปฏิบัติการทำ moderatesedation [อินเตอร์เน็ต]. 2562 [เข้าถึงเมื่อ 2563ธันวาคม 28]. เข้าถึงได้จาก: http://www.anesthai.org/public/rcat/Documents/document/1576563440-%E0%B899B9E096B8%A3%E0%B89B0%E0%B8%81%E0%B8%B2%E096B8%A89E0%B89A3%E0%B8%B2%E0%B8%8A%E0%B8%A7%E096B8%B4%E096B8%97%E09B896A2%E096B896B296E0%B8%A5%E0%B8%B1%E096B8%A2-96E09B99692%E0%B99695%E0%B99969E0%B9992-ModerateSedation-Nov19.pdf
Dela Cruz JE, Sullivan DN, Varboncouer E, Milbrandt JC, Duong M, Burdette S, et al. Comparison of procedural sedation for the reduction of dislocated total hip arthroplasty. West J Emerg Med 2014; 15(1): 76-80.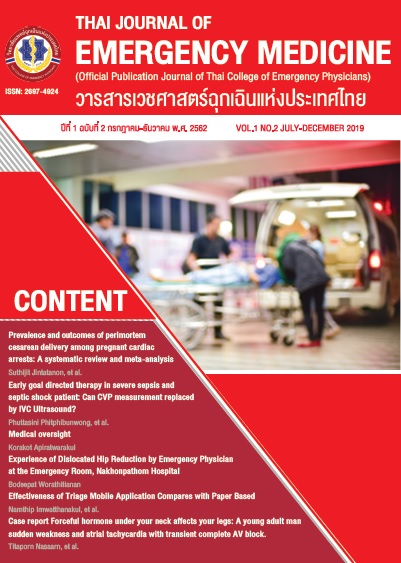 Downloads
How to Cite
1.
Worathtianan B. Experience of Dislocated Hip Reduction by Emergency Physician at the Emergency Room, Nakhonpathom Hospital. TJEM [Internet]. 2019 Dec. 31 [cited 2023 Feb. 1];1(2):43-65. Available from: https://he02.tci-thaijo.org/index.php/TJEM/article/view/248498
License
บทความที่ได้รับตีพิมพ์ในวารสารเวชศาสตร์ฉุกเฉินแห่งประเทศไทย ถือเป็นเป็นลิขสิทธิ์ของ วิทยาลัยแพทย์เวชศาสตร์ฉุกเฉินแห่งประเทศไทย
กรณีที่บทความได้รับการตีพิมพ์ในวารสารเวชศาสตร์ฉุกเฉินแห่งประเทศไทยแล้ว จะตีพิมพ์ในรูปแบบอิเล็กทรอนิกส์ ไม่มีสำเนาการพิมพ์ภายหลังหนังสือเผยแพร่เรียบร้อยแล้ว ผู้นิพนธ์ไม่สามารถนำบทความดังกล่าวไปนำเสนอหรือตีพิมพ์ในรูปแบบใดๆ ที่อื่นได้ หากมิได้รับคำอนุญาตจากวารสารเวชศาสตร์ฉุกเฉินแห่งประเทศไทย