Oral contraceptive pills - a phantom menace: the case of a healthy young woman who presented with cardiac arrest due to a pulmonary em-bolism and coronary artery thrombus
Keywords:
Acute pulmonary embolism, Acute coronary syndrome, Sudden cardiac arrest
Abstract
We encountered a 33-year-old woman, who had taken oral contraceptive pills (OCPs) for a month before she had cardiac arrest. After she had received resuscitation and had returned to spontaneous circulation (ROSC), right ventricular dilatation with LV septal wall flattening was detected by bedside cardiac ultrasound. Acute pulmonary embolism (PE) was initially suspected and was confirmed by Invasive pulmonary angiogram. Unfortunately, after intra-lesional thrombolysis and clot aspiration had been performed, the patient's condition improved, but later on worsened. An electrocardiogram (ECG) showed ST-segment elevation at the inferior wall territory. Coronary angiogram (CAG) was performed and a right coronary artery thrombus was found. Despite thorough blood tests investigations, we did not find any other risk of thrombosis other than OCPs.
Downloads
Download data is not yet available.
References
Margey R, Roy A, Tobin S, O'Keane CJ, Mc Gorrian C, Morris V, et al. Sudden cardiac death in 14- to 35-year olds in Ireland from 2005 to 2007: a retrospective registry.Eur Eur Pacing Arrhythm Card Electrophysiol J Work Groups Card Pacing Arrhythm Card Cell Electrophysiol Eur Soc Cardiol. 2011;13(10):1411–8.
Eckart RE, Shry EA, Burke AP, McNear JA, Appel DA, Castillo-Rojas LM, et al. Sudden death in young adults: an autopsybased series of a population undergoing active surveillance. J Am Coll Cardiol. 2011;58(12):1254–61.
Kürkciyan I, Meron G, Sterz F, Janata K, Domanovits H, Holzer M, et al. Pulmonary embolism as a cause of cardiac arrest: presentation and outcome. Arch Intern Med. 2000 ;160(10):1529–35.
Sakuma M, Nakamura M, Takahashi T, Kitamukai O, Yazu T, Yamada N, et al. Pulmonary embolism is an important cause of death in young adults. Circ J Off J Jpn Circ Soc. 2007 ;71(11):1765–70.
Konstantinides SV, Meyer G, Becattini C, Bueno H, Geersing G-J, Harjola V-P, et al. 2019 ESC Guidelines for the diagnosis and management of acute pulmonary embolism developed in collaboration with the European Respiratory Society (ERS). Eur Heart J. 2020;41(4):543–603.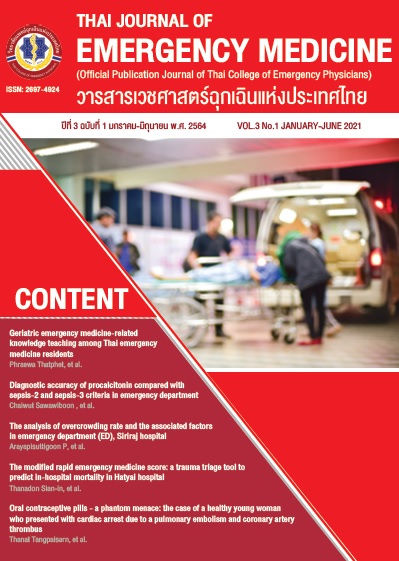 Downloads
How to Cite
1.
Tangpaisarn T, Kotruchin P, Pussadhamma B. Oral contraceptive pills - a phantom menace: the case of a healthy young woman who presented with cardiac arrest due to a pulmonary em-bolism and coronary artery thrombus. TJEM [Internet]. 2021 Jul. 8 [cited 2022 Oct. 5];3(1):71-9. Available from: https://he02.tci-thaijo.org/index.php/TJEM/article/view/249125
License
บทความที่ได้รับตีพิมพ์ในวารสารเวชศาสตร์ฉุกเฉินแห่งประเทศไทย ถือเป็นเป็นลิขสิทธิ์ของ วิทยาลัยแพทย์เวชศาสตร์ฉุกเฉินแห่งประเทศไทย
กรณีที่บทความได้รับการตีพิมพ์ในวารสารเวชศาสตร์ฉุกเฉินแห่งประเทศไทยแล้ว จะตีพิมพ์ในรูปแบบอิเล็กทรอนิกส์ ไม่มีสำเนาการพิมพ์ภายหลังหนังสือเผยแพร่เรียบร้อยแล้ว ผู้นิพนธ์ไม่สามารถนำบทความดังกล่าวไปนำเสนอหรือตีพิมพ์ในรูปแบบใดๆ ที่อื่นได้ หากมิได้รับคำอนุญาตจากวารสารเวชศาสตร์ฉุกเฉินแห่งประเทศไทย