Forceful hormone under your neck affects your legs: A young adult man sudden weakness and atrial tachycardia with transient complete AV block.
Keywords:
Thyrotoxicosis, hypokalemia, Atrioventricular block, Atrial tachycardia
Abstract
We are demonstrating a case of a 24-year-old man presented with acute symmetrical proximal muscle weakness in both upper and lower extremities. Common causes of proximal muscle weakness included hypokalemic periodic paralysis, acquired myopathy both infection, non-infection: endocrinopathy (e.g. hypothyroidism and hyperthyroidism, drugs (steroid and alcohol). He was diagnosed with thyrotoxicosis periodic paralysis, moreover, his electrocardiography (ECG) showed atrial tachycardia with 2:1 AV conduction and transient complete AV block.
Downloads
Download data is not yet available.
References
Hsu YJ, Lin YF, Chau T, Liou JT, Kuo SW, Lin SH. Electrocardiographic manifestations in patients with thyrotoxic periodic paralysis. Am J Med Sci. 2003;326(3):128-32. doi:10.1097/00000441-200309000-00004
Kung AWC. Thyrotoxic Periodic Paralysis: A Diagnostic Challenge. J Clin Endocrinol Metab.2006;91(7):2490-5. doi:10.1210/jc.2006-0356
Wang HF, Tsai SC, Pan MS, Shiao CC. Complete heart block during potassium therapy in thyrotoxic periodic paralysis. J Emerg Med. 2013;44(1):61-4. doi:10.1016/j.jemermed.2011.05.090
Ertek S, Cicero AF. Hyperthyroidism and cardiovascular complications: a narrative review on the basis of pathophysiology. Arch Med Sci AMS. 2013;9(5):944-52. doi:10.5114/aoms.2013.38685
El-Harasis MA, DeSimone CV, Stan MN, McLeod CJ, Noseworthy PA. Graves' disease–induced complete heart block and asystole. HeartRhythm Case Rep. 2017;4(3):105-8. doi:10.1016/j.hrcr.2017.12.001
Kantharia BK, Shah AN. Nodal and infranodal atrioventricular conduction block: Electrophysiological basis to correlate the ECG findings. Indian Heart J. 2013;65(2):229-31. doi:10.1016/j.ihj.2013.02.003
Lu KC, Hsu YJ, Chiu JS, Hsu YD, Lin SH. Effects of potassium supplementation on the recovery of thyrotoxic periodic paralysis. Am J Emerg Med. 2004;22(7):544-7. doi:10.1016/j.ajem.2004.09.016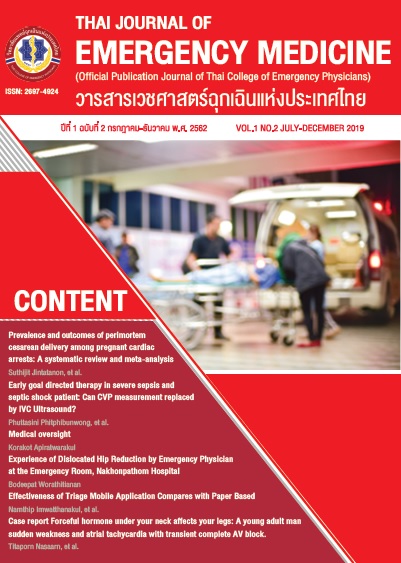 Downloads
How to Cite
1.
Nasaarn T, Soontornrungsun B, Serewiwattana N, Tangpaisarn T. Forceful hormone under your neck affects your legs: A young adult man sudden weakness and atrial tachycardia with transient complete AV block. TJEM [Internet]. 2019 Dec. 31 [cited 2022 Nov. 28];1(2):85-93. Available from: https://he02.tci-thaijo.org/index.php/TJEM/article/view/249899
License
บทความที่ได้รับตีพิมพ์ในวารสารเวชศาสตร์ฉุกเฉินแห่งประเทศไทย ถือเป็นเป็นลิขสิทธิ์ของ วิทยาลัยแพทย์เวชศาสตร์ฉุกเฉินแห่งประเทศไทย
กรณีที่บทความได้รับการตีพิมพ์ในวารสารเวชศาสตร์ฉุกเฉินแห่งประเทศไทยแล้ว จะตีพิมพ์ในรูปแบบอิเล็กทรอนิกส์ ไม่มีสำเนาการพิมพ์ภายหลังหนังสือเผยแพร่เรียบร้อยแล้ว ผู้นิพนธ์ไม่สามารถนำบทความดังกล่าวไปนำเสนอหรือตีพิมพ์ในรูปแบบใดๆ ที่อื่นได้ หากมิได้รับคำอนุญาตจากวารสารเวชศาสตร์ฉุกเฉินแห่งประเทศไทย