Prosperity of celecoxib for pain relief after elective cesarean delivery, a double-blind randomized controlled trial
Keywords:
elective cesarean delivery, post-operative pain, celecoxib, effectiveness
Abstract
Objective: To determine the effectiveness of 400-mg celecoxib after elective cesarean delivery.
Methods: In this randomized double blinded controlled trial, 110 full-term pregnant women aged between 20-40 years old who were scheduled for elective cesarean delivery between May 2018 and November 2018 were enrolled. A total of 110 participants were randomly assigned equally into 2 groups to receive celecoxib or placebo. All patients from both groups received meperidine under PCA after operation. Pain score was measured 3 times with 2 different states: 6, 12 and 24 hour at rest and upon movement.
Results: The overall pain score in each time point between PCA meperidine plus celecoxib and PCA meperidine plus placebo was significantly different (p-value = 0.004). The use of meperidine at 24 hours in the group of PCA meperidine plus celecoxib was not significantly different from the group of PCA meperidine plus placebo (p-value =0.058)
Conclusion: Celecoxib could relieve post-operative pain after cesarean delivery statistic significantly.
Downloads
Download data is not yet available.
References
Bujedo BM, Santos SG, Azpiazu AU, Noriega AR, Salaza DG, Andueza MA. Multimodal analgesia for the management of postoperative pain. Racz G. Pain and treatment.n.p.:Intechopen;2014.134-40
Dajani EZ, Islam K. Cardiovascular and gastrointestinal toxicity of selective cyclo-oxygenase-2 inhibitors in man. J Physiol Pharmacol 2008; 59:117-33
Davies NM, Mclachlan AJ, Day RO, Williams KM. Clinical pharmacokinetics and pharmacodynamics of celecoxib: a selective cyclo-oxygenase-2 inhibitor. Clin pharmacokinet 2000;38:225-42.
Hale TW, Mcdonald R, Boger J. Transfer of celecoxib into human milk. J Hum Lact 2004;20:397-403.
Fong WP, Yang LC, Wu JI, Chen HS, Tan PH. Does celecoxib have pre-emptive analgesic effect after Caesarean section surgery. Br J Anaesth 2008;100:861-2.
Matsota P, Nakou M, Kalimeris K, Batistaki C, Pandazi A, Kostopanagiotou G. A single dose of celecoxib 200 mg improves postoperative analgesia provided via patient controlled epidural technique after caesarean section. Arch Med Sci 2013;9:877-82
Lee L, Irwin M, Lim J, Wong C. The effect of celecoxib on intrathecal morphine‐induced pruritus in patients undergoing Caesarean section. Anaesthesia 2004;59:876-80.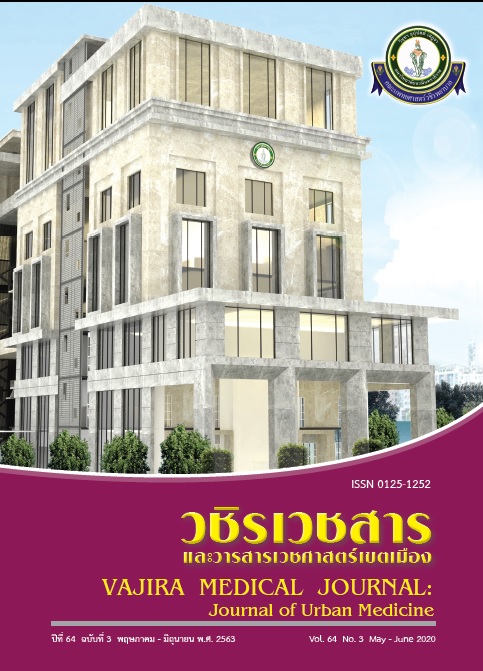 Downloads
Additional Files
How to Cite
Tuscharoenporn, T., Kongsin, P., Supawatttanabodee, B., & Vitayaburananont, P. (2020). Prosperity of celecoxib for pain relief after elective cesarean delivery, a double-blind randomized controlled trial. Vajira Medical Journal : Journal of Urban Medicine, 64(3), 165–172. https://doi.org/10.14456/vmj.2020.16
Section
Original Articles