Comparison of Knowledge Regarding Vitamin D in Non-Healthcare Personnel of Faculty of Medicine Vajira Hospital, Navamindradhiraj University Between the Lecture-based Group and the Edutainment with Lecture Group
Keywords:
lecture, edutainment, vitamin D
Abstract
Objective: To comparison of knowledge regarding vitamin D in non-healthcare personnel of Faculty of Medicine Vajira Hospital, Navamindradhiraj University between the lecture-based group and the edutainment with lecture group.
Methods: This quasi-experimental research collected data from 39 non-healthcare personnel of the Faculty of Medicine, Vajira Hospital (male 6 persons, female 33 persons). They were divided into two groups: one group was provided lecture knowledge only and another group was provided knowledge in a lecture style combined with edutainment. The questionnaire was used to study knowledge about vitamin D before entering and after joining the activity.
Results: The mean score before and after giving knowledge of the lecture-based group was 5.71 and 7.41 respectively, while the average score before and after giving knowledge of the edutainment with lecture group was 5.86 and 7.68 respectively. We found that both knowledge scores before and after giving knowledge were not statistically significantly different between the lecture-based group and the edutainment with lecture group (p = 0.777 and p = 0.586, respectively). While the post-knowledge scores were significantly higher than before giving knowledge in both groups (p = 0.002 and p <0.001, respectively).
Conclusion: Both forms of education were successful. On the other hand, edutainment combined with lectures did not help to increase the knowledge of volunteers over the lecture alone. Therefore, lectures could be done alone for providing knowledge to save time and budget.
Downloads
Download data is not yet available.
References
Ridgeway V, Mathews A. Psychological preparation for surgery: a comparison of methods. Br J Clin Psychol 1982; 21: 271-80.
Uppor W, Panason D, Phongjaren C. The Effects of Edutainment Learning on Learning Achievement in the Nursing Care of Persons with Health Problems 1 Course of the Nursing Students at Boromarajonani College of Nursing, Suphanburi. Nursing Journal of the Ministry of Public Health 2017; 27(2): 60-8.
Kara Y, Yeşilyurt S. Comparing the impacts of tutorial and edutainment software programs on students' achievements, misconceptions, and attitudes towards biology. J Sci Educ Tech 2008; 17: 32-41.
Noor NM, Aini M, Hamizan NI. Video Based Learning Embedded with Cognitive Load Theory: Visual, Auditory, and Kinaesthetic Learners' Perspectives. Paper presented at 2014 International Conference on the Teaching and Learning in Computing and Engineering (LaTiCE).
Steffes EM, Duverger P. Edutainment with Videos and its Positive Effect on Long Term Memory. Journal for Advancement of Marketing Education 2012; 20: 1-10.
Sthapitanonda P. Entertainment-education Across Cultures: A Study of the Effects of the "Karate Kids" AIDS Film in Thailand: Ann Arbor Michigan UMI Dissertation Services 1995.
Sakamoto M, Nakajima T. Augmenting Yu-Gi-Oh! Trading Card Game as Persuasive Transmedia Storytelling. In Marcus A. (Ed) Design, User Experience, and Usability. Health, Learning, Playing, Cultural, and Cross-Cultural User Experience. Lecture Notes in Computer Science.2013; Vol. 8013: 587-96.
Cornish D, Dukette D. The Essential 20: Twenty Components of an Excellent Health Care Team:2009; Rosedog Press.
Krejcie RV, Morgan DW. Determining sample size for research activities. Educational and Psycholological Measurement 1970; 30: 607-10.
Johnstone AH, Percival F. Attention breaks in lecture. Education in Chemistry, 1976; 13:49-50.
Bunce DM, Flens EA, Neiles KY. How long can students pay attention in class? A study of student attention decline using clickers. J Chem Educ 2010; 87: 1438-43.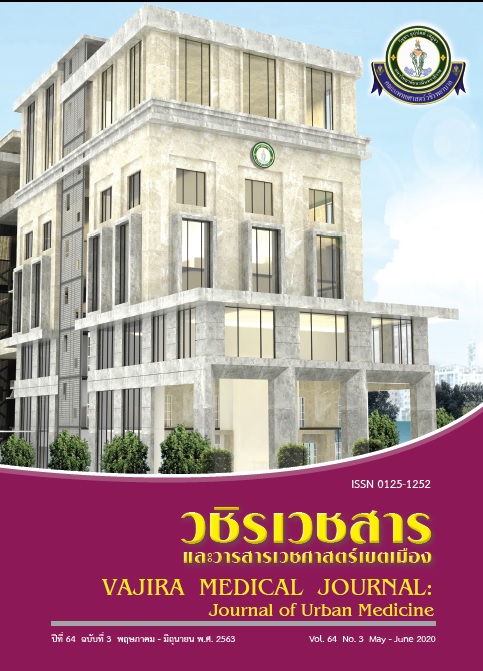 Downloads
How to Cite
Chunhakan, S., Sakoonwatanyoo, P., Intrapongpan, J., Pryngam, C., Wongveerasin, P., Kanchanasinith, M., Phupungtamakoon, S., Chawla, S., & Pinchumponsang, A. (2020). Comparison of Knowledge Regarding Vitamin D in Non-Healthcare Personnel of Faculty of Medicine Vajira Hospital, Navamindradhiraj University Between the Lecture-based Group and the Edutainment with Lecture Group. Vajira Medical Journal : Journal of Urban Medicine, 64(3), 205–212. https://doi.org/10.14456/vmj.2020.20
Section
Original Articles