Stalls Management for Healthy Bangkok Metropolitan: A Case Study of Stalls in front of Bang Khae Market, Bang Khae District, Bangkok
Keywords:
stalls, market, Bangkok Metropolitan, Bang Khae
Abstract
Objectives: 1) To study the management process of stalls and the market operation in Bang Khae District 2) To study problems and obstacles in managing the stalls by Bangkok Metropolitan Administration 3) To present the development guidelines for stalls in Bangkok in the future.
Methods: The study employed questionaires by stakeholders including 6 Ban khae District officers. 83 hawkers from temporary stalls in front of outbound Bang Khae market, 65 traders in the Bang Khae shopping center market, Bang Khae New Market and Saeng Fah Ha Pae Market, as well as 35 shoppers and pedestrians.
Results: It was found that stall traders were willing to move to locations provided by the Bangkok Metropolitan Administration because there was only a moderate fee and there were few other choices. The motivation was there were markets that can accommodate stall traders and they were legal stalls. The driving force were buyers support the relocation of the stalls and the city prohibited roadside stalls. Resistance were traders were attached to the old location, the prohibition of stalls was not enforced strictly and traders were looking for support from local politicians. The suggestion is there should be a firm policy to prohibit roadside stalls since traders already had alternative locations. If relocation of roadside stalls into the market is successful, it will be a case study for other areas. Supporting measures by the government may include initial capital with cheap interest rate, charging no rental fee but only water and electricity.
Conclusion: It can be concluded that it is highly feasible to relocate the stalls to a proper location provided by the city.
Downloads
Download data is not yet available.
References
Newspaper Posttoday. Governor of Bangkok Policy [Internet].2018 [cited 2018 Nov 11]. Available from: https://www. posttoday.com/social/local/458639
Ministry of Public Health. Public Health Act 1992. [Internet] [cited 2018 Dec 7]. Available from: https://www. sme.go.th/ upload/mod_download/a136-20-9999-update.pdf
Niratorn N. Stall Trading Management in Bangkok: Observations and suggestions. J. Sociol. Anthropol 2015; 33: 47-72.
Division of Policy and Planning Office of City Planning Bangkok. Hawker stalls in Bangkok, year 2012 [Internet].2012 [cited 2018 Nov 11]. Available From: http://cpd.bangkok.go.th:90/web2/strategy/ DATA54_55/15
Rattanaburi W. A model for managing hawker on the sidewalk stall in Bang Rak area. [Thesis]. Chonburi: Burapha University; 2016.
Hansomsakul M. Managing the hawker stall in Bangkok: Case study Sanam Luang, Phra Nakhon District [Thesis]. Bangkok:Thammasat University; 2011.
Supawan N. Effectiveness of the policy of organizing hawker stall in Bangkok in practice: case study of Pak Khlong Talat area [thesis]. Bangkok: Thammasat University;2016.
Nirathorn N. Management of Street Vending in Bangkok: Observations and Recommendations. J. Sociol. Anthropol 2015; 33: 47-72.
Nirathorn N. Administration of Street Vending in Thailand: The Situation and Policy Recommendations. [Internet] 2017 [cited 2018 Nov 11]. Available From: http://knowledgefarm.in.th/wp-content/uploads/2017/11/streetvending-in-thailand.pdf
Samukkethum S. Stallholders' Economic Behaviors: A Case Study of Bang Khen District. Romphruek Journal 2017; 35:158-76.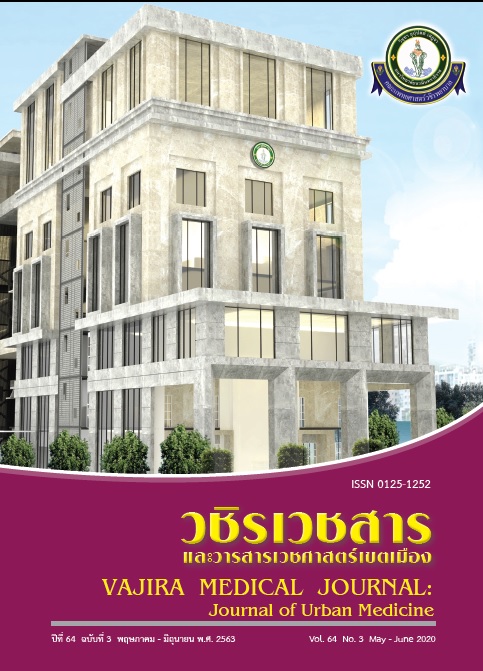 Downloads
How to Cite
Iniana, T., & Limpaseni, W. (2020). Stalls Management for Healthy Bangkok Metropolitan: A Case Study of Stalls in front of Bang Khae Market, Bang Khae District, Bangkok. Vajira Medical Journal : Journal of Urban Medicine, 64(3), 223–234. https://doi.org/10.14456/vmj.2020.22