Evaluation of Health Promotion Program of the Elderly Club in Nonthaburi Municipality
Keywords:
evaluation, Health Promotion Program, Elders Club
Abstract
Objective: The purpose of this research is to study elderly health promotion methods, assessed health promotion programs and recommend action plan of elderly club to the relevant department. Study design: Descriptive research
Methods: We assess the health promotion model of the elderly club by using the CIPP model. Data were collected from 3 specific study groups that participated in the activities through interviews and questionnaires. The 3 specific study groups consist of 11 Rewadee zone 1 elderly club committee members, 60 elderly people and 56 elderly relatives.
Results: The health promotion of the elderly club is assessed in 4 aspects, namely context, input, process and productivity. In context aspect, the objective of establishing an elderly club is suitable for problems and needs in the community. The elderly and people in community have a place to exercise and have the most expectation in health. In input aspect, the health promotion of the elderly has supporting factors such as knowledgeable personnel, sufficient budget and equipment. The committee structure is clear as according to the regulations of the elderly association of Thailand. In terms of processes, the most of activities of elderly club set by the public health center 4, Nonthaburi municipality are distributed thoroughly and on time. In productivity aspect, the elderly who participated in the activities are able to perform daily activities better, good quality of life without financial problems and are satisfied with club. The elderly club has 3 main activities, including social activities, health activities and activities for public benefit.
Conclusions: the elderly club are clearly useful in terms of promoting elderly health. The government should support the establishment of elderly club in the community to proceed continuously and efferently.
Downloads
Download data is not yet available.
References
United Nations World Population Prospect,The 2015 Revision UNWPP, 2015.
Phaowattana A, Klampakhon S, Lakumpun S, Umnachsatsue Kh. Health Promotion and Disease Prevention in Community: An Application of Concepts and Theories to Practice. Bangkok:Nana Witthaya Printing House; 2012.
Hanucharoenkul S, Bunthong T. Concepts and Nursing processes. Bangkok: Arun printing LP;2010.
Stufflebeam, D.L. The CIPP Model for Evaluation. Annual Conference of the Oregon Program Evaluation Network (OPEN), Portland, Oregon,2003.
Inyai Ch. Program evaluation. 2nd ed. Chulalongkorn University Print, Bangkok. 2012.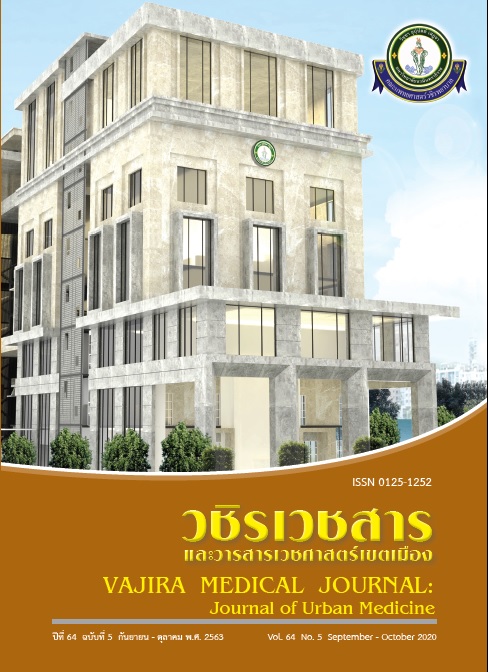 Downloads
How to Cite
Ngamdee, P., Limpaseni, W., & Rawdaree, P. (2020). Evaluation of Health Promotion Program of the Elderly Club in Nonthaburi Municipality. Vajira Medical Journal : Journal of Urban Medicine, 64(5), 357–364. https://doi.org/10.14456/vmj.2020.35
Section
Original Articles