Lifestyle Factors Associated with Obesity in Urban Workers: A Case Study of Faculty of Medicine Personnel, Vajira Hospital
Keywords:
Urban lifestyle, Obesity, Urban Workers
Abstract
Objective: To study Lifestyle Factors Associated with Obesity in Urban Workers: A Case Study of Faculty of Medicine Personnel, Vajira Hospital.
Methods: This research is a descriptive research employing waistline measurement and questionnaire. The questionnaire covers lead factors, contributing factors and supplementary factors leading to obesity and suggested activities for reducing obesity. The results were analyzed with descriptive statistics, frequency, percentage, averages and standard deviations and statistical analysis using Chi-square value and Logistic regression.
Results: The 3 sampled groups consist of 177 professional, 31 specialists and 143 supporting personnel. The results showed that the obesity group had lead factors associated with general characteristics on gender affecting obesity (P<0.01). Female were found to at risk of being obese 2.12 times (95% CI: 1.23-3.51) more than male. Married persons were more likely to be obese 1.5 times (P=0.027) than single persons. Knowledge, attitude and consumption behavior and exercise behavior of obese persons were at a lower level than non-obese persons. Contributing factors affecting obesity include meal and drink expenditure (P=0.035). Supplementary factors affecting obesity include an obese family member (P=0.005).
Conclusion: Recommendations on reducing obesity among personnel are implementing organization policy on reducing obesity, arrange for activities for personnel (knowledge dissemination, exercise, etc.), provide clean food cafeteria as well as exercising facilities. The program can be strengthened by the organization information network and multidisciplinary team to monitor and providing information.
Downloads
Download data is not yet available.
References
Yamaoka K, Tango T. Effects of lifestyle modification on metabolic syndrome: a systematic review and meta-analysis. BMC Med 2012; 10: 138-147.
Mottillo S, Filion KB, Genest J, Joseph L, Pilote L, Poirier P, et al. The Metabolic Syndrome and Cardiovascular Risk A Systematic Review and Meta-Analysis. J Am Coll Cardiol. 2010; 56: 1113-32.
Wibunphonprasoet S. Thai Public Health Report 2008-2010 [Internet]. 2010 [cited on 2017 November 28] Available from: https://www.hiso.or.th/hiso/picture/reportHealth/report/ThaihealthProfileT2010T.pdf
Wibunphonprasoet S. Thai Public Health 2005-2007. Nonthaburi: The War Veterans Organization, 2007.
Thai Population Health Survey Office. The 4 th public health survey by physical examination 2008-2009. Nonthaburi: The Graphic Systems Company Limited; 2009.
Uthaiphatthanacheep W, Khumthong T, Amphairit P, Ranoi K, Jirasatsunthorn S. Community Behavior Modification by Community. Nonthaburi: Department of Health Service Support: 2013.
Pondongnok S, Rattanachaiwong S, Pornwichai J, Thonrat T. Knowledge of obesity=Metabolic Syndrome. Khonkaen: Nana Witthaya Printing, 2015.
Nanda, K., L. G., Kaveri, N. K., & Anmol, M. N. Y. Metabolic syndrome: A clinic based rural study – Are women at high risk Diabetes & Metabolic Syndrome? 2011; 5(2): 81-4.
Thammarangsi T. Obesity crisis: Economic disaster Social poison [Internet]. Health Promotion Policy Study Group, International Health Policy Program, (IHPP). [cited on 2018 July 25] Available from: http://www.rcot.org/datafile/_file/_doctor/114d87b035aa9f10c931378fc72e39f5.pdf.
Rawini P, Sattham A. Factor Associated with the Metabolic Syndrome in Chamab Sub-district, Wang Noi District, Ayutthaya Province. Apheit Inter. 2016; 5(2): 33-47.
Chaiyokkie S. Factors Affecting Food Consumption Behaviors of Adults in Northeast Thailand. J RES DEV. 2018; 13(45).
Van Zyl MK, Steyn NP, Marais ML. Characteristics and factors influencing fast food Intake of young adult consumers in Johannesburg, South Africa. South Afr J Clin Nutr. 2010; 23(3):124-30.
Jitnarin N, Kosulwat V, Rojroongwasinkul N, Boonpraderm A. Risk factors for overweight and obesity among Thai adults: results of the National Thai Food Consumption Survey. Nutrients. 2009;2: 60-74.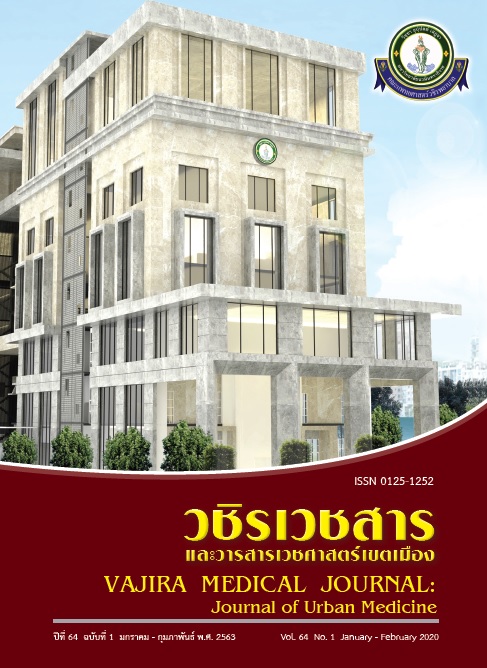 Downloads
How to Cite
Prasertjit, P., Limpaseni, W., & Sumanasrethakul, C. (2020). Lifestyle Factors Associated with Obesity in Urban Workers: A Case Study of Faculty of Medicine Personnel, Vajira Hospital. Vajira Medical Journal : Journal of Urban Medicine, 64(1), 71–84. https://doi.org/10.14456/vmj.2020.7