Coronal Tibial Slope of Thai Adults in Faculty of Medicine Vajira Hospital, Navamindradhiraj University
Keywords:
coronal tibial slope, knee valgus proximal angle, lower limb alignment, hip-knee-ankle standing radiograph, Thai
Abstract
Objective: To determine the coronal tibial slope of Thai adults in Faculty of Medicine Vajira Hospital, Navamindradhiraj University
Methods: This study was a descriptive study. Forty-eight Thai adults, aged 18-40 years, in Faculty of Medicine, Vajira Hospital, Navamindradhiraj University were recruited. There were 24 males and 24 females. Anteroposterior hip-knee-ankle films were obtained. Coronal tibial slopes and other parameters were measured.
Results: Mean age of the participants was 25.7 +/- 3.4 years. Mean coronal tibial slope was 3.4 +/- 1.7 degrees. Mean knee valgus proximal angle was 4.7 +/- 0.6 degrees. Mean hip-knee-ankle angle was 0.4 +/- 2.5 degrees of varus. Mean mechanical axis deviation 1.0 +/- 7.9 millimeters medially to mechanical axis of lower extremity. Mean ratio of femoral length to height was 0.26 +/- 0.01.
Conclusions: The coronal tibial slope in Thai is approximately as same as the literature but the knee valgus proximal angle is different which is about 5 degrees. An orthopaedic surgeon may consider his surgical technique of total knee arthroplasty by cutting the distal femur at 5 degrees of valgus in extension with classic alignment or 8 degrees of valgus in extension with anatomical alignment
Downloads
Download data is not yet available.
References
Crockarell JR, Guyton JL. Arthroplasty of the Knee. In: Canale ST, Beaty JH, editors. Campbell's operative orthopaedics. 11th ed. Philadelphia: Mosby Elsevier; 2007. p. 241-311.
Vail TP, Lang JE, Sikes CV. Surgical techniques and instrumentation in total knee arthroplasty. In: Scott WN, editor. Insall & Scott surgery of the knee. 5th ed. Philadephia: Elsevier; 2012.p. 1045-57.
Evcik D, Kuru I, Maralcan G, Evcik E. Relationship between the mechanical and anatomical axis and orientation angles of the knee joint and functional capacity of patients with osteoarthritis. Acta Orthopaedica et Traumatologica Turcica.2006;40(1):38-43.
Jeffery RS, Morris RW, Denham RA. Coronal alignment after total knee replacement. J Bone Joint Surg Br. 1991;73-B:709–14.
Igbigbi PS, Msamati BC, Matanje B. Normal axial angles of the knee joint in adult indigenous Malawians. East Afr Med J. 2003;80(8):415-18.
Derek T, Cooke V, Sled EA. Optimizing limb position for measuring knee anatomical axis alignment from standing knee radiographs. J Rheumatol. 2009;36(3):472-77.
Bellemans J, Colyn W, Vandenneucker H, Victor J. Is neutral mechanical alignment normal for all patients? The concept of constitutional varus. Clin Orthop Relat Res. 2012;470:45-53.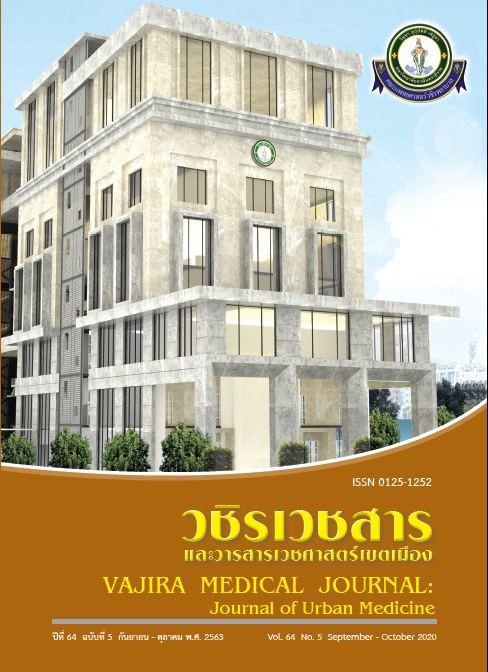 Downloads
How to Cite
Thitiboonsuwan, S., & Meknavin, S. (2020). Coronal Tibial Slope of Thai Adults in Faculty of Medicine Vajira Hospital, Navamindradhiraj University. Vajira Medical Journal : Journal of Urban Medicine, 64(5), 325–332. https://doi.org/10.14456/vmj.2020.31
Section
Original Articles