A Study of Self-Care Behaviors in Older Adults at the Elderly Club of Ratchaphiphat Hospital, on the Foundations of Personal and Social Support Factors
Keywords:
self-care behavior, elderly, elderly group
Abstract
Objective: This research determined the foundations of personal and social support factors associated with self - care behaviors of older adults in the elderly club at Ratchaphiphat Hospital, Medical Service Department of the Bangkok Metropolitan Administration, Bangkok, Thailand.
Methods: A Cross - sectional study design was conducted in 247 elderly person from March 1, 2017 to July 28, 2017. Data were collected by interview. The instrument was the questionnaire was developed by the researcher that qualified by the expertise improving content validity and reliability was test by using Cronbachs'alpha coefficients was more confidence 0.70 consists of 3 parts (general characteristics, social support factors and self-care behavior of people). Descriptive statistics were applied to describe general characteristics and point biserial correlation coefficient.
Results: Research result was summarized among 247 persons who were in the elderly club, Ratchaphiphat Hospital as follows: General characteristics: Three - fourths of the participants were female 175 women (70.9%), aged between 70-75 years were 65 persons (26.6%), 165 persons (66.8%) had underlying diseases, marital status was 132 persons (53.2%), the elementary graduated were the common education level [89 persons (36.6%)], there were 150 persons (62%) had no occupation, most of them earn 1,001-5,000 baht per month were 65 persons (41.4%) Social support factors: The social support factors of the participants was related to the elderly self-care behaviors that was statistically significant of <0.01. Self-care behaviors: The self-care behaviors were high level at X = 4.08 SD±0.601
Conclusion: The Factors were statistically significant difference in personal factors, social support factors, and self-care behaviors of the participants including disease factor which correlated to positive self-care behaviors at a moderate level.
Downloads
Download data is not yet available.
References
Population Statistics Group, Social Statistics Office, National Statistical Office. Surveying the aging population in Thailand 2014. National Statistical Office. 2014; 1: 60 - 91.
National Economic and Social Development Board, Office of the National Economic and Social Development Plan No.11. [Internet]. 2016 [cited 2016 December 1]. Available from: http://www. nesdb.go.th
Suthamchai B. Role of Department of Medical Services in Geriatrics Medicine. J. Health Sci 2014; 23: 629-40.
Orem. Nursing concepts of practices. 5th ed. St, Louis: Mosby; 2001.
Langford CPH., Bowsher J, and Maloney J.P. Social support: a concept analysis. J Adv Nurs 1997; 25(1): 95-100.
Yamanae, Taro. Statistics: An Introductory Analysis. London: John Weather Hill, Inc; 1973.
Nunnally JC. Psychometric theory. New York:McGraw-Hill; 1978.
Rattana W. Health Care Behavior and Social Support with Elderly's of Life Quality of Aging Club at Suratthani Central Hospital [Dissertation].Bangkok: Srinakharinwirot University; 2009.
Nakwijit B. Psycho-social fators related to self- care behavior and happiness of the senior citizen club members in the hospitals under medical service department, Bangkok metropolis [Dissertation]. Bangkok: Srinakharinwirot University;2008.
Wuttigarn S. Factors that Influence the Quality of Life in the Bangmulnak Municipality. Bang MunNak District , Phichit Province. National and international conference interdisciplinary research for local development sustainability 2007; 15:341 – 57.
Pratumma M. A study of self-care behavior the elderly in Luangphopern Hospital on the basis of personal factors and socials support [Dissertation].Bangkok: Silpakorn University; 2007.
Nakaseni S. Self-Healthcare Behavior of The Elderly in Bangkok. Rampaini Research Journal 2018;12: 39-48.
Phontee N. Factors Related to Health Promotion Behaviors of the Elderly at Khlong Pring Health Promotion Hospital, Mueang Chachoengsao District, Chachoengsao Province: Khlong Pring Health Promoting Hospital; 1975.
Sawangsri1 B, Tangngam S. Self-healthcare of the elderly in Samchuk District, Suphanburi Province. RMUTSV Res. J 2013; 1: 128 – 37.
Duongthipsirikul S. Factors related to self-health care behabvior of elderly at Tambon Charoenmuang Amphoe Phan Changwat Chiang Rai [Dissertation].Bangkok: Kasetsart University; 2010.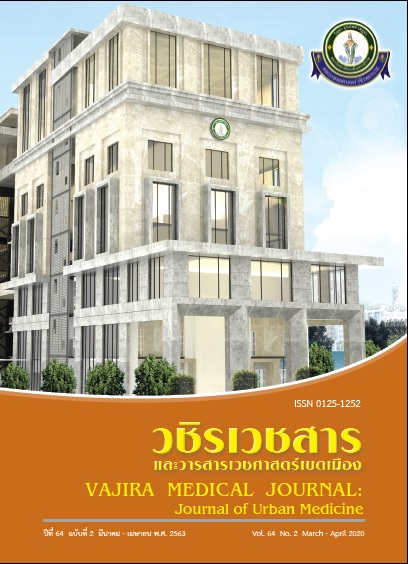 Downloads
How to Cite
Kerdaunsuksri, A., & Sangtongpanichakull, P. (2020). A Study of Self-Care Behaviors in Older Adults at the Elderly Club of Ratchaphiphat Hospital, on the Foundations of Personal and Social Support Factors. Vajira Medical Journal : Journal of Urban Medicine, 64(2), 85–96. https://doi.org/10.14456/vmj.2020.8
Section
Original Articles