Prevalence of sarcopenia in heart failure and its association factors: A Systematic Review
Keywords:
Heart failure, Sarcopenia, Asian Working Group of Sarcopenia, uropean Working Group on Sarcopenia in Older People, Systematic review
Abstract
Objective: Heart failure has been associated with sarcopenia; however, no systematic review was reported regarding the prevalence and the association of sarcopenia in heart failure. Therefore, the study aimed to systematically review the prevalence and factors associated with sarcopenia in heart failure.
Methods: The literature searched on both international databases e.g., The Cochrane Library, Science Direct, PubMed and Scopus from 2007 to October 2019 in English language journals. The inclusion criteria were cross sectional study or cohort studies. Participants were 18 years and older who had diagnosed heart failure and sarcopenia. Kappa score was used to measure the agreement of two independent reviewers and National institute of health was used to test the quality assessment of observational cohort and cross-sectional studies.
Results: A total of 258 studies, six studies were included in this review. A total number of the participants was 1,936. Most of the participants were > 65 years old (66.7%). The prevalence of sarcopenia in heart failure was 19.5%-36%. Age, male gender, lower body mass index and low physical activity were associated with sarcopenia in heart failure patients.
Conclusion: The high prevalence of sarcopenia was observed in patients with heart failure. However, gender, age, body mass index and physical activity were associated with sarcopenia.
Downloads
Download data is not yet available.
References
Harada H, Kai H, Shibata R, Niiyama H, Nishiyama Y, Murohara T, et al. New diagnostic index for sarcopenia in patients with cardiovascular diseases. Plos one 2017;12(5):e0178123.
Hunt SA, Abraham WT, Chin MH, Feldman AM, Francis GS, Ganiats GT, et al. ACC/AHA 2005 guidelines update for the diagnosis and management of chronic heart failure in the adult. Circulation 2005;112: e154-e235.
Springer J, Springer JI, Anker SD. Muscle wasting and sarcopenia in heart failure and beyond: update 2017. ESC Heart Failure 2017;4(4):492-8.
Siparsky PN, Kirkendall DT, Garrett WE, Jr. Muscle changes in aging: understanding sarcopenia. Sports Health 2014;6(1):36-40.
Lee KC, Lanyon LE. Mechanical loading influences bone mass through estrogen receptor alpha. Exercise and Sport Sciences Reviews 2004;32(2):64-8.
Lang T, Streeper T, Cawthon P, Baldwin K, Taaffe DR, Harris TB. Sarcopenia: etiology, clinical consequences, intervention, and assessment. Osteoporosis international: A Journal Established as Result of Cooperation Between the European Foundation for Osteoporosis and the National Osteoporosis Foundation of the USA 2010;21(4):543-59.
Kamiya K, Hamazaki N, Matsuzawa R, Nozaki K, Tanaka S, Ichinosawa Y, et al. Sarcopenia: Prevalence and Prognostic Implications in Elderly Patients with Cardiovascular Disease 2017;2(2):1-13.
Iwatsu K, Ikeda T, Matsumura K, Ashikawa H, Sakamoto M, Sakata T, et al. Prevalence and prognostic impact of sarcopenia identified according to Asia Working Group for Sarcopenia definition in non-dependent elderly patients with heart failure. EUR Heart J 2019;40.
Bekfani T, Pellicori P, Morris DA, Ebner N, Valentova M, Steinbeck L, et al. Sarcopenia in patients with heart failure with preserved ejection fraction: Impact on muscle strength, exercise capacity and quality of life. International Journal of Cardiology 2016; 222:41-6.
Izawa KP, Watanabe S, Oka K, Kasahara Y, Morio Y, Hiraki K, et al. Sarcopenia and physical activity in older male cardiac patients. International Journal of Cardiology 2016;222:457-61.
Fülster S, Tacke M, Sandek A, Ebner N, Tschöpe C, Doehner W, et al. Muscle wasting in patients with chronic heart failure: results from the studies investigating co-morbidities aggravating heart failure (SICA-HF). EUR Heart J 2012;34(7):512-9.
DiBello JR, Miller R, Khandker R, Bourgeois N, Galwey N, Clark RV. Association between low muscle mass, functional limitations and hospitalization in heart failure: NHANES 1999–2004. Age and Ageing 2015;44(6):948-54.
National Institute of Health. Quality Assessment Tool for Observational Cohort and Cross-Sectional Studies [Internet] 2017 [acesso em 2018 mai 12]. Disponível em: https://www.nhlbi.nih.gov/health-topics/study-qualityassessment-tools
Chen LK, Liu LK, Woo J, Assantachai P, Auyeung TW, Bahyah KS, et al. Sarcopenia in Asia: consensus report of the Asian Working Group for Sarcopenia. J Am Med Dir Assoc 2014;15(2):95-101.
Bianchi L, Abete P, Bellelli G, Bo M, Cherubini A, Corica F, et al. Prevalence and Clinical Correlates of Sarcopenia, Identified According to the EWGSOP Definition and Diagnostic Algorithm, in Hospitalized Older People: The GLISTEN Study. The journals of gerontology Series A, Biological sciences and medical sciences 2017;72(11):1575-81.
Piepoli MF, Conraads V, Corrà U, Dickstein K, Francis DP, Jaarsma T, et al. Exercise training in heart failure: from theory to practice. A consensus document of the Heart Failure Association and the European Association for Cardiovascular Prevention and Rehabilitation 2011;13(4):347-57.
Batsis JA, Villareal DT. Sarcopenic obesity in older adults: aetiology, epidemiology and treatment strategies. Nature Reviews Endocrinology 2018;14(9):513-37.
Yin J, Lu X, Qian Z, Xu W, Zhou X. New insights into the pathogenesis and treatment of sarcopenia in chronic heart failure. Theranostics 2019;9(14):4019-29.
Collamati A, Marzetti E, Calvani R, Tosato M, D'Angelo E, Sisto AN, et al. Sarcopenia in heart failure: mechanisms and therapeutic strategies. Journal of Geriatric Cardiology: JGC 2016;13(7):615-24.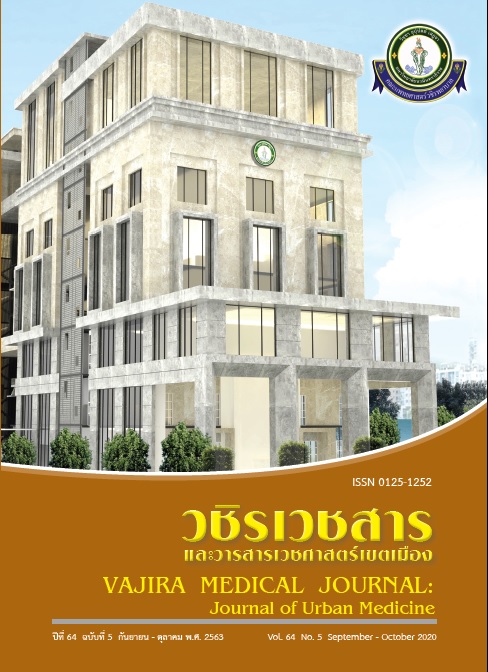 Downloads
How to Cite
Kulchanarat, C., & Yuenyongchaiwat, K. (2020). Prevalence of sarcopenia in heart failure and its association factors: A Systematic Review. Vajira Medical Journal : Journal of Urban Medicine, 64(5), 333–344. https://doi.org/10.14456/vmj.2020.33
Section
Original Articles