Risk Factors of Birth Injury in Faculty of Medicine Vajira Hospital, Navamindradhiraj University
Keywords:
birth injury, risk factors, incidence
Abstract
Objective: To determine the incidence and associated risk factors of birth injury among neonate who were born at Faculty of Medicine Vajira Hospital, Navamindradhiraj University from 2014-2016.
Study design: Case control study.
Methods: Data on 360 live birth newborns, including 120 newborns with birth injury (case) and 240 newborns without birth injury (controls), were studied for maternal, neonatal and delivery risk factors of birth injury.
Result: The incidence of birth injury were 57.22, 65.06 and 49.83 per 1,000 live birth newborns in 2014, 2015 and 2016, respectively. The three significant risk factors associated with birth injury were instrument delivery (OR 9.19, 95%CI 2.18-38.75, p-value 0.03) birth weight of 3,500 grams or grater (OR 3.48, 95%CI 1.71-7.05, p-value 0.001) and maternal age 35 years or older (odd ratio [OR] 2.30, 95% confidence interval [CI] 1.10-4.81, p-value 0.027).
Conclusion: The incidence of birth injury among neonates who were born at Faculty of Medicine Vajira Hospital was high. Factors associated with birth injury included instrument delivery, birth weight more than or equal 3,500 grams and elderly mothers.
Downloads
Download data is not yet available.
References
1. Thaithamyanon P. Birth injury. In: Thaithamyanon P, editor. Newborn infant care 1. Bangkok: Chaicharoen publisher; 2001. p. 27-31.

2. Jirapaet K. Birth injury. In: Montree Tujinda, Winai Suwattee, Arun Wanjirat, editors. Pediatrics medicine 1. Bangkok: Ruenkaew publisher; 1999. p. 254-57.

3. John P. Cloherty, Eric C. Eichenwald, Anne R. Hansen, Ann R. Stark. Manual of neonatal care. 7th ed. Houston: Lippincott Williams & Wilkins; 2012. p. 63-73.

4. Tiffany MM, Leonard EW, William P, Marc CP. Neonatal birth injuries, Literature review Dec 2016[Internet]. 2017[cited2017 Jan 15]. Available from: http://www.scribd.com/document/322281695/neonatal-birth-injuries.

5. Robert MK, Bonita FS, Joseph W, Nina F. The fetus and the neonatal infant. Nelson textbook of pediatric. 20thed. Philadelphia: Elsevier; 2016. p. 834-8.

6. Witayali R. Birth injury of newborn in Vajira hospital [Internet]. 2004[cited2017 Jan 14]. Available from: http://www.thaipediatrics.org/detailjournal.php?journalJd=192.

7. Kolderup LB, Laros RK Jr, Musci TJ. Incidence of persistent birth injury in macrosomic infant:Association with mode of delivery. Am J Obstet Gynecol.1997;177(1):37-41.

8. Levine MG, Holroyde J, Woods JR Jr, Siddiqi TA, Scott M, Miodovnik M. Birth trauma: Incidence and Predisposing factors. Obstet Gynecol. 1984;63(6):792-5

9. Uensuwan S. Incidence and risk factors for birth injury to scalp in Buriram hospital. Medical journal of Srisaket, Surin and Burirum hospital 2011;26:68-78.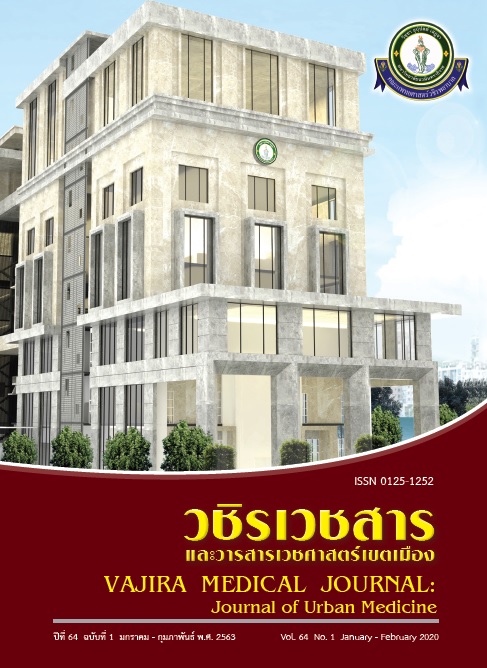 Downloads
How to Cite
Chavanaves, N., & Booranavanich, K. (2020). Risk Factors of Birth Injury in Faculty of Medicine Vajira Hospital, Navamindradhiraj University. Vajira Medical Journal : Journal of Urban Medicine, 64(1), 1–10. https://doi.org/10.14456/vmj.2020.1
Section
Original Articles