Assessing the Factors that Affect the Nursing Issues Dengue Hemorrhagic Fever Patients throughout the Disease that Remain in The Hospital for Tropical Diseases
Keywords:
Dengue Fever, Dengue Hemorrhagic Fever, Dengue Shock Syndrome, Nursing care
Abstract
Objective: To assess nursing factors affecting the solution of dengue hemorrhagic fever patients.
Methods: This research was descriptive research by collecting retrospective data from medical records. We studied dengue patients who were admitted to the wards in the Hospital for Tropical Medicine, Mahidol University .To record in case record form . Total 250 patients consisted of 125 DF patients and 125 DHF / DSS patients selected by Hospital number with an even number ending. Data collected from 1 January 2013 to 31 December 2017 from medical record.
Results: Among 250 patients, there were 125 cases (50%) in the DF group, 115 (46%) in the DHF group, and 10 (4%) in the DSS group. 53.3 % of patients were female with overall mean age 28 years. Most patients (86.0%) were Thai, Burmese (10%), Lao (2.4%). Nursing Practice up to 99.5% of care could be managed by nurses such as vital sign monitoring, providing supporting care, etc. Only 0.5% of care must be managed by doctors, such as rise in hematocrit, and severely abnormal vital signs, or hepatic encephalopathy.
Conclusion: The result of this study showed nurses were able to provide nursing practice to patients in due time, causing no complications and patients can go home as scheduled. Therefore, nurses play an important role in elementary evaluating the symptoms of patients and providing nursing care closely.
Downloads
Download data is not yet available.
References
Bureau of Vector Borne Diseases, Department of Disease Control, Ministry of Public Health. Dengue Infection and Dengue Fever Disease Academic Manual for Medical and Public health. Nonthaburi: Department of Disease Control, Ministry of Public Health; 2013.
Kanlayanaruj S, Wangraweewong M, Watcharaseri W. Guidelines for Diagnosis and treatment of Dengue Fever Version HM the Queen's 80th Birthday Anniversary. Queen Sirikit National Institute of Child Health. Bangkok: The War Veterans Organization of Thailand; 2013.
Mayurasakorn S, Kittiwatanasan P. Dengue Hemorrhagic Fever at Pediatric Intensive Care Unit of Buriram Hospital. Thai J Pediatr 2012;19(1): 40-8.
Wijitphan W. Nursing Care for Dengue Hemorrhagic Fever with Shock in Pediatric Patients. Mahasarakham hospital journal 2015;12(3): 124-135.
World health Organization. National Guidelines for Clinical Management of Dengue Fever. India: World health Organization; 2015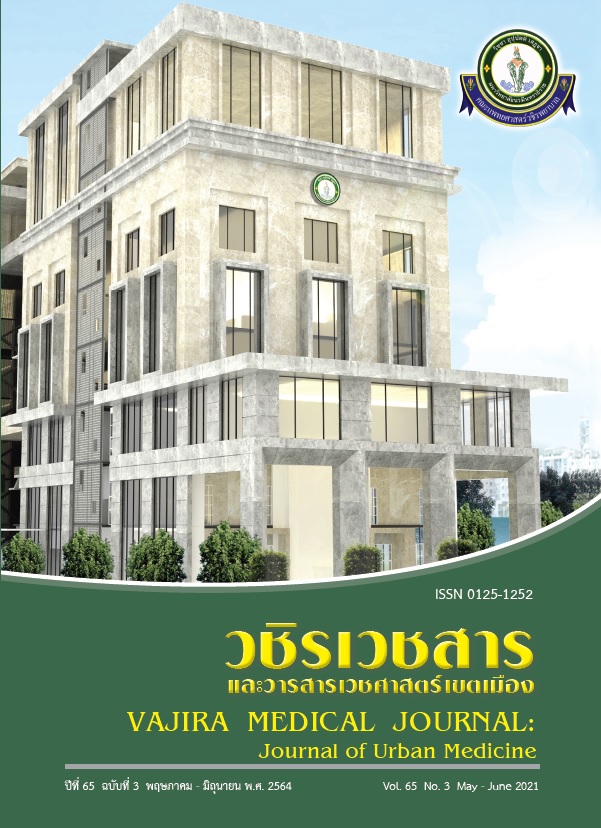 Downloads
How to Cite
phothong, panjit, Somwong, W., Younboonhlim, K., Kwanraj, P., & Suvanboon, S. (2021). Assessing the Factors that Affect the Nursing Issues Dengue Hemorrhagic Fever Patients throughout the Disease that Remain in The Hospital for Tropical Diseases. Vajira Medical Journal : Journal of Urban Medicine, 65(3), 245–252. https://doi.org/10.14456/vmj.2021.23
Section
Original Articles