The Effect of A Program of Nurses Providing Information to Parents' Knowledge and Satisfaction on Caring for Hospitalized Children
Keywords:
information providing program, knowledge of parents, perception of satisfaction
Abstract
The parents of pediatric patients require information in order to cope with the medical situation of their child. Therefore, specific, inclusive, modern, understandable, and repeatable media will help them to gain knowledge and satisfaction. The research aims to study the effects of nurses providing information to parents and the parents' perception of satisfaction on caring for hospitalized children. The research methodology is quasi-experimental. The samples included 70 parents who were divided into two equal groups of 35 parents for the control group and the experimental group. The control group received normal nursing care and the experimental group received routine nursing care along with information provided through the program. The research tools included 1) motion info-graphic media title "when my baby is to be hospitalized", 2) the questionnaire about knowledge of parents in child care, and 3) the questionnaire of perception of parental satisfaction in nursing care of children. The results showed that the knowledge in caring for pediatric patients admitted to hospital of parents in the experimental group was higher than the control group by the statistical significance (t=-3.80, p<..01). Moreover, the perception of satisfaction in the field of communication of the control group was higher than the experimental group by the statistical significance (t=-2.36, p<.05). The program of nurses providing information can be applied in real situations and can be described as unlimited time and place since the first treatment to continuous care at home.
Downloads
Download data is not yet available.
References
กัญญา ศุภปิติพร และจิตลัดดา ดีโรจนวงศ์. (2552). คู่มือหัตถการในเด็ก. กรุงเทพฯ: บียอน เอ็นเทอ
ไพรซ์.
ทัศนีย์ อรรถารส. (2555). มโนทัศน์การพยาบาลเด็ก. ใน ภาควิชาการพยาบาลเด็กและการผดุงครรภ์
วิทยาลัยพยาบาลสภากาชาดไทย, ตำราการพยาบาลเด็ก เล่ม 1 . (1-31). กรุงเทพฯ: โรงพิมพ์
แห่งจุฬาลงกรณ์มหาวิทยาลัย.
สุชญาดา ขุนเสถียร, วรรณรา อาราเม, ปราณี ทองใส, และ ถาวร ทรัพย์ทวีสิน. (2555). ผลของ
โปรแกรมการให้ข้อมูลในมารดา/ผู้ดูแลเด็กโรคหัวใจพิการแต่กำเนิดในภาวะวิกกฤตหลังผ่าตัด.
วารสารพยาบาลศิริราช, 5(1), 1-13.
Cohen J. (1988). Statistical power analysis for the behavioral scientist (2nd ed). Hillsdale:
Lawrence Erlbaum Associates.
Gordon, B.K., Jaaniste, T., Perrine, M., Jackson, A., Sandstrom, A., Charleston, R., Sheehan,
S. (2010). Child and parental surveys about pre-hospitalization information
provision. Child: Care, Health and Development, 37(5), 727-733.
GE Healthcare. (2016). Communication with Animate Infographics. Retrieved from
http://www.understanding infographics-analysis-animated-infographics/.
Gwin, J, F., & Price, D, L. (2012). Pediatric Nursing an Introductory Text (11th Edition). China:
Elsevier Inc.
Kinder, F. D. & Allen, L. R. (2014). Parent'Perception of Satisfaction with Care from Pediatric
Nursing Practitioners. Journal of Pediatric Health Care, 28(2), 128-135.
LaMorte, W. W. (2016). The Social Cognitive Theory. Retrieved from
http://www.phweb.bumc.bu.edu/otlt/MPH- Modules/SB/Behavioral ChangeTheories
/BehavioralChangeTheories5.html#headingtaglink_1.
Mansson, M. E., & Dykes, A. K. (2004). Practices for preparing children for clinical
Examinations and procedure in Swedish pediatric Ward. Pediatric Nursing, 30(3),
182-188.
McMurtry, C. M., Chambers, C.T., McGrath, P. J., & Asp, L. (2010). When "don'worry"
communicates fear: Children' s perceptions of parental reassurance and distraction
during a painful medical procedure. Pain, 150(1), 52-58.
Melnyk, B. M., Small, L., & Carno, M. A. (2004). The effectiveness of the parent-focused
intervention in improving coping/mental health outcomes of critically ill children
and their parent: An evidence base to guide clinical practice. Pediatric Nursing,
30(2), 143-148.
Memaj, M, A., & Agolli, I. (2015). Reflection and Experiences of Parent During
Hospitalization of children and Support Provided by Staff at the Paediatric
Hospital of Tirana. Journal of Education and Social Research, 5(3), 251-254.
Salmani, N., Hasanvand, S., Bagheri, I., & Mandegar, S. (2017). Nursing Care Behaviors
Perceived by Parents of Hospitalized Children: A Qualitative Study. International Journal of Pediatrics, 5(7), 5379-5389.
Terry, D, G. (2010). The Needs of Parents of Hospitalized Children. Retrieved from
https://www.tandfonline.com/doi/abs/10.1207/s15326888chc1601_3.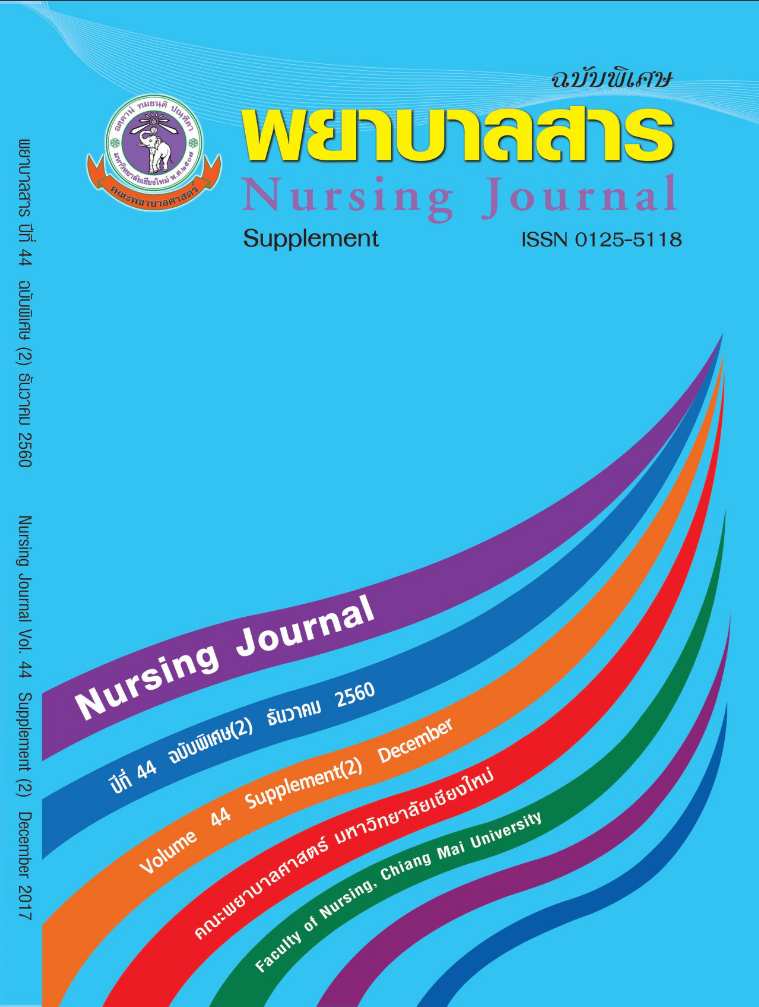 Downloads
License
บทความที่ได้รับการตีพิมพ์เป็นลิขสิทธิ์ของวารสารพยาบาลสาร
ข้อความที่ปรากฏในบทความแต่ละเรื่องในวารสารวิชาการเล่มนี้เป็นความคิดเห็นส่วนตัวของผู้เขียนแต่ละท่านไม่เกี่ยวข้องกับมหาวิทยาลัยเชียงใหม่ และคณาจารย์ท่านอื่นๆในมหาวิทยาลัยฯ แต่อย่างใด ความรับผิดชอบองค์ประกอบทั้งหมดของบทความแต่ละเรื่องเป็นของผู้เขียนแต่ละท่าน หากมีความผิดพลาดใด ๆ ผู้เขียนแต่ละท่านจะรับผิดชอบบทความของตนเองแต่ผู้เดียว