Factors Related to Quality of Life Among Patients With Cervical Cancer in Kamphaengphet Province
Keywords:
stress, coping,social support,cervical cancer, quality of life
Abstract
The research aimed to study factors related to quality of life among patients diagnosed with cervical cancer in Kamphaengphet province. Ninety-seven patients diagnosed with cervical cancer who lived in Kamphaengphet were selected by simple random sampling.Data were collected using questionnaires composed of 5 parts; personal information, stress, coping, social support, and quality of life. Function Assessment  of Cancer Therapy – Cervical Cancer version Thai(FACT – CX).The questionnaire was reviewed by 5 experts.The reliability of stress, coping, and social support questionnaires were 0.71, 0.70, 0.73 respectively and quality of life questionnaires was 0.80 tested by Cronbach's coefficient alpha. Data were analyzed using descriptive statistics and Pearson's correlation statistics.
The results of the study showed that the quality of life of the sample in Kamphaengphet was at a high level mean score ( =3.39,SD =0.23, highest score was 4). Stress had a statistically significant negative relationship with quality of life (r = -.214, p <.05), and social support had a statistically significant positive relationship with quality of life (r = .374, p <.01).Coping was not significant with quality of life. Therefore, social support should be promoted among patients with cervical cancer in order to have a high quality of life.
Downloads
Download data is not yet available.
References
Arsanok, A. (2006).Selected factors related to quality of life in adult patients with brain
tumor.Degree of Master of Nursing Science.ChulalongkornUniversity.Bangkok

Best, John. (1977). Research in Education. New Jersey: Prentice Hall.

Bjelic-Radisic, V, et al.(2012). Quality of life characteristics inpatients with cervical
cancer.European Journal of Cancer. 48, 3009 – 3018

Cella, D. (1997).FACT-G -cervical cancer version Thai.RetrievedMarch8, 2017from
http://www.FACIT.org

Ferrell, B. R., et al.(1996). Bone tired: The experience of fatigue and impact on quality of life.
Oncology Nursing Forum, 23(10) : 1539-1547.

Hui.L.L. (2001). Factors Related to Quality of Life in Breast Cancer Patients Receiving
Chemotherapy.Journal of Nursing Research, 9(3), 57 – 68

ICO HPV Information Centre. (2017). Human Papillomavirus and Related Diseases Report. RetrievedJanuary13, 2017 from http://www.hpvcentre.net/summaryreport.php

Department of Health Service Support.(2013). ManualVillage Health Volunteer.bangkok:
The agriclutral co-operative federation of Thailand

Jaroenwech, C. (2017).Factors Affecting The Quality of Life Among Early Stage Cervical Cancer Patients After Treatment.Journal of The Royal Thai Army Nurses.18, 232 – 238

Leenasamit, W.(2015). Prevention of cervical cancer in Limited resources.Bangkok:
chulalongkorn university

Ministry of Public Health. (2016).Health Data Center. .Retrieved February 6,
From.http://hdcservice.moph.go.th/hdc/reports/

National Cancer Institute. (2014). Hospital – Based CanceRgistry Annual Rport 2014. Bangkok.
PornsupPrinting

NilachaiKovit, T.(1999).Gynecologic oncology. Bangkok: Holistic Publishing

Sansom, N. (2010). Selected factors related to quality of life of terminal cancer patients. Journal
of Nursing Science Chulalongkorn University. 22(2), 42-53

Sukjiratawee, S. (2008).Stress, Copping, Personal Factors and Quality of Life of Patients with
Lung Cancer RecevingChemotherpy. Degree of Master of Nursing Science.Mahidol
University. Bangkok

Suriyunt, S.(2015).Factors In fluencing Quality of Life of Breast Cancer Patients Receiving
Chemotherapy: A Causal Model.Journal of Nursing and Health Care, 33(4),131-140

Swangvaree, S. (2010).The quality of life of cervical cancer patients.Journal of Public Health and Development, 8(1),45-57

Thato, R. (2008).Nursing research concepts to application. Bangkok: chulalongkorn university

Tathong, B., Kantawang, S., Sripusanapan, A. (2012).Factor Inuencing Uncertainty in Illness among Children with Cancer

Receiving Chemotherapy.Nursing Journa. 39(1), 77-90.

Trakoolngamden, B. (2016).Predicting Factors of Quality of life among Patients with Terminal Cancer at Out–Patient Department of Hospitals in Medical Service Department, Bangkok Metropolitan and Faculty of Medicine Vajira Hospital, Navamindradhiraj University. Kuakarun Journal of Nursing. 23(2), 199-216

Wiwatkamonchai, A., antawang, S., Mesukko, J. (2017). Chronic Sorrow and Management Strategies Among Parents of Children with Cancer Receiving Chemotherapy.
Nursing Journal.44(1),62-73

WHO. (1997).QulityoF Life. Retrieved January10, 2017 from
http://www.who.int/mental_health/media/68.pdf

Zhan, L.(1992). Quality of life :conceptual and measurement issues. Journal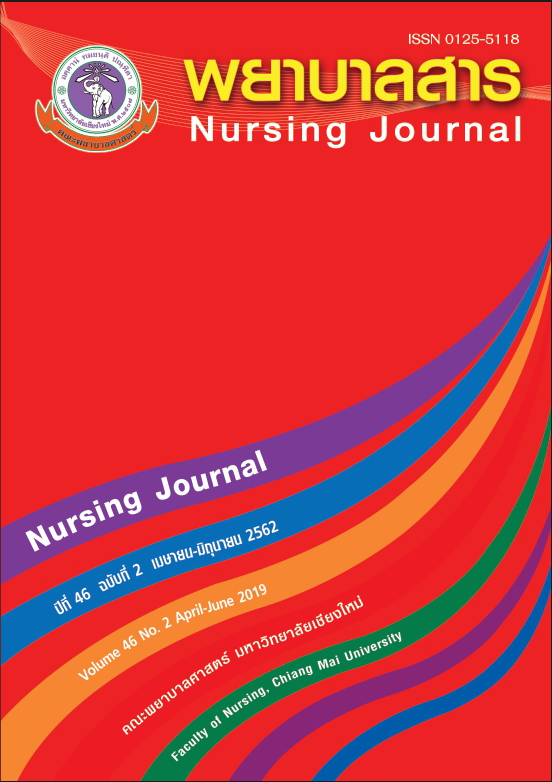 Downloads
License
บทความที่ได้รับการตีพิมพ์เป็นลิขสิทธิ์ของวารสารพยาบาลสาร
ข้อความที่ปรากฏในบทความแต่ละเรื่องในวารสารวิชาการเล่มนี้เป็นความคิดเห็นส่วนตัวของผู้เขียนแต่ละท่านไม่เกี่ยวข้องกับมหาวิทยาลัยเชียงใหม่ และคณาจารย์ท่านอื่นๆในมหาวิทยาลัยฯ แต่อย่างใด ความรับผิดชอบองค์ประกอบทั้งหมดของบทความแต่ละเรื่องเป็นของผู้เขียนแต่ละท่าน หากมีความผิดพลาดใด ๆ ผู้เขียนแต่ละท่านจะรับผิดชอบบทความของตนเองแต่ผู้เดียว