Effect of Promoting Smoking Cessation Program for Parents to Reduce Secondhand Smoke Exposure in Pediatric Patients with Asthma
Keywords:
promoting smoking cessation program, smoking cessation behavior, secondhand smoke exposure, pediatric patients with asthma, parents, Pender's Health Promotion Model
Abstract
Secondhand smoke exposure in pediatric patients with asthma results in more frequent and severe exacerbations. The objective of this quasi-experimental study was to examine the effect of the Promoting Smoking Cessation program on parents of pediatric patients with asthma. The participants were parents of fifty children with asthma, aged under five years, who currently smoke cigarettes. The first 25 participants were assigned to a control group and the latter 25 to an experimental group. The control group received conventional nursing care while the experimental group took part in the Promoting Smoking Cessation program. The instrument used in collecting data was the Smoking Cessation Behaviors Questionnaire. Data were analyzed using descriptive statistics and t-test.
The results of this study showed that after the intervention, the mean score of smoking cessation behaviors in the experimental group was significantly higher than that of the control group (p < .05). The results suggest that the Promoting Smoking Cessation program can improve smoking cessation behaviors of parents in pediatric patients with asthma. The program should be employed as a guideline to reduce secondhand smoke exposure in pediatric patients with asthma.
Downloads
Download data is not yet available.
References
Aekplakorn, W. (Ed.). (2014). Thai national health examination survey (NHES V). Nonthaburi:
Health systems research institute (HSRI).(In Thai)

Abdullah, A. S. M., Mak, Y. W., Loke, A. Y., & Lam, T. H. (2005). Smoking cessation intervention in parents of young children: a randomised controlled trial. Addiction, 100(11), 1731-1740.

Blaine, K., Rogers, J., Winickoff, J. P., Oppenheimer, S. C., Timm, A., Ozonoff, A., & Geller, A. C. (2014). Engaging in secondhand smoke reduction discussions with parents of hospitalized pediatric patients: A national survey of pediatric nurses in the United States. Preventive Medicine, 62, 83-88.

Burns, N., & , & Grove, S. K. (2005). The practice of nursing research: Conduct, critique, and utilization (5th ed.). St. Louis, MO: Elsevier.

Chan, S. S., Lam, T. H., Salili, F., Leung, G. M., Wong, D. C., Botelho, R. J., . . . Lau, Y. L. (2005). A randomized controlled trial of an individualized motivational intervention on smoking cessation for parents of sick children: a pilot study. Applied Nursing Research, 18(3), 178-181.

Foulds, J., Gandhi, K. K., Steinberg, M. B., Richardson, D. L., Williams, J. M., Burke, M. V., &
Rhoads, G. G. (2006). Factors associated with quitting smoking at a tobacco
dependence treatment clinic. American Journal of Health Behavior, 30(4), 400-412.

Global initiative for asthma. (2010). Global strategy for asthma management and prevention. Retrieved from http://www.ginasthma.org/local/uploads/files/GINA_Report_
2010_1.pdf

Kanitsap, A., & Vangveeravong, M. (2012). A Guidelines for the diagnosis and treatment of
asthma in the country for adult and children. Thai Asthma Council. Bangkok: Union
Ultra Violet limited. (In Thai)

Karom, N., & Preechawong, S. (2015). Predictors of short-term smoking cessation among
patients with chronic disease. Nursing Journal, 42 (1), 1-10. (In Thai)

Khasemophas, D., & Cheewapat, P. (2012). The Effectiveness of a counselling program for

Myung, S. K., Seo, H. G., Park, S., Kim, Y., Kim, D. J., Lee, D.-H., . . . Kim, J. (2007).
Sociodemographic and smoking behavioral predictors associated with smoking cessation according to follow-up periods: A randomized, double-blind, placebo-controlled trial of transdermal nicotine patches. Journal of Korean Medical Science, 22(6), 1065-1070.

Prasert, P. & Preechawong, S. (2016). Effect of an intensive smoking cessation counseling and promoting walking exercise program on quit smoking behavior in smokers with chronic ill patients. Thai Journal of Nursing, 65 (1), 39- 47. (In Thai)

Pender, N. J., Murdaugh, C. L., & Parsons, M. A. (2006). Health Promotion in Nursing practice (5th ed.). New Jersey: Pearson Education, Inc.

Poopat, S., Sritippayawan, S., Kamalaporn, H., & Phumethum, S. (2015). Parental knowledge
of the adverse effects of household tobacco smoke exposure in asthmatic. Southeast
Asian Journal of Tropical Medicine and Public Health, 46(6), 1103.

Rosen, L. J., Noach, M. B., Winickoff, J. P., & Hovell, M. F. (2012). Parental smoking cessation to protect young children: A systematic review and meta-analysis. Pediatrics, 129(1), 141-152.

Smoke-Free Families. Kuakarun Journal of Nursing, 19 (1), 103-117. (In Thai)

Visetsun, V., & Pongsiri, C. (2012). Factors influencing smoking cessation among smokers with family members seeking antenatal, postpartum and well baby care in the government hospitals. Thai Journal of Nursing, 61(1), 42-53, 2012. (In Thai)

Wang, Z., May, S. M., Charoenlap, S., Pyle, R., Ott, N. L., Mohammed, K., & Joshi, A. Y. (2015). Effects of secondhand smoke exposure on asthma morbidity and health care utilization in children: A systematic review and meta-analysis. Annals of Allergy, Asthma & Immunology, 115(5), 396-401.

Winickoff, J. P., Hillis, V. J., Palfrey, J. S., Perrin, J. M., & Rigotti, N. A. (2003). A smoking
cessation intervention for parents of children who are hospitalized for respiratory
illness: The stop tobacco outreach program. Pediatrics, 111(1), 140-145.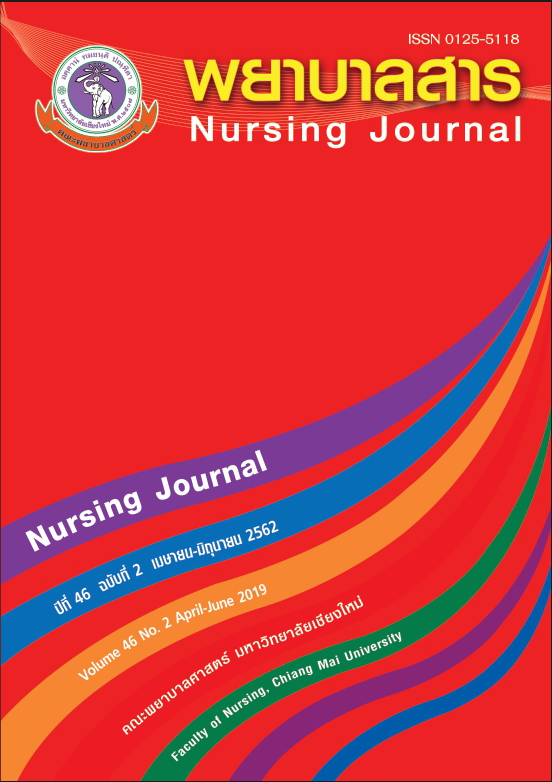 Downloads
License
บทความที่ได้รับการตีพิมพ์เป็นลิขสิทธิ์ของวารสารพยาบาลสาร
ข้อความที่ปรากฏในบทความแต่ละเรื่องในวารสารวิชาการเล่มนี้เป็นความคิดเห็นส่วนตัวของผู้เขียนแต่ละท่านไม่เกี่ยวข้องกับมหาวิทยาลัยเชียงใหม่ และคณาจารย์ท่านอื่นๆในมหาวิทยาลัยฯ แต่อย่างใด ความรับผิดชอบองค์ประกอบทั้งหมดของบทความแต่ละเรื่องเป็นของผู้เขียนแต่ละท่าน หากมีความผิดพลาดใด ๆ ผู้เขียนแต่ละท่านจะรับผิดชอบบทความของตนเองแต่ผู้เดียว