The Effect of the Team Work Program on Nursing Service Quality of the Ward as Perceived by First-Line Nurse Manager at a Secondary Private Hospital
Keywords:
Teamwork, First-Line Nurse Manager, Quality of Nursing Services, Private Hospital
Abstract
The objective of this quasi-experimental research was to compare quality of nursing care in wards perceived by first line nurse managers before and after using a team development program between the experimental group and the control group. The power of a test was employed to calculate the sample size, and simple random sampling was used to select 40 nurses; 20 were assigned into   the experimental group and the other 20 in the control group.  The research instruments were: a team development program, a teamwork manual, a teaching plan, teamwork assessment form, and a questionnaire on perceived quality nursing care in wards.  Content validity of the instrument was 0.92; and the Cronbach's alpha coefficient for teamwork knowledge was 0.95.  Descriptive and inferential statistics, paired t-test and independent t-test were used. The research results revealed that quality of nursing care perceived by the experimental group was at a highest level ( = 4.59, SD = 0.23) and that perceived by the control group was at a moderate level                          ( = 3.40, SD = 0.28); and the experimental group's perception of quality of nursing care was significantly higher (p<.05) than that of the control group. 
            The results indicated that the team development program enabled the experimental       group's perception of quality of nursing care to be higher than that of the control group, particularly in terms of facilities, responsiveness, assurance, care, and reliability which are dimensions of quality emphasized by private hospitals.  Thus, the implication of the results is that leaders in nursing organizations in all wards of private hospitals should develop teamwork in first line nurse managers to equip nurses with good quality nursing care that is good for the patient and organization.
Downloads
Download data is not yet available.
References
Abdullah, M. M. B., & Taríb, J. J. (2012). The Influence of Soft and Hard Quality Management Practices on Performance. Asia Pacific Management Review, 17(2), 177-193.

Buerangae, P. (2011). Teamwork influencing organizational climate: A case study of the
Government Procurement Office. Master of Business Administration, Rajamangala
University of Technology Thanyaburi. (In Thai)

Chansa, S. (2017). The Effects of Effective Communication and Teamwork on Patient Safety
Management of Staff Nurses at One Government Hospital in Bangkok Metropolis.
Journal of the Royal Thai Army Nurses. 18(1) 299-307. (In Thai)

Daewapha, J. & PhakJor, M. (2017) Nursing service quality as expected and perceived of social security patients, a private hospital in Bangkok.
Academic Journal of Eastern Asia University Faculty of Science and Technology
Nursing Science, Eastern Asia University. (In Thai)

David, G. (2002). Effective Supervision a Guidebook for Supervisory, Team Leader and Work Coaches. New Jersey: Prentice-Hall.

Phan ManaCharoenphon, W. (2011). The development of the nursing team's working model.
Medical and Surgery Patient Phayathai 2 Hospital. Master Degree Program
Nursing, Nursing Nursing Science, Sukhothai Thammathirat Open University. (In Thai)

Phraephasa, W. (2008) Quality of Hospital Quality Improvement for Hospital Accreditation. Master
Of Nursing Science, Nursing Administration College Chulalongkorn University.
(In Thai)

Parasuraman, A., Zeithaml, V. A., & Berry, L. L. (1990). Delivery quality service: Balancing
Customer perception and expectation. New York: Free Press.

Robbins S. P. (2005). Organizational Behavior. (11thed.). New Jersey: Pearson Education.

Robbins, S.P. & Coulter, M. (2005). Management. 8thed. New Jersey: Pearson Prentice Hall.

Sensod, C. (2011). Relationship between participatory management of head nurses. Organizational
Support and nursing team effectiveness as perceived by staff nurses Private hospital
Bangkok. Bangkok: Chulalongkorn University. (In Thai)

Sharon, M.M. (2005). Evaluating the effectivemess of health care teams. Aust Health Rev, 29(2), 211-271.

Techachuddej, J. (2016) Factors influencing the effectiveness of teamwork of professional nurses
In Maharaj Nakorn Chiang Mai Hospital. Nursing Substance 43 (3) (In Thai)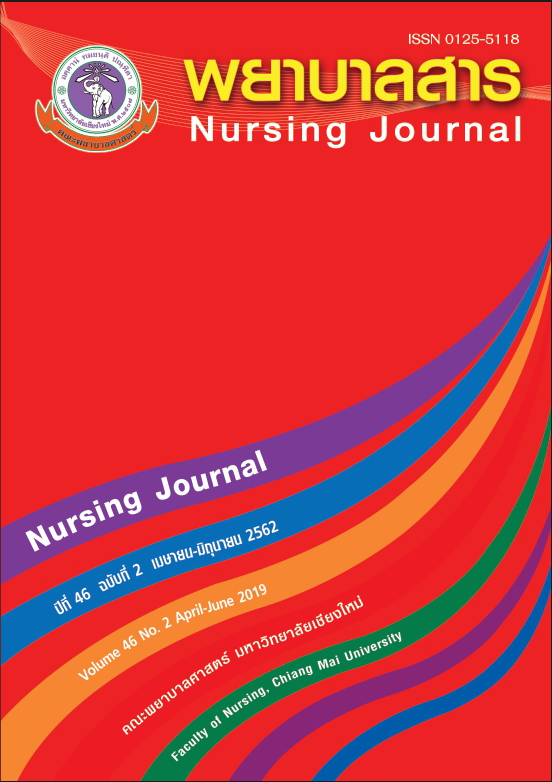 Downloads
License
บทความที่ได้รับการตีพิมพ์เป็นลิขสิทธิ์ของวารสารพยาบาลสาร
ข้อความที่ปรากฏในบทความแต่ละเรื่องในวารสารวิชาการเล่มนี้เป็นความคิดเห็นส่วนตัวของผู้เขียนแต่ละท่านไม่เกี่ยวข้องกับมหาวิทยาลัยเชียงใหม่ และคณาจารย์ท่านอื่นๆในมหาวิทยาลัยฯ แต่อย่างใด ความรับผิดชอบองค์ประกอบทั้งหมดของบทความแต่ละเรื่องเป็นของผู้เขียนแต่ละท่าน หากมีความผิดพลาดใด ๆ ผู้เขียนแต่ละท่านจะรับผิดชอบบทความของตนเองแต่ผู้เดียว