Effect of Asana yoga on back pain in postpartum mothers
Keywords:
Asana yoga, Back pain, Postpartum mothers
Abstract
This research is a quasi-experimental research. The purpose of this research is to study the effect of Asana yoga on back pain in postpartum mothers. The sample consisted of 64 mothers after normal birth in one hospital in Chiang Mai and they were divided into experimental group and control group with the number of 32 persons per group. Data were collected from August to November 2019.Together with receiving normal care, the experimental group practiced two 30-minute Asana yoga sessions: one was done 24 hours and the other was done 48 hours after delivery, The control group was given a regular care. The research tools were general data questionnaires, Pain Assessment called Visual analog scales (VAS), voice recorders for recording Asana yoga practices and Asana yoga practice guides. Data were analyzed using frequency distribution, percentage, mean, standard deviation, Wilcoxon Match-paired Sign Rank and Mann-Whitney U test.
It was found that the experimental group who received both the Asana yoga and the regular care gave lower score of back pain when compared to that of the control group who received only regular care with statistical significance at <.001 using statistics Wilcoxon Match-paired Sign Rank has a W statistic (Standardized) of 4.982. When the average score of back pain among the experimental and control groups in the first 24 hours postpartum were compared, there were no differences between the two groups. For the first 48 hours after delivery, the experimental group and the control group had a statistically significant difference in back pain scores at <.001 using Mann-Whitney U test statistics for U (Standardized) of 0.260 and 5.996, respectively.
Downloads
Download data is not yet available.
References
Akbarzadeh, M., Ghaemmaghami, M., Yazdanpanahi, Z., Zare, N., Azizi, A., & Mohagheghzadeh, A. (2012). The effect dry cupping therapy at acupoint BL23 on the intensity of postpartum low back pain in primiparous women based on two types of questionnaires, 2012: A randomized clinical trial. International Journal of Community Based Nursing and Midwifery, 2(2), 112-120.
Beddoe, A. E., & Lee, K. A. (2008). Mind-body interventions during pregnancy. Journal of Obstetric, Gynecologic, and Neonatal Nursing, 37, 165-175.
Bennett, R. J. (2014). Exercise for postnatal low back pain and pelvic pain. Journal of the Association of Chartered Physiotherapists in Women's Health, 115, 14– 21.
Corso, M., Grondin, D., & Weis, C. A. (2016). Postpartum low back pain: It is not always what you think. Obstetric Gynecology cases Review, 3(3), 1-5.
Groessl, E. J., Liu, L., Chang, D. G., Wetherell, J. L., Bormann, J. E., Atkinson, J. H., … Schmalzl, L. (2017). Yoga for military veterans with chronic low back pain: A randomized clinical trial. American Journal of Preventive Medicine, 53(5), 599-608.
Iampornchai, S., Poopong, S., Nongbuadee, S., Wiwattamongkol, D., Supawongwattana, P., Wesesmanee, S., … Laohapand, T. (2009). Court-type Traditional Thai Massage and Hot Herbal Compress: Effectiveness in Relieving Early Postpartum Backache. Journal of Thai Traditional & Alternative Medicine, 7(2-3), 181-188. (In Thai)
Kaminoff, L., & Matthews, A. (2012). Yoga anatomy (2nd ed.). USA: Human kinetic.
Kongpakdeepong, K. (2007). Daily yoga (3rd ed.). Bangkok: Villagers doctor. (In Thai)
Munkham, R., Sutthakorn, W., & Visesku, N. (2014). Effect of Yoga Exercise on Neck and Shoulder Pain among Computer Using Office Staff. Nursing Journal Volume, 41(3), 71-82. (In Thai)
Narendran, S., Nagarathna, R., Gunasheela, S., & Nagendra, H. R. (2005). Efficacy of yoga in pregnant women with abnormal Doppler study of umbilical and uterine arteries. Journal of the Indian Medical Association, 103, 12-14.
Narendran, S., Nagarathna, R., Narendran, V., Gunasheela, S., & Nagendra, H. R. (2005). Efficacy of yoga on pregnancy outcome. The Journal of Alternative and Complementary Medicine, 11, 237-244.
Oh, H., Lee, Y., Shim, M., & Kim, J. (2007). Effects of a postpartum back pain relief program for korean women. Journal of Korean Academy of Nursing, 37(2), 163 -170.
Prasitwattanaseree, P. (2019). Nursing women in the normal postpartum period. In P. Chuuto (Ed.), Nursing and Midwifery (pp. 189-190). Chiang mai: Smart Coating and Service. (In Thai)
Polit, D. F., & Hunger, B. P. (1999). Nursing research: Principles and methods (6th ed.). Philadelphia: Lippincott Company.
Saper, R. B., Sherman, K. J., Cullum-Dugan, D., Davis, R. B., Phillips, R. S., & Culpepper, L. (2009). Yoga for chronic low back pain in a predominantly minority population: A pilot randomized controlled trial. Alternative Therapy in Health and Medicines, 15(6), 18-27.
Satyapriya, M., Nagendra, H. R., Nagarathna, R., & Padmalatha, V. (2009). Effect of integrated yoga on stress and heart rate variability in pregnant women. International Journal of Gynecology & Obstetric, 104, 218-222.
Sitthiboonma, N., Kantaruksa, K., & Supavititpatana, B. (2020). Stress, Social Support and Postpartum Depression among First-time Mothers. Nursing Journal volume, 47(2), 169-179. (In Thai)
Somsap, Y. (2009). Yoga for postpartum rehabilitation. Songkhla: Songkhla Nakarin University. (In Thai)
Somsap, Y. (2010). Alternative science in nursing for pregnant women. Songkhla: BSS Digital Offset. (In Thai)
Somsap, Y., Chunuan, S., Hanprasertpong, T., & Ongplanupat, F. (2011). Developing a Health promotion model for pregnancy women by using Yoga. Thai Journal of Nursing Council, 26, 95-111. (In Thai)
Sun, Y. C., Hung, Y. C., Chang, Y., & Kuo, S. C. (2010). Effects of a prenatal yoga program on the discomforts of pregnancy and maternal childbirth self-efficacy in Taiwan. Midwifery, 26(6), 31–36.
Wang, S. M., DeZinno, P., Fermo, L., William, K., Caldwell-Andrews, A. A., & Bravemen, F. (2005). Complementary and alternative medicine for low-back pain in pregnancy: A cross-sectional survey. Journal of Alternative and Complementary Medicine, 11(3), 459–464.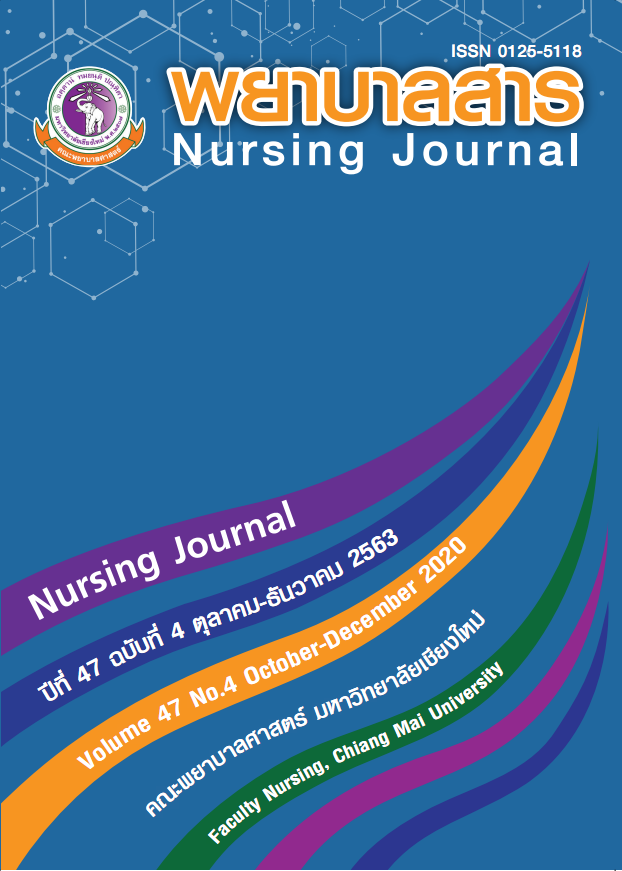 Downloads
License
บทความที่ได้รับการตีพิมพ์เป็นลิขสิทธิ์ของวารสารพยาบาลสาร
ข้อความที่ปรากฏในบทความแต่ละเรื่องในวารสารวิชาการเล่มนี้เป็นความคิดเห็นส่วนตัวของผู้เขียนแต่ละท่านไม่เกี่ยวข้องกับมหาวิทยาลัยเชียงใหม่ และคณาจารย์ท่านอื่นๆในมหาวิทยาลัยฯ แต่อย่างใด ความรับผิดชอบองค์ประกอบทั้งหมดของบทความแต่ละเรื่องเป็นของผู้เขียนแต่ละท่าน หากมีความผิดพลาดใด ๆ ผู้เขียนแต่ละท่านจะรับผิดชอบบทความของตนเองแต่ผู้เดียว