Effect of Empowerment Program on Positioning Practice for Bedridden Elders Among Village Health Volunteers
Keywords:
Empowerment Program, Positioning Practice, Bedridden Elders, Village Health Volunteers
Abstract
Older persons who are bedbound for prolonged periods can experience various complications. Proper positioning is essential to prevent complications and enhance comfortable among these persons. This quasi-experimental study aimed to investigate the effect of an empowerment program on the positioning of bedbound older persons by village health volunteers. The one group pretest-posttest design was used. The purposive sample composed of 19 village health volunteers who responsible for bedbound older persons in Kut Bak district, Sakon Nakhon province. The sample participated in the empowerment program developed by the researcher basing on Gibson's empowerment framework as well as literature review. The observation from developed by the research was used to collect data about bed positioning perform by the participants of the study. The duration of the study was eight weeks. Data were analyzed by descriptive statistics and the comparison of the mean scores, before and after receiving the empowerment program, using a paired t-test.
          The findings indicated that:
          The mean score for positioning was significantly higher after the program than before at p<.001 level. The study showed that the empowerment program helped the village health volunteers to become confident, be aware of self-efficacy, and to position bedbound older persons correctly. The study also demonstrated use of the empowerment program among actual cases in the community.
Downloads
Download data is not yet available.
References
Buaphum, P., Maneerod, S., & Rodprom, P. (2014). Development of training courses: Village health volunteers in empowered home visits to care for the elderly with chronic illnesses. Research Journal of Faculty of Public Health Khon Kaen University, 7(3), 60-67. (In Thai)

Chansri, J. N., & Tan, O. (2012). Continuous health care development for elderly people who stick to bed in the community in Phetchabun Municipality. Retrieved from http:// gsbook.gs. Kkuac.th/55/cdgrc13/files/mmo14pdf. (In Thai)

Cheviroj, P. (2010). Effect of empowerment program on the perception of power andPractice of care for the elderly dementia caregiver (Master's thesis, Burapha University). (In Thai)

Chompunut, S. (2015). Handbook for caregivers who cannot take care of basic health by themselves. Bangkok: National Buddhism Office. (In Thai)

Choonharas, S. (2010). Annual Report on the Situation of the Thai Elderly 2010. Bangkok: Foundation, Thai Gerontology Research and Development Institute. (In Thai)

Chuengsathiensap, G., & Suksut, P. (2007). Changing roles and contexts in Thai society. Journal of Public Health System Research, 1(3), 268-269. (In Thai)

Ellis, S. C., & Popkess, V. (1998). A concept analysis on the process of empowerment. Advances in Nursing Science, 21(2), 62-68.

Gibson, C. H. (1993). A study of empowerment in mothers of chronically ill children (Doctoral dissertation, Boston College).

Institute for Population and Social Research Mahidol University. (2013). Thai health 2013. Bangkok: Amarin Printing and Publishing. (In Thai)

Intakat, P. (2011). Factors for the success of the village health volunteers, Doi Saket District Chiang Mai Province (Master's thesis, Chiangmai University). (In Thai)

Likitlucha, N. (2016). Community nursing standards. Pathum Thani: Tawan Media. (In Thai)

Mamom, J. (2012). Nurse roles with pressure ulcers: challenges in prevention and care.Journal of Science and Technology, 20(5), 478-490. (In Thai)

Ministry of Public Health, Department of Health, Bureau of Elderly Health. (2014). Supervisor training guide senior, 420 hours course. Nonthaburi: War Veterans Organization of Thailand. (In Thai)

National Statistical Office Ministry of Information and Communication Technology. (2014). Population survey elderly in Thailand. Bangkok: Text and Journal Publication. (In Thai)

Niangbut, S. (2015). Effects of the empowerment program on the ability to take care of caregivers in the family. Journal of Nursing and Education, 8(4), 30-40. (In Thai)

Nunsuphawat, W. (2009). Geriatric nursing challenges with aging population (2nd ed.). Khon Kaen: Khon Kaen Publishing. (In Thai)

Peng Sangiam, W., Chaiyasang, P., & Ya Kasem, P. (2015). Effects of the empowerment program. The perception, power and practice of caring for the elderly dementia of village health volunteers. Journal of Nursing and Education, 8(1), 152-165. (In Thai)

Pumsanguang, K. (2014). Health empowerment: The critical role of nurses. Journal of the Royal Thai Army Nurses, 15(3), 86-90. (In Thai)

Sangchan, S. (2015). Results of the village health volunteer potential development program in care for a palliative patient at home. Journal of Nursing and Health, 9(3), 68-77. (In Thai)

Sawatphol, C., Pengpinit, T., Senanikorn, A., & Srisuraphol, W. (2017). Care for elderly dependents in the Northeast of Thailand. Journal of MCU Peace Studies, 5(Sp1), 387-405. (In Thai)

Srikrakhun, R. (2008). Teaching techniques. Bangkok: Ramkhamhaeng University.

Suksod, P. (2013). Development of a training package for performance training of regular health volunteers. Dissertation Village. Bangkok: Ramkhamhaeng University. (In Thai)

Wanichcharoenchai, W. (2010). Learning from practice: Application in teaching and learning. Journal of Nursing Science, 28(4), 36-44. (In Thai)

Virakitikul, T. (2009). Factors relating to Cham work, village health volunteer role in the operation of the health management village Phatthalung Province (Master's thesis, Tuksin University). (In Thai)

World Health Organization [WHO]. (2015). World report on ageing and health. Retrieved fromhttps://doi.org/10.1017/CBO9781107415324.004.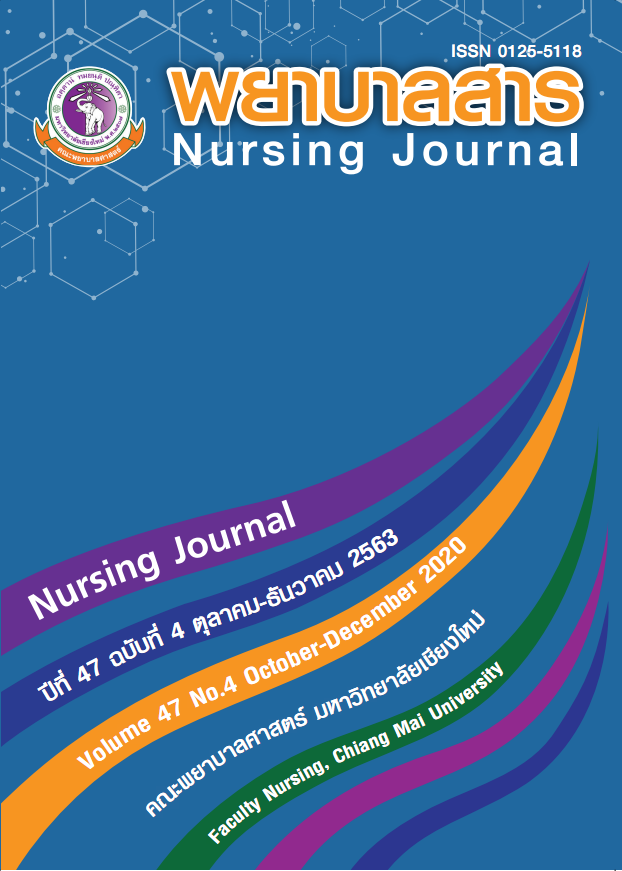 Downloads
License
บทความที่ได้รับการตีพิมพ์เป็นลิขสิทธิ์ของวารสารพยาบาลสาร
ข้อความที่ปรากฏในบทความแต่ละเรื่องในวารสารวิชาการเล่มนี้เป็นความคิดเห็นส่วนตัวของผู้เขียนแต่ละท่านไม่เกี่ยวข้องกับมหาวิทยาลัยเชียงใหม่ และคณาจารย์ท่านอื่นๆในมหาวิทยาลัยฯ แต่อย่างใด ความรับผิดชอบองค์ประกอบทั้งหมดของบทความแต่ละเรื่องเป็นของผู้เขียนแต่ละท่าน หากมีความผิดพลาดใด ๆ ผู้เขียนแต่ละท่านจะรับผิดชอบบทความของตนเองแต่ผู้เดียว