Hospital Discharge Needs: Perspectives of Patients with Liver and Bile Duct Cancer Undergoing Invasive Percutaneous Transhepatic Biliary Drainage and Family Caregivers
Keywords:
need, hospital discharge, liver and bile duct cancer patients, family caregivers
Abstract
The perceived needs of patients with liver and bile duct cancer undergoing invasive percutaneous transhepatic biliary drainage and their family caregivers regarding hospital discharge readiness are essential information for discharge planning. This qualitative research aimed to describe the needs of patients and their family caregivers for hospitals' readiness to discharge. The informants were 20 liver cancer and cholangiocarcinoma patients who underwent invasive percutaneous transhepatic biliary drainage and their family caregivers selected by a purposive sampling method. Data were collected through in-depth interviews. Thematic analysis was used.
The results revealed that the hospital discharge needs of patients and their family caregivers could be classified into four themes: 1) physical readiness of patients; 2) patients' knowledge about self-care at home and families' knowledge about homecare for patients; 3) proper teaching about hospital discharge; and 4) homecare support. The findings of this study provide better understanding about the needs of patients and their family caregivers regarding hospital discharge. The findings can guide nurses to improve hospital discharge planning.
Downloads
Download data is not yet available.
References
Auerbach, A. D., Kripalani, S., Vasilevskis, E. E., Sehgal, N., Lindenauer, P. K., Metlay, J. P., . . . & Schnipper, J. L. (2016). Preventability and causes of readmissions in a national cohort of general medicine patients. JAMA Internal Medicine, 176(4), 484-493. doi:10.1001/jamainternmed.2015.7863
Bergman, K., & Louis, S. (2016). Discharge instructions for concussion: Are we meeting the patient Needs? Journal of Trauma Nursing, 23(6), 327-333. doi:10.1097/jtn.0000000000000242
Braun, V., & Clarke, V. (2006). Using thematic analysis in psychology. Qualitative Research in Psychology,3(2), 77-101.
Cancer Registry Unit, Medical Digital Division, National Cancer Institute. (2020). Hospital Based Cancer Registry 2019. Bangkok: New Thammada Press.
Chen, J., Zhu, X., Jiang, J., Qi, Y., & Shi, Y. (2019). Needs of Chinese patients undergoing home-based rehabilitation after hip replacement: A qualitative study. PLoS One, 14(7), e0220304. doi:10.1371/journal.pone.0220304
Cohen, S., Gottlieb, B. H., & Underwood, L. G. (2000). Social relationships and health. In S. Cohen, L. G. Underwood, & B. H. Gottlieb (Eds.), Social support measurement and intervention: A guide for health and social scientists. New York: Oxford University Press.
Farahani, M. A., Bahloli, S., JamshidiOrak, R., & Ghaffari, F. (2020). Investigating the needs of family caregivers of older stroke patients: A longitudinal study in Iran. BMC Geriatrics, 20 (1), 313. doi:10.1186/s12877-020-01670-0
Hesselink, G., Flink, M., Olsson, M., Barach, P., Dudzik-Urbaniak, E., Orrego, C., . . . & Wollersheim, H. (2012). Are patients discharged with care? A qualitative study of perceptions and experiences of patients, family members and care providers. BMJ Quality & Safety, 21 (Suppl 1), i39-49. doi:10.1136/bmjqs-2012-001165
Khammanee, T. (2017). Instructional curriculum: Knowledge for effective learning process.
Bangkok: Dansutha Press.
Kreutzer, J. S., Marwitz, J. H., Klyce, D. W., Wilder Schaaf, K. P., Sima, A. P., Welch, A. M., & Niemeier, J. P. (2018). Family needs on an inpatient brain injury rehabilitation unit: A quantitative assessment. Journal of Head Trauma Rehabilitation, 33(4), 228-236. doi:10.1097/htr.0000000000000390
Kreutzer, J.,Serio ,C., & Bergquist, S. (1994). Family needs following traumatic brain injury: A quantitative analysis. Journal of Head Trauma Rehabilitation, 9(1), 104-115.
Likitkentasorn, S., Thanassilp, S., & Pudtong, N. (2018). Selected factors factors associated with supportive care needs in person with liver and intrahepatic bile duct cancer. Kuakarun Journal of Nursing, 25(1), 170-183. (in Thai)
Lincoln, Y.S., & Guba, E.G. (1985). Naturalistic inquiry. Newbury Park: SAGE.
Medical record and statistics unit, Faculty of Medicine Chiang Mai University. (2016 - 2020).In patients statistics 2016 - 2020. Chiang Mai: Chiang Mai Universities. (In Thai)
Norup, A., Perrin, P. B., Cuberos-Urbano, G., Anke, A., Andelic, N., Doyle, S. T., . . . Carlos Arango-Lasprilla, J. (2015). Family needs after brain injury: A cross cultural study. NeuroRehabilitation, 36(2), 203-214. doi:10.3233/nre-151208
Nurhayati, N., Songwathana, P., & Vachprasit, R. (2019). Surgical patients' experiences of readiness for hospital discharge and perceived quality of discharge teaching in acute care hospitals. Journal of clinical nursing, 28(10), 1728-1736.
Orem, D. (1985). Nursing: Concept of practice. (3rd ed). New York: McGraw Hill Box.
Pomrod, T., Monkong, S., & Sirapo-ngam, Y. (2011). Responses to needs and coping to stress of patients' relatives before transferring from the intensive care unit. Region 11 Medical Journal, 17(1), 75-89. (in Thai)
Punyagariyagorn, S. (2013). Factors related to preventive sehaviors affecting complications of cholangiocarcinoma's patients after percutaneous transhepatic biliary drainage. Nursing Journal of Ministry of Public Health, 23(1) : 70–79. (in Thai)
Sanprasan, P., Wattradul, D., & Suthipong, N. (2017). Discharge planning of patients treated with percutaneous coronary intervention (PCI): Perspective of elderly patients with ischemic heart disease and caregivers. Thai Journal of Cardio-Thoracic Nursing, 28(1), 142–153. (in Thai)
Sarwar, A., Hostage, C. A., Jr., Weinstein, J. L., Kim, G., Novack, V., Chakrala, N., . . ., & Ahmed, M. (2019). Causes and rates of 30-day readmissions after percutaneous transhepatic biliary drainage procedure. Radiology, 290(3), 722-729. doi:10.1148/radiol.2018180279
Sha, J, Dong, Y & Niu, H. (2019). A prospective study of risk factors for in-hospital mortality in patients with malignant obstructive jaundice undergoing percutaneous biliary drainage. Medicine , 98(15), e15131.
Soebagiyo, H., Beni, K. N, & Fibriola, T. N. (2019). The analysis of the influencing factors related to the effectiveness of discharge planning implementation in hospitals: A systematic Review. Jurnal Ners, 14(3si), 217-220.
Srihabandit, W., Khimsungnen, N., & Namchanthra, R. (2018). Need of The Caregivers of Patients with Cerebrovascular disease. The 13th RSU National Graduate Research Conference. (in Thai)
Srisomphan, K., Sirisakulpaisarn, B. & Bormann, S.V. (2017). Peer-assisted learning strategy in return-demonstration exam for mechanism of labor. Journal of health science research, 11(2), 138-146. (in Thai).
Suamkhuntod, P., Deoisres, W & Wacharasin, C. (2018). Family members' needs and needs responsiveness of patients during preoperative cataract surgery. The Journal of Faculty of Nursing Burapha University, 26(1), 29-39. (In Thai)
Tabootwon, w., & Jullamate, P. (2015). Needs and respond needs of elderly who received ventilator. The Journal of Faculty of Nursing Burapha University, 23(2), 52-62.
Thai Association for the Study of the Liver. (2016). Hepatocellular carcinoma. Nonthaburi: Parbpim Printing. (In Thai).
Titapun,A. (2015). Management in perihilar cholangiocarcinoma. Srinagarind Medical Journal, 30 (Suppl), 30 – 35. (In Thai)
Verhaegh, K. J., Jepma, P., Geerlings, S. E., de Rooij, S. E., & Buurman, B. M. (2019). Not feeling ready to go home: a qualitative analysis of chronically ill patients' perceptions on care transitions. International Journal of Quality in Health Care, 31(2), 125-132. doi:10.1093/intqhc/mzy139
Vichittragoonthavon, S., Imsa-njuan, K., & Sucamvang, K. (2013). Needs and received need responses among elderly patients and families in Surgical Intensive Care Unit, Maharaj Nakorn Chiang Mai Hospital. Nursing Journal, 40(special), 35-46. (In Thai)
Weiss, M., Yakusheva, O., & Bobay, K. (2010). Nurse and patient perceptions of discharge readiness in relation to postdischarge utilization. Medical Care, 48(5), 482-6.
Yura, H., & Walsh, M. B. (1988). The nursing process: Assessing, planning, implementation, evaluation. (5thed). Norwalk: Prentice Hall.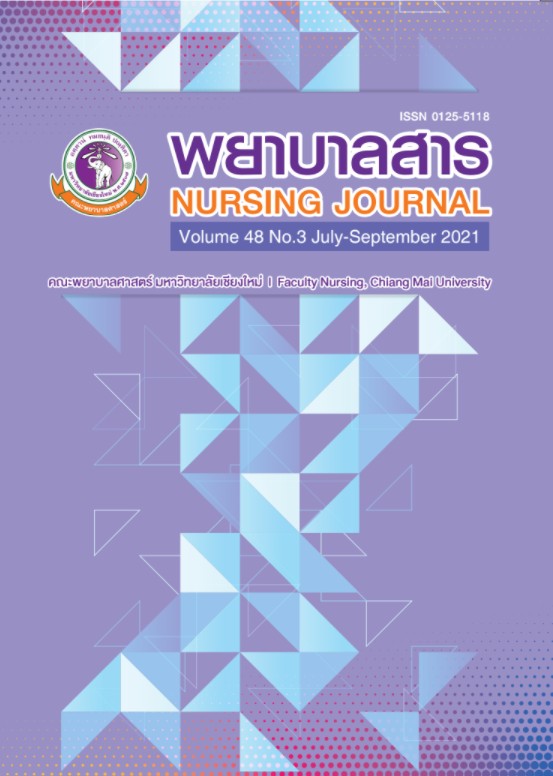 Downloads
License
บทความที่ได้รับการตีพิมพ์เป็นลิขสิทธิ์ของวารสารพยาบาลสาร
ข้อความที่ปรากฏในบทความแต่ละเรื่องในวารสารวิชาการเล่มนี้เป็นความคิดเห็นส่วนตัวของผู้เขียนแต่ละท่านไม่เกี่ยวข้องกับมหาวิทยาลัยเชียงใหม่ และคณาจารย์ท่านอื่นๆในมหาวิทยาลัยฯ แต่อย่างใด ความรับผิดชอบองค์ประกอบทั้งหมดของบทความแต่ละเรื่องเป็นของผู้เขียนแต่ละท่าน หากมีความผิดพลาดใด ๆ ผู้เขียนแต่ละท่านจะรับผิดชอบบทความของตนเองแต่ผู้เดียว