Local wisdom in Development of lanna Spa for Health
Keywords:
Lannaspa, health, local wisdom
Abstract
Local wisdom is specific to the way of life and culture in each region. The Lanna people who live in northern Thailand have a unique local wisdom which can be applied in life through ritual therapy, physical therapy, herbal therapy, and food therapy. Lanna local wisdom can be integrated into the development of spas for health services which are established to serve the needs of people who are taking care of their own health and well-being. The spa itself has a scientific attitude that can be used to promote health and relaxation, both physically and mentally.
Downloads
Download data is not yet available.
References
Chan-iad, J., Chamnongchob, A., Vanichkorn, A., & Maneerot, N. (2018). Potential Thai identity of the spa business and Thai traditional massage to enhance the oriented tourism Health to the world. Panyapiwat, 10(2), 1-16.
Chiang Mai Provincial Public Health Office. (2019). The identity of Thai Lanna Spa to WORLD CLASS spa. Retrieved from https://lannahealthhub.org/ThaiidentityLannaSpa
Department of Health Service Support. (2018). Health Enterprise Progress Report. In the document of the Health Establishment Committee Meeting No. 10-3/2561. Nonthaburi: Ministry of public health.
Global Wellness Institute. (2018). The Global Wellness Tourism Economy 2017. Retrieved from http://www.globalwellnesssummit.com
Klunklin, A. (2018). Basic knowledge about health spa. In the training documents of Lanna health spa service model. Chiang Mai: Siampimnana Co., Ltd.
Ministry of Tourism and Sports. (2019). Statistics of foreign tourists entering Thailand in 2018. Retrieved from https://www.mots.go.th/more_ news.php?cid=502&filename=index
Office of the Permanent Secretary, Ministry of Labor. (2002). Skill Development Promotion Act. Bangkok: Ministry of labor.
Ongsakul, S. (2015). The complete history of Lanna. 11th edition. Bangkok: Amarin company printing and publishing public company limited.
Sapcharoen, P. (1997). Thai traditional medicine, The thread of life and culture. Bangkok: Organization printing house veterans aid.
Taoprasert, Y. & Taoprasert, K. (2004). Textbook of Lanna Medicine, Physiotherapy Doctor. Chiang Rai: College of alternative medicine chiang rai rajabhat university.
TAT Intelligence Center. (2015). Statistics of tourists. Retrieved from http:// intelligencecenter.tat.or.th/# (In Thai)
Thai Lanna Traditional Medicine Confederation. (2012). Wisdom of Lanna City Doctors. Retrieved from https://www.lannahealth.com/WisdomofLannaCityDoctors-2/to-experience-in-2019
Tropicalsky Travel Company.(2019). Top 10 holiday destinations to experience in 2019. Retrieved from https://www.tropicalsky.co.uk/travel-inspiration/top-10-holiday-destinations-
World Tourism Organization. (2011). Tourism Towards 2030: Global overview. madrid: The world tourism organization.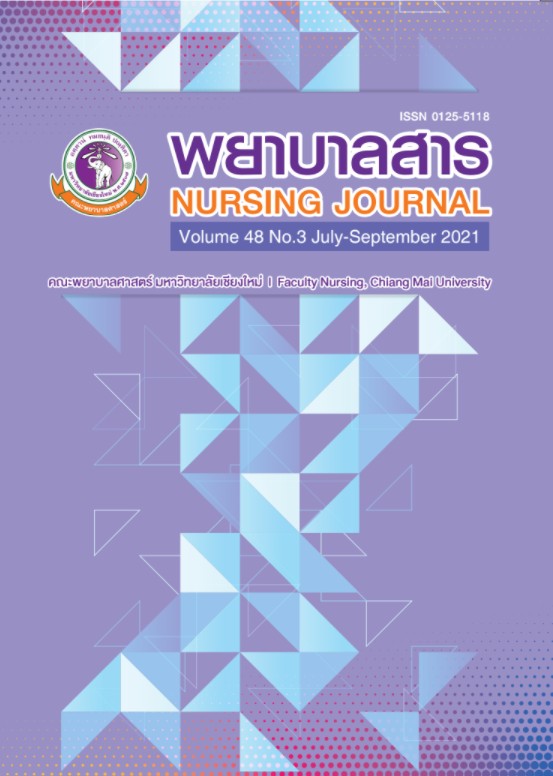 Downloads
License
บทความที่ได้รับการตีพิมพ์เป็นลิขสิทธิ์ของวารสารพยาบาลสาร
ข้อความที่ปรากฏในบทความแต่ละเรื่องในวารสารวิชาการเล่มนี้เป็นความคิดเห็นส่วนตัวของผู้เขียนแต่ละท่านไม่เกี่ยวข้องกับมหาวิทยาลัยเชียงใหม่ และคณาจารย์ท่านอื่นๆในมหาวิทยาลัยฯ แต่อย่างใด ความรับผิดชอบองค์ประกอบทั้งหมดของบทความแต่ละเรื่องเป็นของผู้เขียนแต่ละท่าน หากมีความผิดพลาดใด ๆ ผู้เขียนแต่ละท่านจะรับผิดชอบบทความของตนเองแต่ผู้เดียว